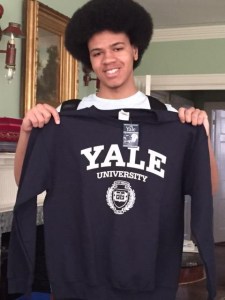 He was an engineer–and now he's a bulldog.
Dante de Blasio, the afro-haired son of Mayor Bill de Blasio, is headed to Yale University in the fall, according to a tweet from his mother, Chirlane McCray.
"So excited for your next adventure, Dante. #Bulldogs2019," Ms. McCray tweeted this morning.
The tweet showed a photograph of the younger de Blasio holding up a Yale University long sleeved shirt.
The mayor's son, known for his debating skills at Brooklyn Technical High School and starring in a campaign commercial for his dad, was reportedly weighing several options for college, including Yale and Brown Universities. Yale, like other Ivy League schools, is known for accepting both academic standouts and the children of famous people–and Dante appears to check both boxes.
Dante will not be following in the footsteps of his mother and father: the mayor attended New York University and Ms. McCray attended Wellesley College.
Dante's older sister, Chiara, was accepted into Santa Clara University in California before her father was mayor.