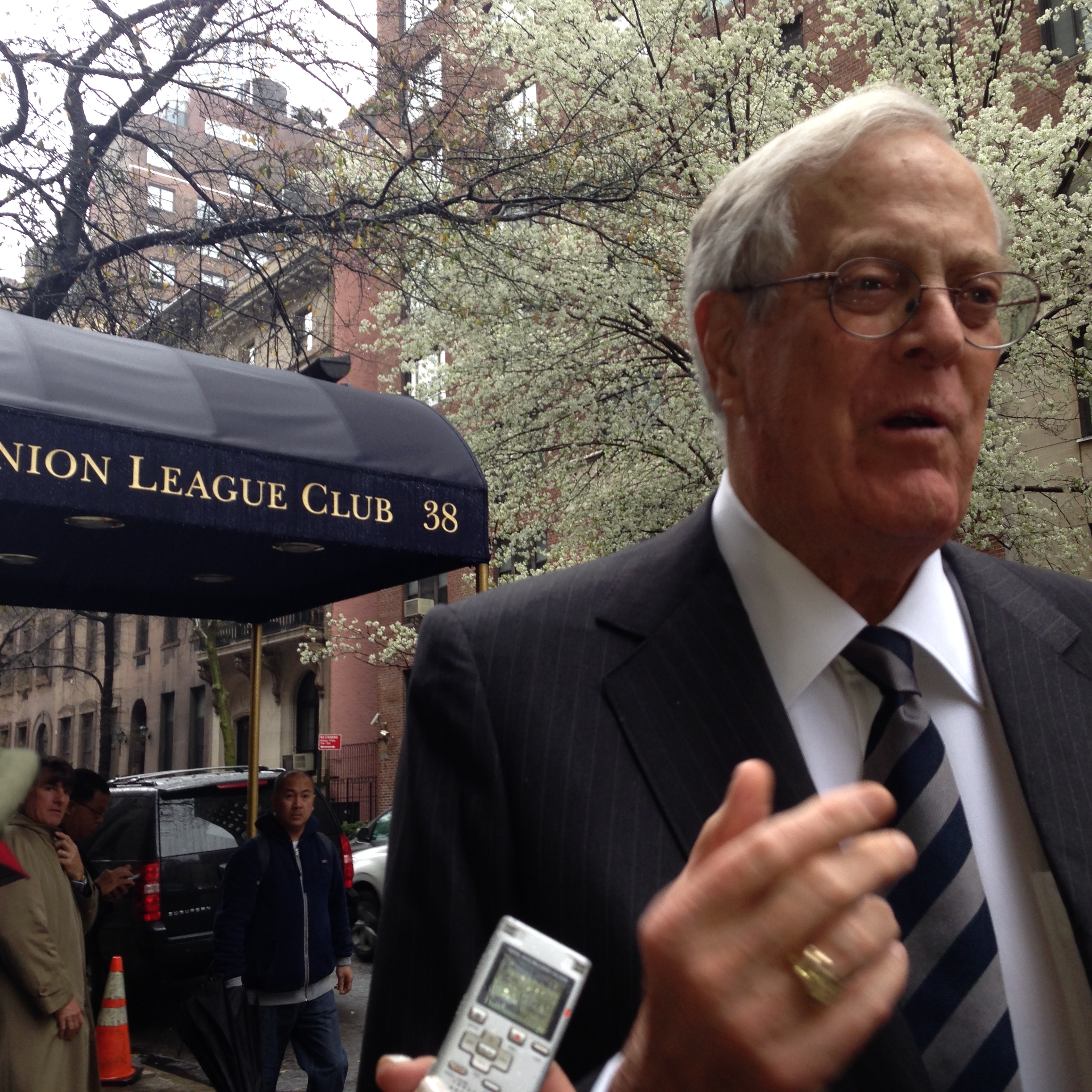 Fuel mogul and conservative activist David Koch today declared to reporters that Wisconsin Gov. Scott Walker would easily beat former Secretary of State Hillary Clinton in a general election—shortly after the co-owner of Koch Industries heard a private speech by the midwestern Republican at the Union League Club in Manhattan.
After meeting with Mr. Walker and a group of GOP donors called the Empire Club, Mr. Koch told the Observer that he believed the governor would trounce the former first lady if a sufficient number of Republicans get involved in the race.
"I think so, no question about it. You know, if enough Republicans have a thing to say, why, he'll defeat her by a major margin," he said, effusively praising Mr. Walker's performance. "I thought he had a great message. Scott Walker is terrific and I really wish him all the best. He's a tremendous candidate to be the nominee in my opinion."
Mr. Koch said the Republican candidates should focus their primary season fire on Ms. Clinton to reduce her appeal among voters, arguing that she will most likely be the Democratic nominee.
"She's obviously the front-runner, so, I think with these various candidates, get involved in the primary, later this year and in the spring and early summer, they can be very effective in diminishing her points of view, in my opinion," he said.
Mr. Walker has not yet declared his candidacy, but has been fundraising and addressing audiences of Republican donors in New York and elsewhere, and is expected to announce soon. The GOP field currently includes Senator Marco Rubio of Florida, Senator Ted Cruz of Texas and Senator Rand Paul of Kentucky, though New Jersey Gov. Chris Christie and former New York Gov. George Pataki are also likely to run.
Mr. Koch said he was most impressed by Mr. Walkers answer to a "major question" he asked on "how do we improve the public education system?"
"Why, he spent about 15 minutes answering the question, and he did that brilliantly. So obviously, I really like his point of view," he said, though he declined to go into detail on what Mr. Walker said.
Not everyone was so happy to see the Wisconsin governor, who shot to national prominence for stripping his state's public employees of collective bargaining rights and subsequently passing controversial "right-to-work" laws. Demonstrators from the New York Central Labor Council, the Teamsters and DC 37 massed in the rain on the opposite sidewalk, shouting "Walker go home!"
The crowd of union members howled on seeing Mr. Koch enter the building. Mr. Koch and his brother, Charles, are often reviled targets of left-wing activists, who view their extensive political work as an unfair influence on democracy.
The Kochs are also known as philanthropists and patrons of the arts in New York City.
Mr. Koch afterward reached out to the Observer to clarify that he had not yet selected which candidate he and his brother would back.
"While I think Gov. Walker is terrific, let me be clear, I am not endorsing or supporting any candidate for president at this point in time," Mr. Koch told the Observer in an email.
He also forwarded the Observer the text of his remarks inside the Union League Club.
"My brother and I are going to take a neutral position as to who we are going to support until the primaries are over by the beginning of, in the summer of next year, so when the primaries are over and Scott Walker gets the nomination, well," he said, pausing for laughter and applause from the audience. "Then we will support."
Updated to include further comment from Mr. Koch.