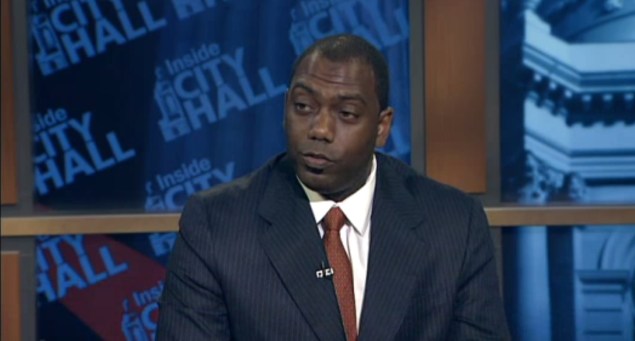 Former Gov. David Paterson, the chairman of the New York State Democratic Party, announced today that Basil Smikle Jr., a top Democratic consultant, will become the new executive director of the party.
Like Mr. Paterson, Mr. Smikle hails from Harlem; he ran unsuccessfully for the State Senate seat Mr. Paterson once held.
"Basil is a national-caliber political operative and we are lucky to have him leading day-to-day operations for the State Democratic Party," Mr. Paterson said. "Basil combines a mastery of public policy with an inherent feel for communities throughout New York State."
Mr. Paterson said that Mr. Smikle, a PhD candidate at Columbia University's Teachers College, will play a "key role" in the 2016 election cycle, though he did not say specifically this would include returning Democrats to the majority in the State Senate.
Mr. Smikle replaces Rodney Caple, another Harlem political operative who left the post to work as a special adviser to Mr. Cuomo.
In a statement, Mr. Smikle, a former aide to Hillary Clinton and regular guest on NY1's "Inside City Hall," praised Gov. Andrew Cuomo for making New York the "progressive capital" of the nation once more.
"Governor Cuomo has restored New York's rightful place as the progressive capital of the nation and I am honored to be part of the state Democratic Party team," Mr. Smikle said. "We are committed to building on the success of the past several years as we elect Democrats up and down the ticket this fall and beyond."
Mr. Cuomo's closeness to Mr. Paterson and the State Party has drawn criticism from some liberal Democrats, particularly in the State Senate, who feel Mr. Paterson and Mr. Cuomo have not done enough to help Democrats retake control of the upper chamber. Mr. Cuomo, a centrist, did little to assist down-ballot Democrats as he won re-election in 2014.
Mr. Smikle's executive director position, the second highest post in the party, is paid, unlike Mr. Paterson's volunteer role, and is funded through the Democratic Party. Salary data was not immediately available.