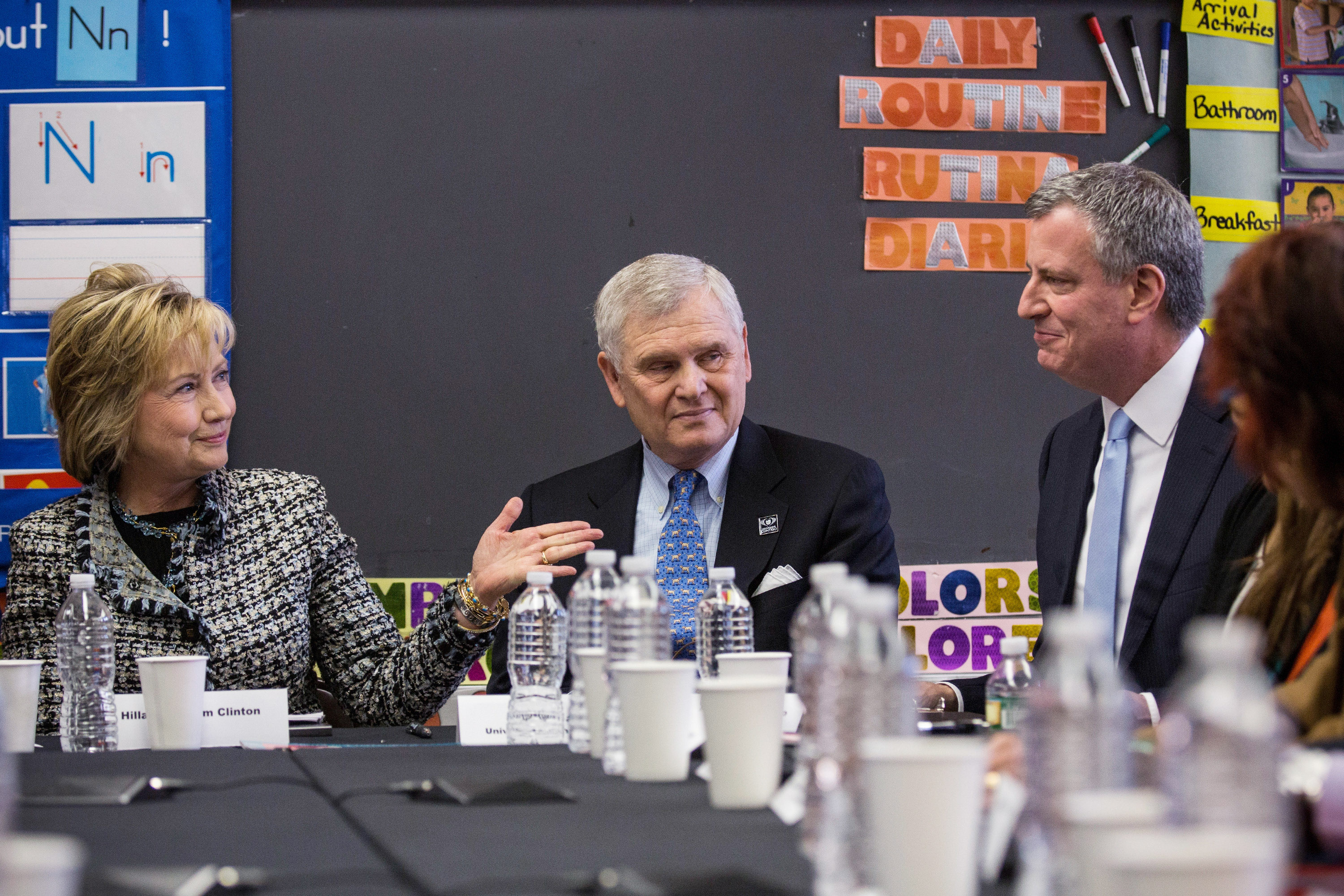 Mayor Bill de Blasio today stressed that former Secretary of State Hillary Clinton must address the growing gap between the rich and poor if she runs for president—as he and a group of other left-leaning politicians and activists rolled out a plan to create a national income inequality agenda.
Mr. de Blasio fielded a number of questions about the former senator and first lady, with whom he has close personal ties, as he announced a plan to formulate and unveil a platform against wealth disparity next month. The mayor, standing beside a group of other progressives at Gracie Mansion this afternoon, emphasized that Ms. Clinton has not yet announced her hotly anticipated candidacy for president, but said she must adopt elements of the platform if and when she does.
"Again, she's not a candidate yet. If she becomes a candidate, I absolutely believe she needs to address this issue. I think all leaders and all candidates need to address this issue," he said.
The presentation of the proposal, he said, will deliberately recall former GOP House Speaker Newt Gingrich's 1994 "Contract with America," though with opposite aims. The progressive powwow will also announce plans for bipartisan presidential candidate forums on the topic of income inequality.
"How is it that it's already April 2015 and there's no serious debate on the issue of income inequality in this country? We're not talking about things that would actually address the situation. Tax fairness, progressive taxation, a whole range of options that would make a profound impact on the trajectory of this country. It's nowhere in the national debate," said Mr. de Blasio, who won the mayoralty running on the populist "Tale of Two Cities" slogan. "We have to push these issues to the fore, and all candidates will and leaders have to speak to them."
The mayor, who served in the Department of Housing and Urban Development in the first Clinton administration, denied that his longstanding ties to the former first family—the national leaders of the fiscally conservative "New Democrats" movement—in any way interferes with his ability to oversee either candidate debates or the creation of a national agenda.
"I don't think it complicates anything, I look forward to working for change in this country. We've got to address the issue. Every candidate has got to address the issue. Every leader at every level has to address the issue," he said, adding that he had yet to discuss the plan with Ms. Clinton, who appeared with the mayor's wife Chirlane McCray at an event in Brooklyn yesterday.
Among other prominent liberals joining Mr. de Blasio was Katrina vanden Heuvel, editor and publisher of the Nation, as well as activist Van Jones—who called Mr. de Blasio "a national hero"—and Connecticut Gov. Dannel Malloy.
"I have said for a long time that no one in our country should work 35 or 40 hours a week at one job or multiple jobs and still live in poverty. It just doesn't make sense," Mr. Malloy said.