Mayor Bill de Blasio's decision not to immediately endorse Hillary Clinton's presidential bid Sunday raised plenty of eyebrows—and garnered plenty of headlines. But the mayor, who again today declined to endorse the former secretary of state and his former boss until he hears her plans for tackling income inequality, said nobody should be all that surprised.
"Not a lot has changed since Sunday morning—it's Tuesday afternoon," Mr. de Blasio said today at an unrelated press conference in the Bronx. "I don't think it's a surprise that this is the core issue to me. I've talked about it for years, and I've said Democrats and Republicans alike are not addressing this issue and they need to."
Mr. de Blasio was in the minority of New York lawmakers with his comments Sunday on Meet the Press, when he told anchor Chuck Todd he would be withholding his endorsement of any candidate until he had heard more about their platforms and plans to tackle the wealth gap. Most enthusiastically backed Ms. Clinton.
The comments come as the mayor has been seeking to raise his profile in the world of presidential politics. He will visit Nebraska and early caucus state Iowa this week—his swing through the latter coinciding with Ms. Clinton's visit there. Mr. de Blasio gathered progressive allies to Gracie Mansion recently, when he announced he will hold a presidential forum on income inequality to quiz all potential candidates on the issue.
And just as he argued his questions for Ms. Clinton should come as no surprise to observers, Mr. de Blasio said today they wouldn't come as a surprise to Ms. Clinton, either.
"What I said on Meet the Press, I had said previously to Secretary Clinton and her team. I don't think here's any surprise in it, but I think the important thing is we've got to have a discussion of the issues, and I believe we will," Mr. de Blasio said. "But until that time I think it's fair for any leader or any American to say, 'I'd like to hear what the vision is.'"
But even as Mr. de Blasio doubled down on his plans to await Ms. Clinton's "vision," plenty of Mr. de Blasio's colleagues in the Democratic party didn't quite agree with him. State Democratic Party Chairman and former Gov. David Patterson said he would've thought Mr. de Blasio knew where he stood on Ms. Clinton's positions by now. On Monday, the New York Daily News declared the mayor had stabbed Ms. Clinton in "de Back." The New York Post's cover this morning screamed "Traitor!" Congressman Sean Patrick Maloney said the mayor needed to get "his head examined."
"I'd like him to know I appreciate his concern for my health," Mr. de Blasio joked today when the Observer asked if he was surprised by the backlash from his fellow Democrats. "I'm not surprised by much. For those who feel ready to endorse, that's their choice, that's absolutely fine. I said I want to hear a vision. I think that's a normal thing in the political process, to want to get a sense of where a leader is going."
Mr. de Blasio said Ms. Clinton's run was a "very unusual situation." She is more qualified, the mayor said, than the vast majority of those who had ever run for president. But Mr. de Blasio said she hasn't been weighing in on domestic policy as secretary of state, and argued the eight years that have passed since she last ran for president were long years.
"This is a different country we're living in right now, and I think we need to hear a vision that relates to this time, not eight years ago—this time. And I think it's perfectly fair to ask of any candidate to do that. I'm optimistic by nature. I think she'll have a lot to say. But until she does, I think it's fair for people to wait to hear it," Mr. de Blasio told the Observer.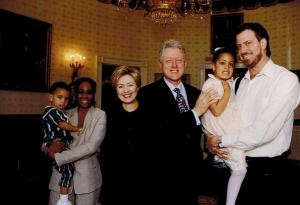 But some, in the tabloids and beyond, have intimated that Mr. de Blasio is being disloyal in not endorsing Ms. Clinton—whose Senate campaign he ran in 2000, and whose husband, President Bill Clinton, he worked for in the Department of Housing and Urban Development. The Clintons attended his inauguration; he made no secret of his closeness to Ms. Clinton when he first ran for City Council.
Today he praised Ms. Clinton's "gutsy" attempt at healthcare reform, her work as the country's top diplomatic, and said he'd been honored to work for both Clintons. That praised ended with a "but."
"I think they've done a lot of good for the country. But that being said, as someone who represents the people of New York City and is obligated to speak to the issues affecting our people—and obviously to the larger issues of the country that absolutely will determine the fate of this city as well—I think it's right to hold a standard that I think is the honest standard," he said.
Mr. de Blasio said that didn't make him disloyal.
"I consider myself a loyal person in life first and foremost, in terms of family and friends, and also absolutely in politics. But yeah, there's times when you might have a situation where you consider someone a friend and you have deep respect for them, but you still have a substantive issues you have to resolve," Mr. de Blasio said. "And it's incredibly serious for the future of the country. We're talking about the fate of the United States of America. We're talking about the direction of this country in a time of crisis."
Reporters today asked Mr. de Blasio about nearly every aspect of his decision not to endorse Ms. Clinton yet—the topic monopolized nearly all of the 20 minutes he spoke with the press. Why hold out on Ms. Clinton but promptly endorse Gov. Andrew Cuomo, a moderate Democrat who was challenged from the left by a much more progressive candidate? Mr. de Blasio said that was different—they had been working together for nearly a year, he said, "on a whole host of issues," despite occasional disagreements.
What about his timing, appearing on television the day Ms. Clinton made her announcement, and traveling to Iowa at the same time her van tour arrives in the early caucus state? Mr. de Blasio said it was just a coincidence—his TV appearance and his jaunt to the midwest were planned well in advance.
While Mr. de Blasio has been accused of back-stabbing by the tabloids, he said nobody had called him personally to complain (or to congratulate him). Some have argued Mr. de Blasio withholding his endorsement for now could only help Ms. Clinton—and himself—by giving her the air of progressive credibility and Mr. de Blasio an opportunity to back her when it won't be swallowed in a news cycle that featured the rest of the Democratic establishment rushing to her side.
But then, there's also the question of how much Mr. de Blasio's endorsement will matter at all.
"I don't over-rate it," Mr. de Blasio said today. "I don't over-rate it at all."