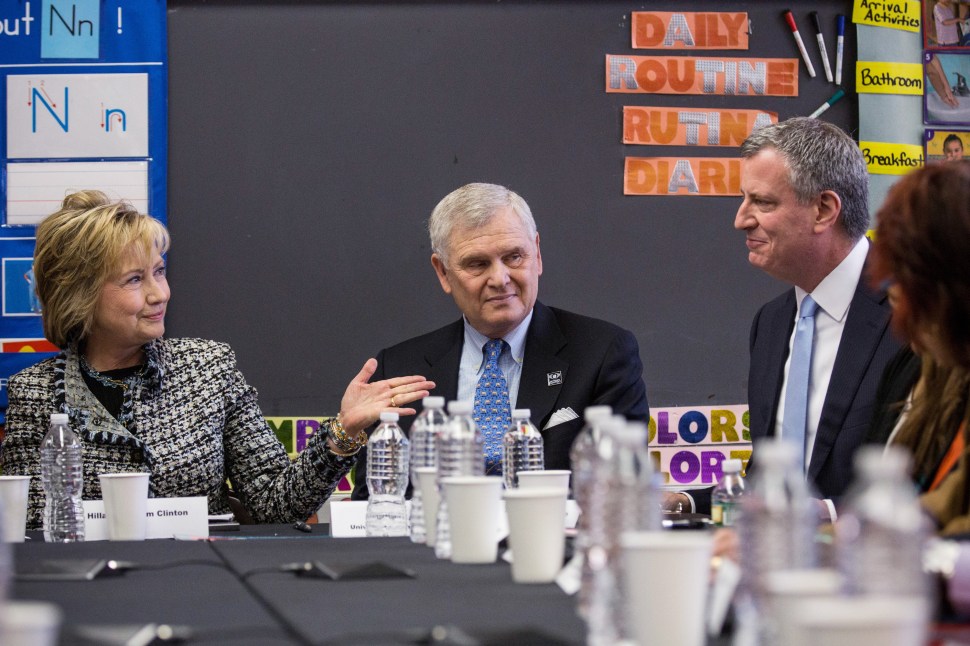 In a race that looks like it's decidedly hers to lose, could Hillary Clinton face competition for the Democratic nomination in 2016 after all?
The answer might be yes, according to a report this morning in the New York Post — and the challenge could come from an a former Clinton underling she helped vault to his current post across the Hudson. Crediting an anonymous "national party operative," the Post writes that New York City Mayor Bill de Blasio is positioning himself as the progressive alternative to the former secretary of state ahead of the 2016 primaries.
"De Blasio's hope, the operative said, is a "draft de Blasio'' movement will develop among progressive activists over the next several months that will lead to the mayor being able to defeat Clinton in the primary elections next year in much the same way leftist Sen. George McGovern successfully challenged the initially front-running establishment Democratic candidate, Sen. Edmund Muskie, more than 40 years ago.

Standing ready to back de Blasio against Clinton, said the operative, is the state's small but influential Working Families Party, which has strong ties to de Blasio and is funded by some of the nation's most powerful labor unions."
According to the Post's source, de Blasio's plans for a 2016 run could explain his recent maneuverings this month, which saw him touring the midwest states of Iowa and Nebraska and refusing to endorse his former boss upon her much-anticipated campaign launch last week. Of course, they would also run contrary to the Democrat's own comments on the issue — in an interview with WHO-TV's David Price last week, de Blasio said the "only thing I'm eyeing" is re-election in 2017.
Read more here.