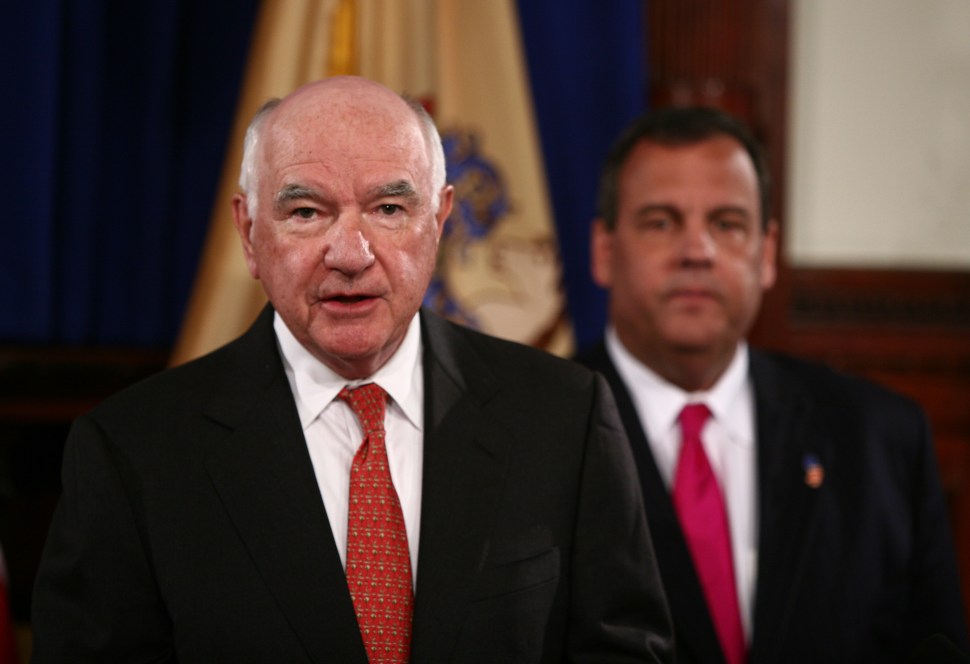 TRENTON — With indictments in the federal investigation into Bridgegate potentially looming, Port Authority Chairman John Degnan said today that a legitimate traffic study was probably not the reason employees of the bi-state agency decided to shut down commuter lanes at the mouth of the George Washington Bridge in 2013.
"I don't know. Everything I read suggests to me there was no traffic study," Degnan told NJTV's Michael Aron during a taping of his show, On the Record, in the statehouse this morning. "Everything I know about the Port Authority and the people who run the George Washington Bridge suggests to me that a lot more work, preparation, and consultation with local public officials would have happened if there were a traffic study."
A state Attorney General under then-Gov. Brendan Byrne, Degnan was appointed by Gov. Chris Christie last year to replace embattled former Port Authority chairman David Samson in the wake of the scandal, which also implicated and forced out of their positions several other of the governor's close staff. They included former Christie aide Bridget Kelly, former Port Authority official David Wildstein, former Port Authority deputy director Bill Baroni, and Samson — who also recently announced he would step down from his longtime-post as co-founder of the politically-connected law firm Wolff Samson.
At the time, those involved insisted that the closings were part of a traffic study, though evidence uncovered in the months following the incident has suggested that they may have been part of a politically-motivated stunt. Asked by Aron about that theory, Degnan would not speculate on whether politics were at play, but did say it's "one plausible explanation a lot of people I respect have suggested."
On Samson's situation — he recently also became the subject of a subpoena requesting information regarding private flights he took between Newark and an airport near his home in South Carolina — Degnan likewise declined to speculate, saying only the he considers him "a friend", and that he is "sadden by the events that characterized by the latter parts of his career."
"I hope in time he will be judged based on his entire career of public service in New Jersey, but beyond that, there's so much I don't know," he said.
Degnan's comments come just days after the New York Times reported that U.S. Attorney Paul Fishman's investigation into the closings is coming to a head, and that indictments could drop as early as next week. Much of that investigation is said to have focused on a few key players, such as Kelly and Wildstein, though it's unclear who exactly the indictments might target.
Degnan said one thing he has tried to do since stepping into the position last year has been not to "meddle in" Fishman's work, adding that he hopes to see it brought to a close soon, "simply so we can institute any additional reforms beyond what we've done already that might make it impossible for this situation to reoccur."
"I called Paul Fishman, who I have a great deal of respect for and said if there is on any occasion doubt on your part about the Port Authority cooperation in the investigation please call me directly," Degnan said. "And I asked him if at the end of the process, whenever that took place, they had insight into the Port Authority governance structure procedures from which we could learn and benefit to prevent a recurrence of this would they please share them with me."
"But I stay away from the investigation," he added. "The last thing I would want to do is get in the way of legitimate investigatory techniques."
As for the legitimacy of the Times' report, Degnan couldn't confirm, saying only that it's "not the first time" the paper has predicted that the results of the investigation were imminent.
Aron's interview with Degnan, which covers a variety of other topics from Degnan's early career to the Port Authority's history, will air on Saturday at 6:30 p.m. and Sunday at 10:30 a.m.