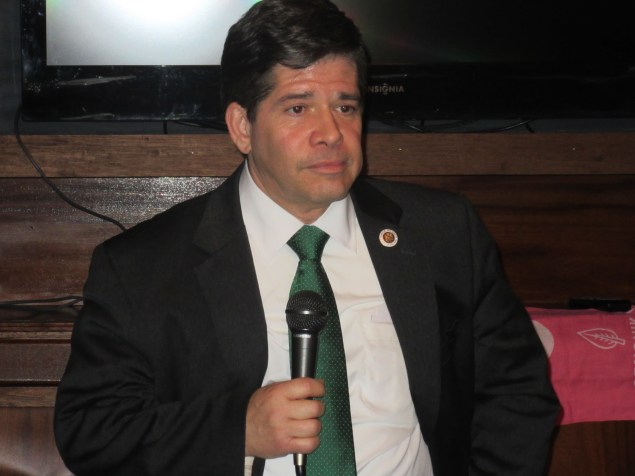 Councilman Vincent Gentile, a Democratic candidate for Congress, today broke with much of his party and with President Barack Obama by endorsing voter identification laws.
Mr. Gentile announced at a forum in his home neighborhood of Bay Ridge, a portion of Brooklyn in the Staten Island-based House seat that he is seeking, that he agreed with the Republican-backed push to deny people access to the ballot box unless they can verify their citizenship and eligibility. Democrats, including Mr. Obama, have long claimed that such statutes are a covert way of suppressing turnout among minorities, who they claim can often not afford the fees for official identification documents like drivers licenses.
"There should be some kind of identification when a person presents themselves to vote," Mr. Gentile said. "Whether it's a photo, or something, there should be some kind of identification presented that is secure on Election Day before you're able to vote."
The candidate said his personal experiences as a politician in New York, one of the 18 states nationwide with no voter ID laws, had made him a supporter of the measures.
"All of us who've run before are, can tell you stories about what happens on Election Day," he said.
The remarks garnered applause from the largely white, elderly audience at the Bay Ridge Council for the Aging, which organized the event. But Green Party candidate James Lane, an African-American, disagreed.
"It's just another way to do voter repression in this country, to scare people away from the polls," he said.
Mr. Gentile has far better odds of winning the race for the right-leaning seat than Mr. Lane, but he is still seen as an underdog against Republican Staten Island District Attorney Daniel Donovan.
Mr. Gentile's campaign backed away from his remarks at the debate, claiming that what he really meant was that the current New York law, which only requires a person to sign their name, is sufficient.
"To suggest that Vinnie supports voter suppression laws is completely absurd," said spokesman Justin Brannan, adding that the candidate has made past remarks supporting the existing statute. "He has said many times before that simply being able to match the signature on file would suffice as 'ID'—and that is no different than what is required to vote today."
The campaign for the predominantly white district has had an overhanging racial dimension, as Mr. Donovan rose to national prominence last year after a grand jury he impaneled decided not to indict a white police officer in the death of Eric Garner, a black Staten Island man.
Today's event is just one of several candidate forums Mr. Donovan has not attended, though he has debated Mr. Gentile twice. The Republican's campaign told the Staten Island Advance that Mr. Donovan's busy schedule prevented him from attending the event.
The special election is set for May 5.
Updated to include comment from Mr. Brannan.