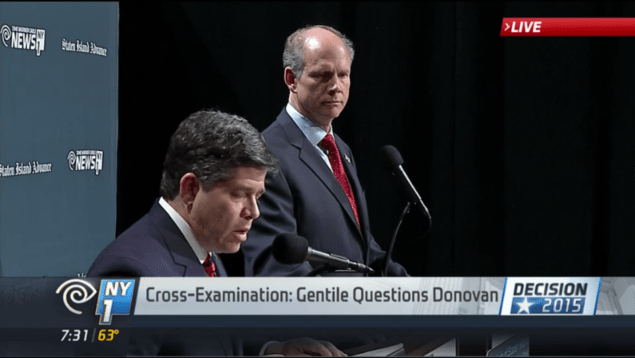 Staten Island District Attorney Daniel Donovan and Councilman Vincent Gentile, the Republican and Democrat vying for an open House seat in Staten Island and southern Brooklyn, predictably clashed tonight in the lone televised debate of the election, disagreeing on everything from immigration to the Iran nuclear deal.
At times Mr. Donovan, the front-runner in the special election, appeared uneasy in the spotlight, apparently unaware of how high the federal minimum wage is and declaring, at one point, he'd rename a Staten Island Ferry for former Mayor Michael Bloomberg, who many criticize for bungling the city's response to Hurricane Sandy.
Mr. Gentile, a Democrat, was constantly on the offensive, hoping to land enough blows to tilt the race with less than a month to go until Election Day on May 5.
"There is a void in the seat of Congress in the 11th Congressional District, we all know that," Mr. Gentile said in the debate co-sponsored by NY1 and the Staten Island Advance. "You don't fill a void with another void and that's been Dan's history and his lack of vision of both here on Staten Island and his desire to go to Congress."
In addition to facing attacks from Mr. Gentile, Mr. Donovan was the brunt of a couple of interruptions from audience members. One man shouted "Dan Donovan you've got blood on your hands," a reference to a Staten Island grand jury voting not to indict a police officer in the Eric Garner case. A woman, also escorted out of the auditorium at the College of Staten Island, cried "black lives matter," a common chant in the protests following Garner's death last year.
Mr. Donovan, looming above the much shorter councilman, again defended his role in the Garner case, which has not been an issue in the race despite the national attention it received. Mr. Donovan successfully fought the release of secret grand jury testimony and Mr. Gentile, a former prosecutor, targeted Mr. Donovan for contradicting himself by once seeking the release of testimony in an unrelated 2012 case, People v. Bonelli.
Mr. Donovan said he could not recall the case. "We have 12,000 cases a year. I've been DA now for nearly 12 years. That's 150,00 cases, I don't know the case he's talking about."
Like the previous representative of the district, Republican Michael Grimm, Mr. Donovan portrayed his Democratic opponent as a typical tax-and-spend liberal who would be rejected by the district's more conservative electorate. Mr. Donovan sought to tie Mr. Gentile to President Barack Obama and repeatedly hammered him for voting for an income tax hike while in the City Council.
But Mr. Donovan, in a move that raised some eyebrows in the audience, offered effusive praise for Mr. Bloomberg, the architect of those same tax hikes in the years after the September 11 attacks. Rather than pick someone like Rudolph Giuliani, the former Republican mayor who is beloved in the borough, to name a ferry after, Mr. Donovan used a lightning round question to align himself firmly with the billionaire executive.
"I think Mayor Bloomberg did a wonderful thing for New York and he's been very generous and people don't realize how generous Mayor Bloomberg's been in his personal life to make the cultures of New York City sustain, for his leadership in his 12 years as mayor," Mr. Donovan told reporters after the debate. "I think history will show that Mike Bloomberg was a good mayor."
On foreign policy and security, the two pols diverged, with Mr. Donovan taking a hawkish stance toward the Middle East that is now popular with the GOP. While Mr. Gentile praised Mr. Obama for reaching a tentative agreement to limit Iran's nuclear weapons program, Mr. Donovan lashed out at the president for not doing enough to stop Iran and defend Israel while at the same time trying to build a relationship with Cuba, a communist nation.
"Ronald Reagan used to speak about peace through strength. Our enemies are testing us right now and our allies are questioning our loyalty to them," Mr. Donovan said. "The rest of the world sees America as weak."
On immigration reform, Mr. Donovan, who once said he would "explore" deporting undocumented immigrants, softened his stance slightly, explaining instead that only "people who commit heinous crimes" should be deported. Mr. Gentile backed Mr. Obama's controversial executive action to shield millions of undocumented immigrants from deportation.
The two men could agree on a few things. They each thought the Boston Marathon bomber should receive the death penalty. And they both admitted to smoking marijuana before.
"In the late 70's when I was in college and not very much," Mr. Donovan said of the last time he smoked the illegal substance.