Celebrity dermatologist Frederic Brandt died in Miami over the weekend, Page Six reports. His cause of death is unclear at this point and his publicist has refused to comment on specifics, but Miami Herald reporter Lesley Abranavel says her sources pegged his death as a suicide, and said he had been suffering from depression. The Daily Mail and the New York Post report that an apparent parody of him on the Netflix show Unbreakable Kimmy Schmidt exacerbated his depression.
"The show definitely deeply hurt him," his publicist told the Post. "He was being made fun of because of the way he looks."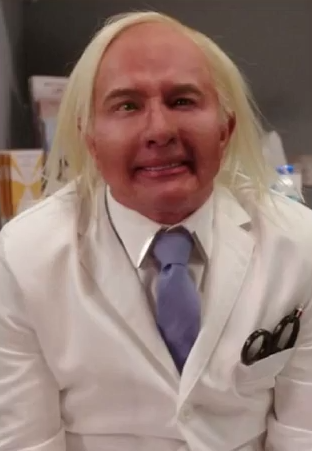 On Kimmy Schmidt, Tina Fey's much-lauded Netflix series, Martin Short plays a dermatologist who is a doppelganger for Dr. Brandt. The New York Post picked up on the similarities weeks ago. Mr. Short's character, Dr. Grant, has the same hairstyle as the real-life Dr. Brandt did. He is unable to speak properly due to the amount of plastic surgery he has had, and insists that his name is actually pronounced "Dr. Franff." (Dr. Brandt, to be fair, didn't seem to have much trouble speaking.)
The show's creators have never confirmed that Dr. Grant was meant to be a send-up of Dr. Brandt, but it's pretty clear that they had the famed doctor in mind when creating that character. Dr. Brandt was known for his distinctive look. He practiced fillers on himself for years, in addition to administering them to high-profile clients such as Madonna and Stephanie Seymour. He even said in a New York Times profile last year that he sometimes regretted overusing substances like Botox. Why mock him for that?
Of course, if the show's nasty characterization of him did contribute in any way to Dr. Brandt's depression, Tina Fey and the writers of Unbreakable Kimmy Schmidt are not to blame. Depression causes suicide—outside forces and the actions of others do not.
Still, the situation brings up some questions about whether Kimmy Schmidt's thinly veiled portrayal of the doctor was in poor taste. The best kind of satire punches up in an attempt to mock those in power. Was Dr. Brandt really that powerful? He didn't create the beauty standards that send women to the plastic surgeon's office to fix their perceived imperfections. His clients were consenting adults who sought out his services because they wanted them. To suggest otherwise is condescending and sexist.
Unbreakable Kimmy Schmidt did not need to name their Dr. Brandt character Dr. Grant, and they could have given him a different hairstyle. Such a scathing send-up of plastic surgery culture would have been just as effective without blatantly mocking someone who apparently had mental health issues. Dr. Brandt is only famous to people who are in the know about dermatology and cosmetic treatments. The Dr. Grant character worked whether or not viewers were familiar with Dr. Brandt.
In fact, after watching the show and laughing at the Dr. Grant character, one felt a bit guilty upon learning the character was a spot-on impersonation of a someone who was, by all accounts, a very nice guy. The Dr. Grant character would have worked just as well if his name was Dr. Jones and he had a different hairstyle. Choosing to base the character on an actual person who is not a public figure feels mean-spirited.
Regardless of whether Unbreakable Kimmy Schmidt contributed to Dr. Brandt's depression, perhaps his death is a wake-up call for the rest of us. Making fun of someone's face is mean and unnecessary, whether their appearance is the result of cosmetic enhancement or not.