For years, the Upper East Side was perceived as one of Manhattan's least dynamic areas, home of the super-rich (and reclusive) near the Park, and party-loving recent college grads in the East 70s. But the tectonic shifts in real estate throughout the rest of the city are at last being felt uptown. "In the past, historically west of Lexington was always the place to be, but I think that now you'll find that even developers are now realizing that east of 3rd or Lexington is more than just Brother Jimmy's or bagel shops," said Julie Park, an agent with the Level Group, who lives on the Upper East Side herself. And where developers are seeing opportunity, buyers are seeing value: Park is listing a 1,600-square-foot, three-bedroom on the 36th floor of her building at 75th and 1st for $2.395 million, or less than $1,500 per square foot. "I don't think you can really find that anywhere else in Manhattan," she noted. "I think people are definitely looking to the neighborhood for value."
And it is not just families who are taking a second look at the area. "Obviously downtown has been more of a scene for younger people," conceded Leslie S. Modell, associate broker for Sotheby's International Realty. "But the price points downtown have driven young people uptown….Eventually you want to live alone, not with three roommates."
"And, it's beautiful," she continued. "There are restaurants parks, shopping and it's a very friendly place. It's not tourist heaven. Up here you can walk, and breathe, and feel good."

The Charles, 1355 First Avenue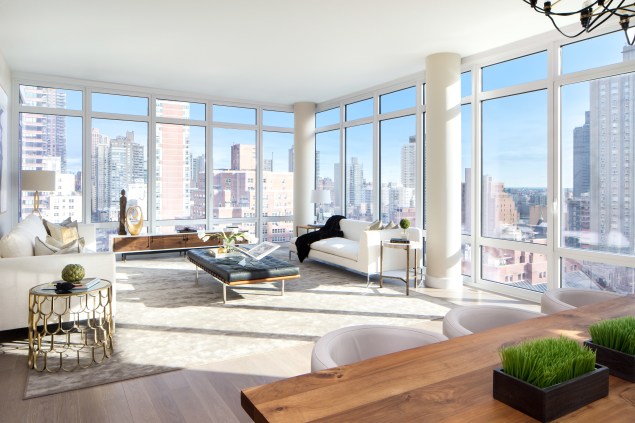 Project: One of the highest-profile ventures the Far East Side and Bluerock's first NYC development, The Charles created a sensation last year, when its penthouse went under contract for over $37 million, more than double the previous top price east of Third Avenue. The Ismael Leyva Architects-designed building now comprises 26 four-bedroom, four-bath, full-floor residences with floor-to-extra-high-ceiling windows, expansive eat-in kitchens, and white oak flooring.
Amenities: Private elevator, service entry, and storage for each unit, plus a 1,000-square-foot fitness center and game room.
Percentage Sold: 75 percent.
Available Units: From 3,141 to 3,455 square feet, $6.58M to 9.88M.
For more information: charlesnyc.com
155 East 79th Street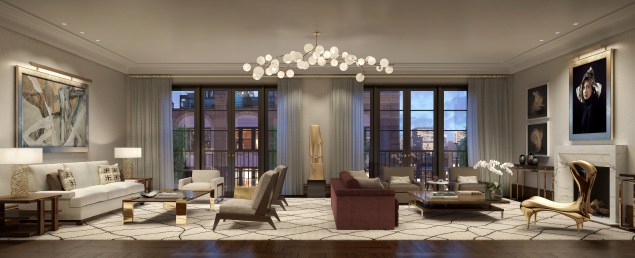 Project: Developed by Anbau Enterprises and BKSK Architects, this 14-story development with a limestone-and-brick facade houses 7 full-floor duplex condominiums, featuring interior design work by Andrew Sheiman of Pembroke & Ives. Sprawling southern-facing living rooms, most with wood-burning fireplaces, run the width of the building. Floor-to-ceiling windows provide floods of natural light. Completion is expected later in 2015.
Amenities: Private balconies, with the penthouse offering a private landscaped terrace and maisonette its own backyard. Direct elevator entry, 24-hour doorman, a fitness center, individual storage, as well as bicycle storage.
Percentage Sold: 71 percent (5 of 7).
Available Units: From 3,291 to 4,292 square feet, $9.55 M to 15.6 M.
For more information: 155east79.com
360 East 89th Street
Project: SHoP Architects is everywhere, it seems, including in the design of this 34-story luxury condominium that houses "approximately" 80 one- to four-bedroom residences; another Anbau development. Expected completion: 2017.
Amenities: Kid's "clubhouse" and playroom, a catering kitchen, fitness center with yoga and Pilates studios, and private entertainment rooms.
Percentage Sold: Sales begin later this year.
Available Units: From 900 to 4,500 square feet, $1.3 M to over $10 M.
For more information:  anbaunyc.com

520 Park Avenue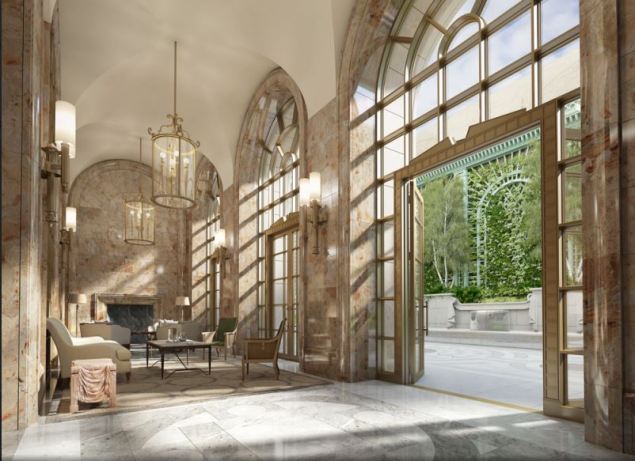 Project: Developed by Zeckendorf Development, Park Sixty LLC and Global Holdings, 520 Park is a 54-story luxury residential tower—a "distinctive limestone building without compare" according to its literature—with 31 homes, comprising 23 simplex units, seven duplex residences, and one already-legendary triplex. Designed by, yes, Robert A.M. Stern Architects (RAMSA), which is also working on 20 East End Avenue and redid The Carlton House (see below).
Amenities: A salon, described as a "quiet space ideal for conversation and socializing." A landscaped private garden complete with decorative fountains. Also, a children's playroom, a two-story fitness center including a pool with vaulted ceiling and hand-carved stone walls, exercise rooms, sauna and steam rooms, and a treatment room. Guest suites and wine cellars also available for purchase. The triplex comes with a 1,250 square foot private terrace.
Percentage Sold: Sales to begin this spring.
Available Units: From 4,600 to 12,400 square feet, $16.2 M to $130 M (for the triplex).
For more information: 520parkavenue.com
1110 Park Avenue
Project: Located in a recently landmarked stretch of Park Avenue, 1110 Park is a 16-story, nine-unit, condominium developed by Toll Brothers and designed by VOA and Barry Rice Architects. The three- to five-bedroom bedroom units are full-floor residences; there are also two simplex and five duplex units, one maisonette, and a penthouse triplex complete with private rooftop pool and BBQ.
Amenities: Private library in most residences, a "resident's lounge with fireplace and wine cellar where each resident will have their own privately keyed closet," and a fitness center.
Percentage Sold: 33 percent (3 of 9).
Available Units: From 2,851 square feet to 7,000 square feet, $9.25M to $35M
For more information: 1110parkave.com

Carnegie Park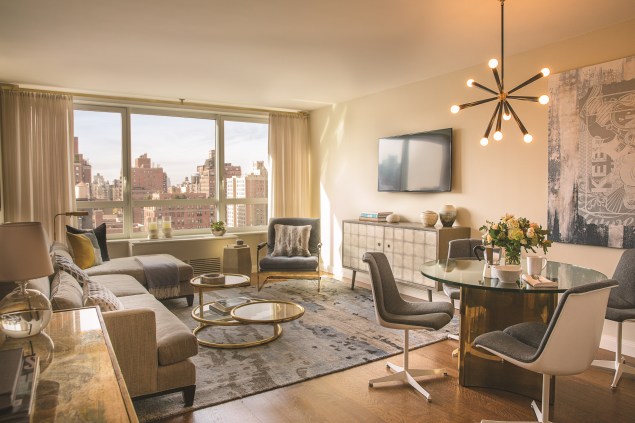 Project: Located at 200 East94th Street, Carnegie Park is a former rental building converted into a 31-story, 325-unit condominium residence developed by Related Companies and designed by the very, very busy Robert A.M. Stern. The units, ranging in size from from studios to four-bedroom condos, feature wide-plank oak floors, warm textures, and sleek, contemporary designs.
Amenities: Access to a landscaped roof complete with BBQ, fitness center with a pool and yoga center. Also, children's playroom, entertainment lounge, and a half-acre private park within the complex.
Percentage Sold:  30 percent (100 of 325).
Available Units: One-to-five-bedroom residences from 725 to 1,900 square feet, from $850,000 for the one-to-three bedrooms or $5M for a select number of four-to-five-bedrooms.
For more information: carnegiepark.com
The Carlton House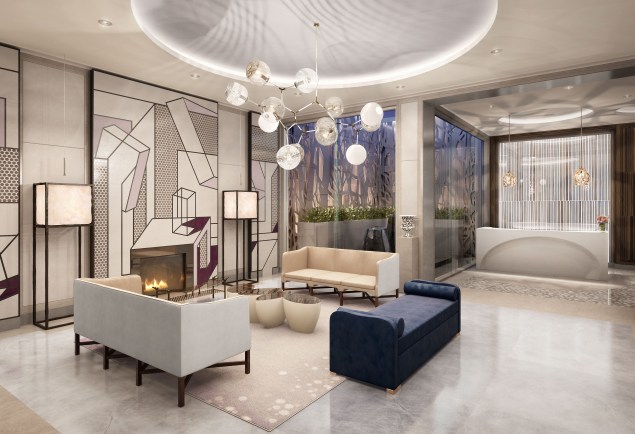 Project: Katherine Newman Design and Beyer Blinder Belle architectural firm collaborated with developer Extell to preserve this limestone-and-brick building, which had previously been the Helmsley Carlton House hotel. The 68 two-to-sex-bedroom luxury residences offer outdoor spaces, wide-plank oak floors, and custom kitchen cabinetry. Residents can choose between two palettes, pearl or mink, to customize their decor.
Amenities: An arrangement with neighbor Barney's New York, including lunch and delivery service from iconic restaurant Fred's, access to personal stylists and use of Barney's penthouse suite for special events. Also, heated indoor saltwater pool, fitness center with steam rooms, and a "dedicated lifestyle consultant available to assist residents with a range of personal needs."
Percentage Sold: 80 percent.
Available Units: From 2,443 to 4,649 square feet, $8.6M to $21.5M, with the 9,742-square foot townhouse for $65M.
For more information: thecarltonhouse.com
AKA Sutton, 330 East 56th Street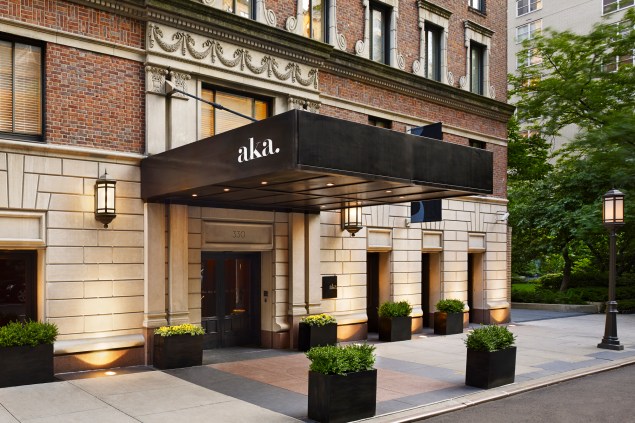 Project: Long an extended-stay luxury hotel, AKA Sutton Place isnow offering a number of its one- or two-bedroom apartments as condominium residences for sale through Brown Harris Stevens. Designed by Edward Asfour of Asfour-Guzy Architects, the units will have mahogany wood floors and coffered ceilings.
Amenities: A resident lounge designed by Will Meyer and Gray Davis of Meyer Davis Studio, with fireplace and a coffee, wine, and cocktail bar; 55-foot indoor pool; private cinema,  fitness center, and indoor garden.
Percentage Sold: Sales to launch late spring/ early summer.
Available Units: 1 or 2 BR residences from 700 to 2,000 square feet, from $1M for the one-bedrooms and from $2M for the two-bedrooms.
For more information: stayaka.com