Back in September, an elegant little anti-Facebook social network with a few thousand users became the fastest-growing social network in history in a matter of hours. Since the hype died down, Ello has become the butt of the easiest Twitter joke in toothless tech criticism: "Remember Ello? Me neither, lol."
It's time to freshen your memory: As of this morning, Ello has closed a deal for another $5 million in funding as it adds community managers, builds its mobile app and entirely redesigns its site.
The company has gone from a group of seven staunch idealists to a team of almost 30. Even on weeks when tech news sites run lengthy editorials about its alleged demise, Ello adds hundreds of thousands of users, and, as millions more continue to pile on, they can't beef up operations fast enough.
Mo' money, mo' runway
From day one, Ello's VC funding has been raising eyebrows. If these founders really are a collective of turtlenecked designers who pen grandiose anti-corporate manifestos, why are they taking millions from marquee investors? The founders have said repeatedly: Just because you have a moral compass, doesn't mean you don't know how to run a business.
"Ello is a business, there's no secret about that," Ello founder Paul Budnitz said. "If we're going to change the world, we should do it as a business."
How much it takes to run that business is another matter entirely. A month after their hype explosion, they raised $5.5 million from Techstars, Foundry Group and FreshTracks Capital—firms from Vermont and Colorado, the two states where Ello's team is based—so that they could continue to expand. But Mr. Budnitz said that though they were offered much more money than they took, they might have been better off taking a sweeter deal. The new investment brings them to a total of $11 million in funding.
"We got offered a great deal, and we took it," Mr. Budnitz said. "It's more runway, and the ability to hire more people. We took a look at our plan, and we want to develop faster."
So how are they actually going to make money if they can't sell ads or data? After all, at the time of their first investment, the founders used a peculiar legal framework buried in Delaware law to legally bind them to never doing either of those two things.
Ello's plan is freemium: Allow people to use Ello for free, but sell little extra features as bonuses. Want to sign in with multiple accounts at a time, or invert the site's color scheme from black-on-white to white-on-black? Make a one-time payment, and it's yours. It's a model that fuels an entire mobile gaming industry filled with publicly traded companies.
Naysayers have insisted that freemium could never, ever, ever work for social the way it has for games and enterprise, but LinkedIn, OkCupid and Tinder are all experimenting with ways that paid memberships could increase earnings for certain power-users.
"Based on our growing number of users, people are exhibiting the desire for an ad-free network where personal data isn't bought and sold for profit," Techstars managing partner and Ello investor Mark Solon told the Observer. "That's our investment thesis: People want to pay for that."
What's in a beta, anyway?
Ello is a work in progress. Not in the way that any business or great undertaking is a work in progress—Ello, as a product, is actually not finished. When Ello became an overnight sensation, it was still a scrappy site in the early days of beta testing, and to this day it's still invite only.
Ello is still haunted by the terrible timing of their accidental September debut, when tens of thousands of people flocked to Ello every hour to find a product that wasn't fully ready for the world stage.
"Ello is almost cursed by their early success, because they didn't get to roll out the rich features that would make it appealing to the masses," Mr. Solon said. "The media frenzy and the weight of those expectations wasn't fair to a company in beta."
Since September, they've diligently ticked off various items on their feature checklist to get them ready for primetime. They've added reposting and sharing, better comments, more privacy tools and content flagging.
The mobile app is close to release. The dev team has been playing with it for months—Mark Solon says its the most beautiful social app he's ever seen—and they say it should be ready by the end of May. As for the beta, there's no end in sight. Mr. Budnitz thinks it might end some time this summer, but he's perfectly fine growing on invites alone.
"Seventy to 80 of our growth comes from invites from within our network," Mr. Budnitz said. "And the ones who come in organically that way are the ones who stick around, which makes total sense."
In the mean time, they've redesigned the entire site.
More Ello than ever before
As of today, Ello has been redesigned, back-end and front-end, and "Ello V2" will roll out across the user base over the course of the week.
The new site has a full-screen display, private messaging, private groups, the ability to like posts—well, "love" them—more robust searching, and the ability to comment with photos and videos.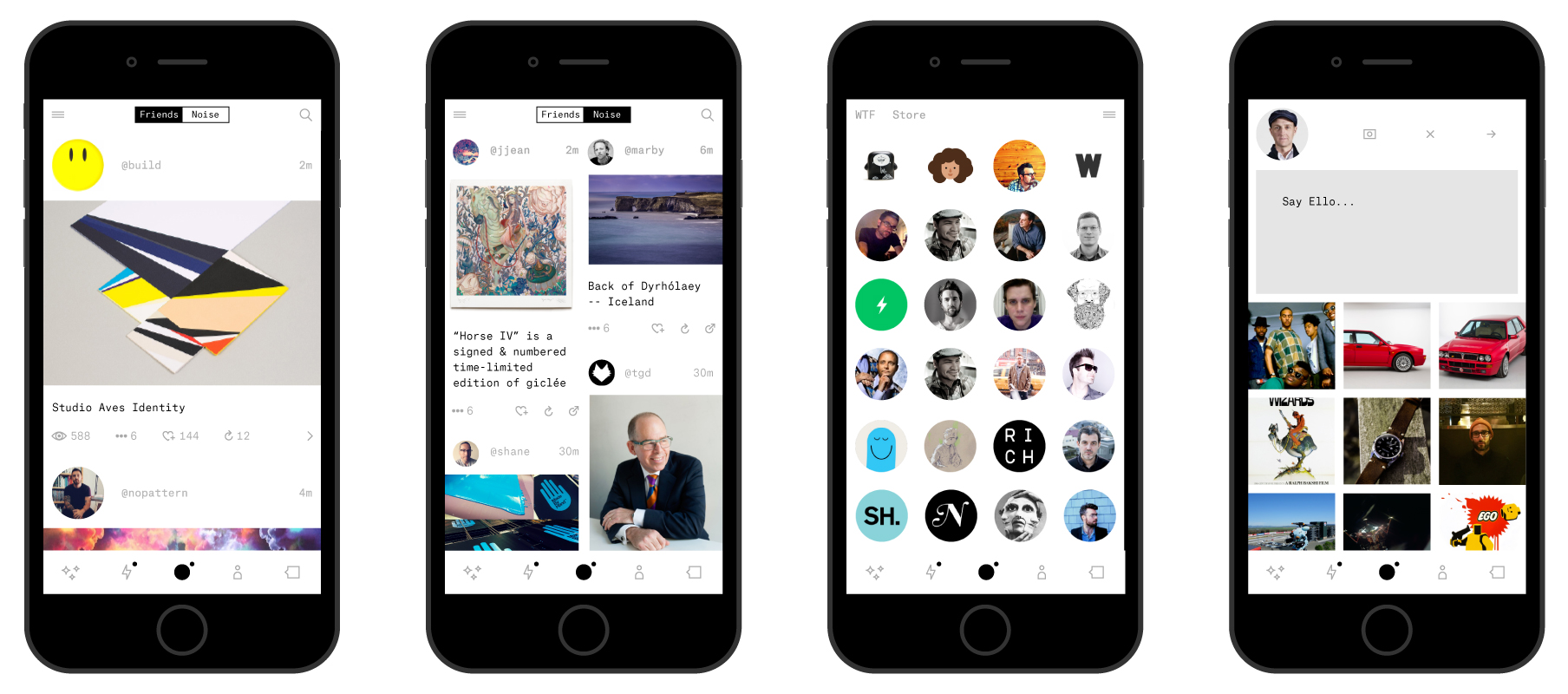 Berger & Föhr, the co-founders and designer behind Ello, have taken a fair amount of shit from the high-design echo chamber about the way the site is made. It's a love-it-or-hate-it interface, though it still hold appeal for a strange combination of high caliber artists and finance professionals.
"If Ello was polarizing to somebody before, my reaction is twofold: It's even more Ello now, so you're going to hate it more, which is O.K. with me," Mr. Budnitz said. "Because when people get it, they just get it. It's like the Clement Greenberg saying: All art is ugly at first."
The coding team, based in Boulder, built the new site in order to pave the way for oncoming mobile. Meanwhile, the customer-facing staff is in Vermont. Ello has a full-time community manager that corals the various interest groups. And the founders still maintain full control over the direction of the company. Most VC investors would have wrestled that kind of authority away from a founder a long time ago, especially one with such little experience in technology.
But Mr. Solon is happy to let loose an entrepreneur with so much drive and pure motivation. Mr. Budnitz is a dream founder for his investors, even if you think Ello is a money pit.
"Paul believes that these social networks are truly evil," Mr. Solon said. "He doesn't care about negative press. It's like water off a duck's ass."
Besides, Paul Budnitz has always been a bit of a mad genius. He was the first person to ever cut a feature film on a computer. He has art in the permanent collection at MoMA. He's started a number of successful businesses, including Kidrobot and Budnitz Bicycles.
"There's a lot of Steve Jobs there," Mr. Solon said. "He's brilliant and he's crazy—a good kind of crazy. And people like Paul are crazy enough to change the world."