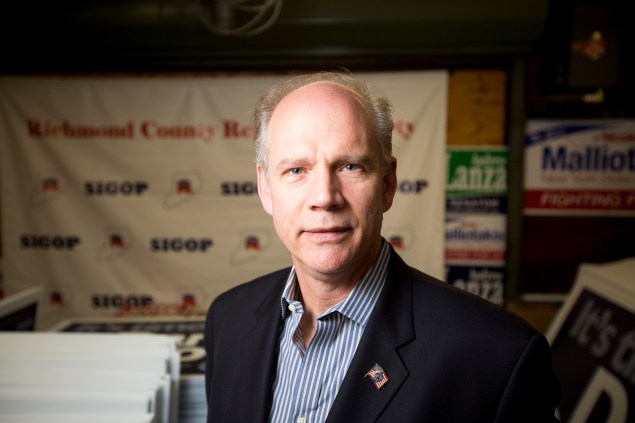 The district attorney who didn't secure an indictment in the Eric Garner case doesn't want any special prosecutor investigating future deaths of unarmed civilians caused by police.
Daniel Donovan, the Staten Island district attorney and a Republican candidate for Congress, echoed complaints of other local district attorneys, telling a radio host that the proposal would effectively disenfranchise the people who elected him.
"We're held accountable and are elected by the members of our community and a special prosecutor wouldn't have that same accountability to the voters," Mr. Donovan told Brian Lehrer on WNYC this morning. "People voted for us to be the chief law enforcement officers to do our duty."
After a Staten Island grand jury failed to indict a white NYPD officer in the death of Garner, a black Staten Islander, last year, critics in political and academic circles charged that local district attorneys, who often work closely with the police to prosecute crimes, are too close to law enforcement to consistently bring charges against them when they run afoul of the law. In December, Attorney General Eric Schneiderman proposed that Gov. Andrew Cuomo appoint him as a special prosecutor in future cases where civilians die in police custody.
Mr. Cuomo, who has sought his own criminal justice reforms, was initially cool to the proposal, but is reportedly considering it now. The families of several minorities who died in police custody recently met with Mr. Cuomo to push him to back the Schneiderman measure.
When Mr. Schneiderman and a bevy of city Democrats called for a special prosecutor last year, Mr. Donovan declined to comment on the proposal, unlike his counterparts in the other boroughs. Brooklyn District Attorney Kenneth Thompson, who recently secured an indictment of a police officer in the Akai Gurley case, said a special prosecutor proposal was "not really workable."
Mr. Donovan insisted he could fairly prosecute police, even after receiving the endorsements of police unions for his campaigns for elected office, including Congress.
"We have indicted police officers. People are looking at one case, one matter, but we have indicted police officers," Mr. Donovan said. "We have prosecuted police officers. We have a bureau, a special projects bureau that does special cases."