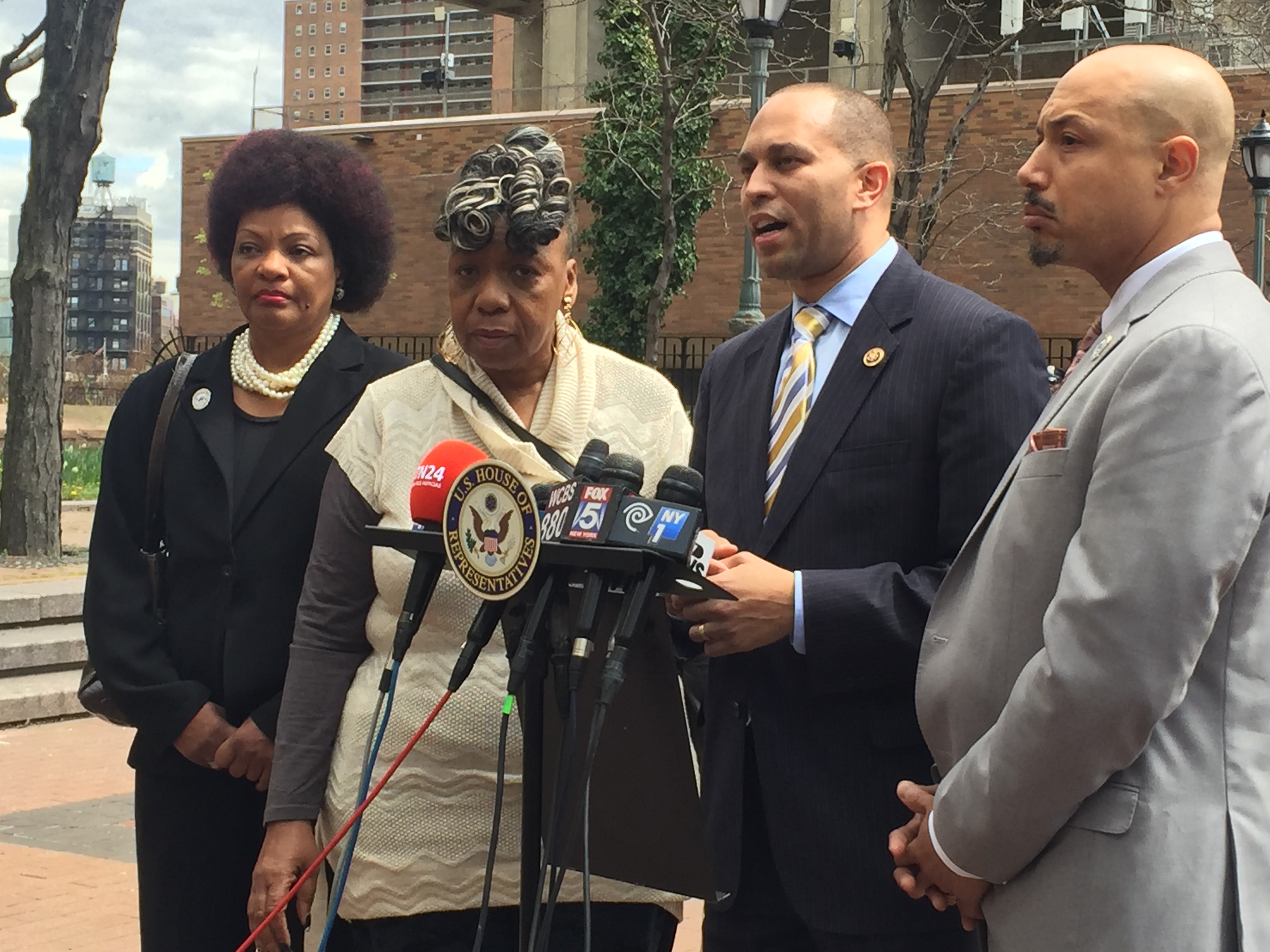 The mother of Eric Garner won't be supporting District Attorney Daniel Donovan—who convened the grand jury that failed to indict anyone in her son's police custody death—in his run for Congress, she said today.
"He should run far away as possible," Ms. Carr said today when a NY1 reporter asked what she thought of the Republican's campaign.
Ms. Carr's comments—seemingly the first she's made on the prosecutor's run to represent Staten Island and a sliver of Brooklyn in the House of Representatives—came as she stood beside Congressman Hakeem Jeffries to offer her support for legislation that would make police chokeholds illegal under the federal civil rights statute, sometimes used to prosecute police officers after localities fail to bring charges.
Mr. Donovan is heavily favored to win his Congressional race against Democratic Councilman Vincent Gentile—meaning Mr. Donovan would have an opportunity to vote on the legislation. At an event earlier in the day, Mr. Donovan would not take a position on the bill, the NY1 reporter, Courtney Gross, told Ms. Carr. Ms. Carr said she had not reached out to Mr. Donovan about the legislation.
"No, I haven't had any conversations with him, and he doesn't get my vote," Ms. Carr said.
(Ms. Carr went on to add she will vote in the election—presumably for Mr. Gentile, or perhaps for Green Party candidate James Lane.)
Mr. Jeffries, among the most outspoken lawmakers in criticizing the failure of a grand jury to indict police officer Daniel Pantaleo in Mr. Garner's death, said he had also not yet spoken with Mr. Donovan about the legislation.
"If he is successful in being elected, I'm interested in hearing his views on the criminal justice system," Mr. Jeffries said, before adding he hoped Mr. Donovan would join with some fellow Republicans in the Congress who have pushed for criminal justice reform.
A spokeswoman for Mr. Donovan, Jessica Proud, said she had no comment on Ms. Carr's comments, but said Mr. Donovan wanted to know more about Mr. Jeffries' bill.
"He would like to actually read the bill before taking a position on it, including to see how it defines a 'chokehold'. He generally believes that policing policies are best left to states and communities, not the federal government," Ms. Proud said in an e-mail.
Mr. Jeffries said his legislation would use the language the NYPD uses to describe a chokehold in prohibiting it in the department's patrol guide.