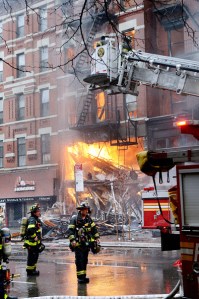 It's been a week since a fiery explosion leveled three buildings in the East Village and, as bodies have been identified, fingers have been pointed in blame. At the same time, media outlets have unleashed a deluge of speculation and analysis. Here's an overview of all the current information:
– At about 3:15 PM on Thursday, March 26, construction workers accidentally ruptured a gas main in the Sushi Park restaurant, on the ground floor of a five-story tenement at 121 Second Ave. This rupture triggered a blast which destroyed the Sushi Park building and two adjacent ones. Among the other businesses that were leveled were ramen shop East Noodle and Belgian restaurant Pommes Frites.
– Two men were killed in the explosion: 23-year-old Nicholas Figueroa, who was on a date in Sushi Park at the time of the blast, and 27-year-old Moises Locon, who was a busboy at Sushi Park.
– Con Ed utility workers had visited 121 Second Ave earlier in the day to check the status of the new gas main. The work failed inspection (though no leaks had yet occurred), and gas service to the building was shut off. The Con Ed workers left the building at 2:45 PM.
– In the aftermath of the blast, law enforcement officials investigated whether it was caused by tenants at 121 Second Ave attempting to hide that they were siphoning natural gas. They theorized that one or more gas lines was tapped over several months, but that the siphoning apparatus was dismantled before Con Ed arrived. Once the inspectors left, an attempt to restart the gas siphoning allegedly went awry, causing the explosion.
– Con Ed workers were aware that the gas line for Sushi Park restaurant had been tapped to supply fuel for tenants upstairs, but thought this was a stopgap used in August 2014 until a bigger line could be installed. However, it now appears that the gas lines had been redirected for more than a year.
– The building's landlord, Maria Hrynenko, who inherited it from her late husband, is now suspected of instructing residents on how to respond to questions from Con Ed. She allegedly ignored the "rotten egg" odor of gas in the building until right before the blast, when she sent her son Michael to check the gas line; the boy was seriously injured in the explosion.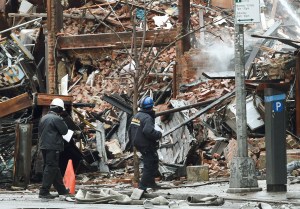 – Authorities are building a criminal case against Ms. Hrynenko; possible charges could include reckless endangerment and second-degree manslaughter.
-This would not be her first experience with litigation–in 2009 tenants at 121 Second Ave, another building Ms. Hrynenko owned that was also destroyed in the blast, took her to court for renting ground floor space to a restaurant that installed an exhaust system in the air shaft. They complained that they were being robbed of light and air because their windows were sealed from the inside.
– Ms. Hrynenko's attorney, Thomas Curtis, says she is a caring woman who would never intentionally harm anyone, and he is now trying to deflect blame to Con Ed. Though he admits that in hindsight Ms. Hrynenko should have called 911 rather than having her son inspect the gas line, he also contends that Con Ed should have shut off the the main gas valve to avoid the situation altogether. Con Ed responded by saying Ms. Hrynenko had deceived tenants about their gas service.
– Another part of Mr. Curtis' defense is painting Ms. Hrynenko as an innocent idiot. He says "she's not savvy enough to do anything illegal" and calls her conscientious and naive, saying she trusted Con Ed because "she didn't know any better." Mr. Curtis concedes that Ms. Hrynenko does not know a lot about construction, but said that in this case Con Ed should have been even more careful.
– The city housing authority is meeting with victims of the explosion tonight, but press will not be allowed inside the meeting.