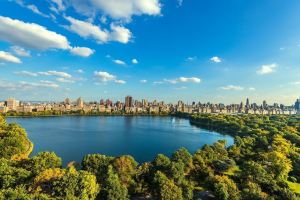 It is perhaps in part a testament to the apartment's gracious layout and sun-soaking orientation that co-op number 23G at 300 Central Park West does not in any way suggest bad vibes. For some years, Zach and Shirley Schaye ran twin practices in psychotherapy and psychopharmacology out of the four-bedroom apartment, dealing, according to the couple's website, with such myriad unpleasantness as the "general malaise" of life, an allegedly suicidal adolescent and a woman who "kept putting up walls," to the detriment of her marriage.
It's true, though, that when the Schayes went to sell the place, about two years ago, they didn't have any immediate luck, listing it first for $10.85 million and then dropping it heftily by nearly $1 million less than a year later. Still, they ultimately managed a very respectable $10.3 million, according to city records, having engaged the services of Corcoran's Deanna Kory and Lynn Nguyen. (It was another Corcoran team that had the original–somewhat more optimistic listing–two years back.)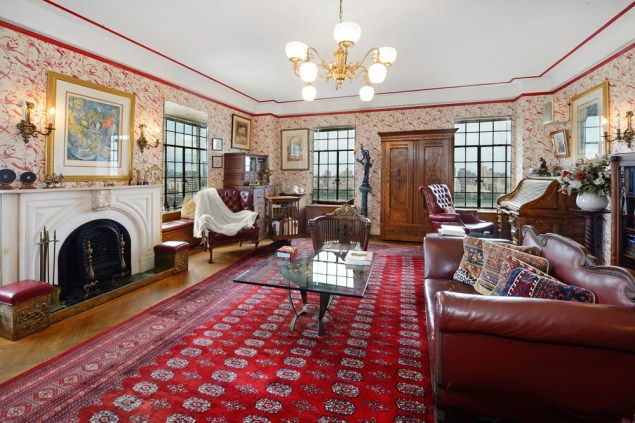 Occupying a full floor of the much-esteemed El Dorado, the co-op enjoys views in all directions, including enviable vantages on the Central Park Reservoir and the Belvedere Castle. That the space was used for both private and professional purposes perhaps helped to ensure its diligent upkeep, and indeed, it appears to have been beautifully maintained, albeit in Old World Style. There are, for example, herringbone floors and decorative wood doors, beamed ceilings and wood-burning fireplaces. The tile-floored kitchen, which has a pretty pressed-metal ceiling, has been updated with modern stainless-steel appliances, though it retains the look of a facility used by staff.
As far as potentially undesirable pre-existing conditions go, we can see only a high incidence of colorful, frenetically-patterned wallpaper. That, of course, is nothing to be too concerned about. And we're sure it's nothing that the new owners, former Aetna CEO, John Rowe, and his wife, Valerie, whose duplex tower penthouse in the same building is currently listed with Warburg for $29 million, can't handle. Downsizing isn't so bad when it involves moving to a floor-through in the same building.