You might not know Al Sapienza's name but if you've seen House of Cards, Blue Bloods, Margin Call, Pretty Woman, the first season of the Sopranos or a hundred other little nuggets, you know his face. (I consider his delivery of "Were you this fuckin' stupid when I married you?" to be pre-eminent among all Sopranos gems, which is saying something regal and mighty.)
With an IMDB.com entry showing a long list of current and coming projects, one might expect the actor, who lives on the Upper East Side, to be rolling in dough just from his paychecks. But the residual checks that trickle in from work performed in the near and distant past provide an important component of the personal finances of any actor.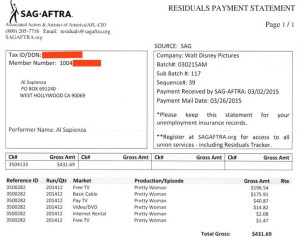 The Observer nosily asked Mr. Sapienza to put his personal finances in perspective. "I happen to be doing my books right now," he said as some sort of loud construction noise pervaded the background. "Let me look. One, two, three … thirty-four, thirty-five … I've gotten 53 checks over the past 60 days. Some can be $6,000 for first network rerun on CBS or NBC or ABC. Then they go down to 1 cent. They all come in a separate SAG envelope with a cover sheet that tells you the performance."
Can an actor with a career like yours just sit in the sun and live off these checks?
"No. The first year residuals are high but you gotta work. These are nice. They keep you insured with great dental, but you have to work."
Why is it so loud? Are you sawing?
"While I'm talking to you they're putting new terraces on my building."
But I'm trying to figure out if you have to work or you want to work.
"Well, I hate sitting around. In a week, I'm going to Halifax to do the Jesse Stone thing then I have a small role with Brad Pitt in that movie The Big Short, then Virginia then Moscow to do this crazy series called Insomnia. I'm in all eight episodes, I play a US Senator and it's either going to be horrible or a gigantic cult hit. Then when Dirty Dancing goes to Broadway—right now it's breaking records on tour, and they're doing it backwards coming to Broadway last—I'll play the Jerry Orbach role on Broadway. I opened it in Toronto."