NEWARK – In the midst of his 80th birthday soiree at the downtown Newark arts center he was instrumental in building, former New Jersey Governor Tom Kean, noted for his public service, served notice to the state's troubled political world.
"We've got to clean up our act. A lot of states have problems, but we've got to look ahead. We've got to be optimistic," Kean told PolitickerNJ on Monday, commenting on the flurry of federal corruption indictments filed recently against U.S. Senator Bob Menendez (D-N.J.) and others soon expected to hit allies and aides of Republican Governor Chris Christie. "We've got to have can-do leadership and where we've got a problem, we've got to try to solve it. There is no problem that this state has that doesn't have a solution, and the solution is always bipartisan."
Kean called on both sides of the aisle to address what he saw as the key issues facing this administration and the next.
"We've got to solve the transportation [trust fund] problem. That's not going to wait for the next governor," Kean said. "And we've got to solve this pension and [benefits] crisis, because every year that gets worse. I wouldn't want to run for governor, frankly, if that hasn't been solved."
If you yelled out the word "governor" among the more than 200 people at the event held at the New Jersey Performing Arts Center (NJPAC) in Newark, many of those who have been New Jersey's chief executive or want to be would have swiveled their heads.
Former Governors Jim Florio, Christine Todd Whitman, Donald DiFrancesco, Jim McGreevey (who arrived despite getting a flat tire on the way) and Jon Corzine were all present, as were two potential 2017 gubernatorial candidates, former U.S. Ambassador to Germany Phil Murphy, a Democrat, and Republican Lieutenant Governor Kim Guadagno.
"He's one of the best examples," said Murphy, accompanied by his wife Tammy, who were both sponsors of the event. "He's somebody who got things done. He sets the standard for finding common ground."
"I have great admiration for Governor Kean. His leadership with respect to developing a vision for our homeland security is one of the great contributions that I've seen in public life," said Corzine, who has rarely appeared in public after leaving the governor's office in 2010, referring to Kean's chairmanship of the 9/11 Commission. "We're standing in a place where he made a huge difference. Without his leadership it wouldn't have happened."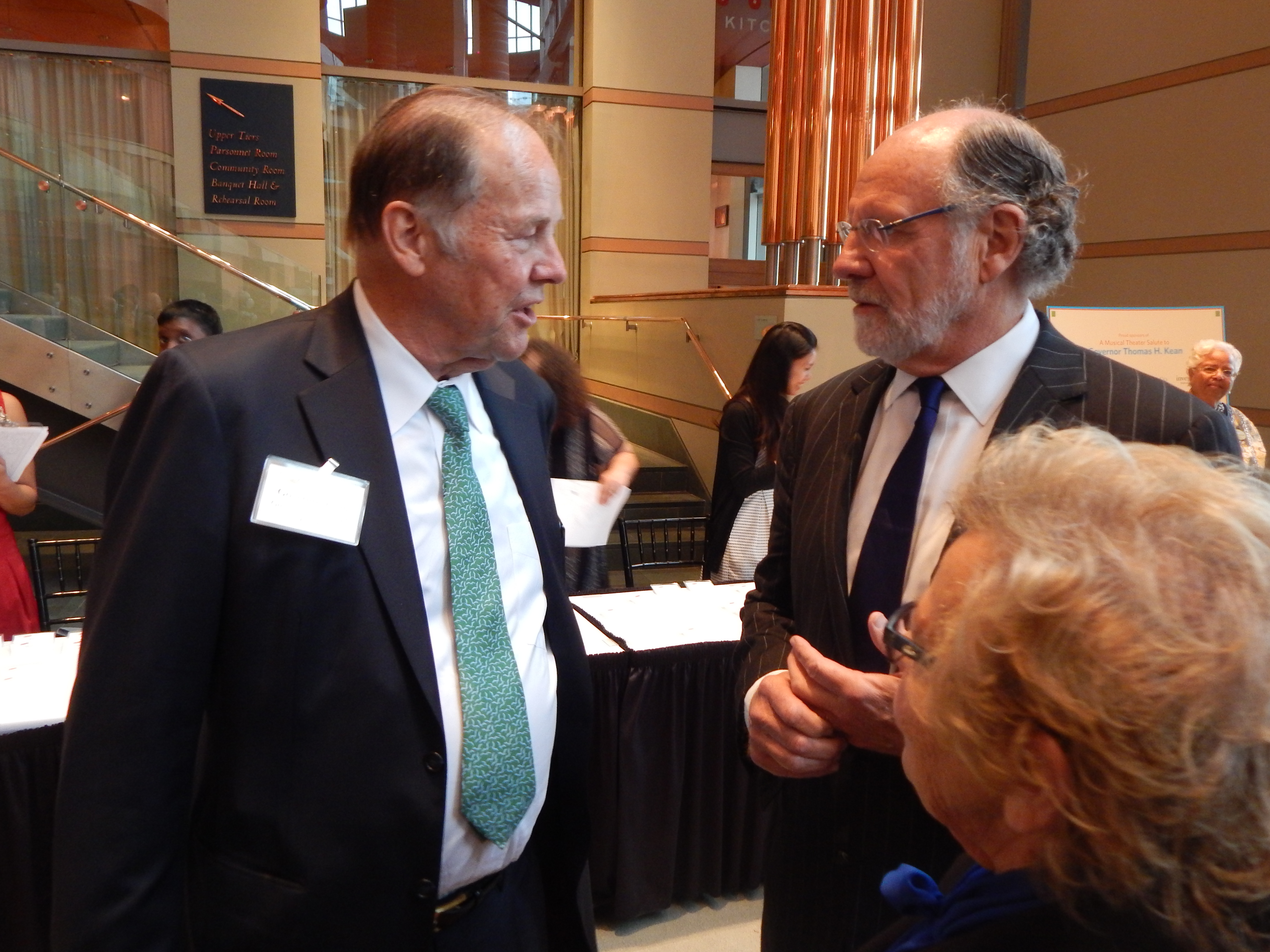 Another New Jersey politico who is far less camera shy agreed with Corzine.
"Governor Kean is not just a legend in politics, but a legend as an individual," said former Newark Mayor Sharpe James, who worked closely with Kean to help open NJPAC in 1997. "He brought this arts center to Newark. He didn't have to do that. The man transcends Democrat and Republican. He's been a visionary for New Jersey."
"He's an icon. There's no question that he's served with honor. He's beloved in the state," said Whitman. "We need someone who really does reach across the aisle and whose focus is on New Jersey. Tom has a way about him that has been very appealing to people."
State Senate Minority Leader Tom Kean, Jr. (R-21) spoke about his father's legacy.
"He's making a difference every day," said Kean, Jr., declining comment about if he would have any interest in a potentially open U.S. Senate seat if Menendez's legal problems worsened, saying it was his father's night. "He empowers people and offers them hope. It's a wonderful testament."
As for the man of the hour, Governor Kean, serenaded with show tunes and praised by his peers, lauded "the love affair" he has with New Jersey.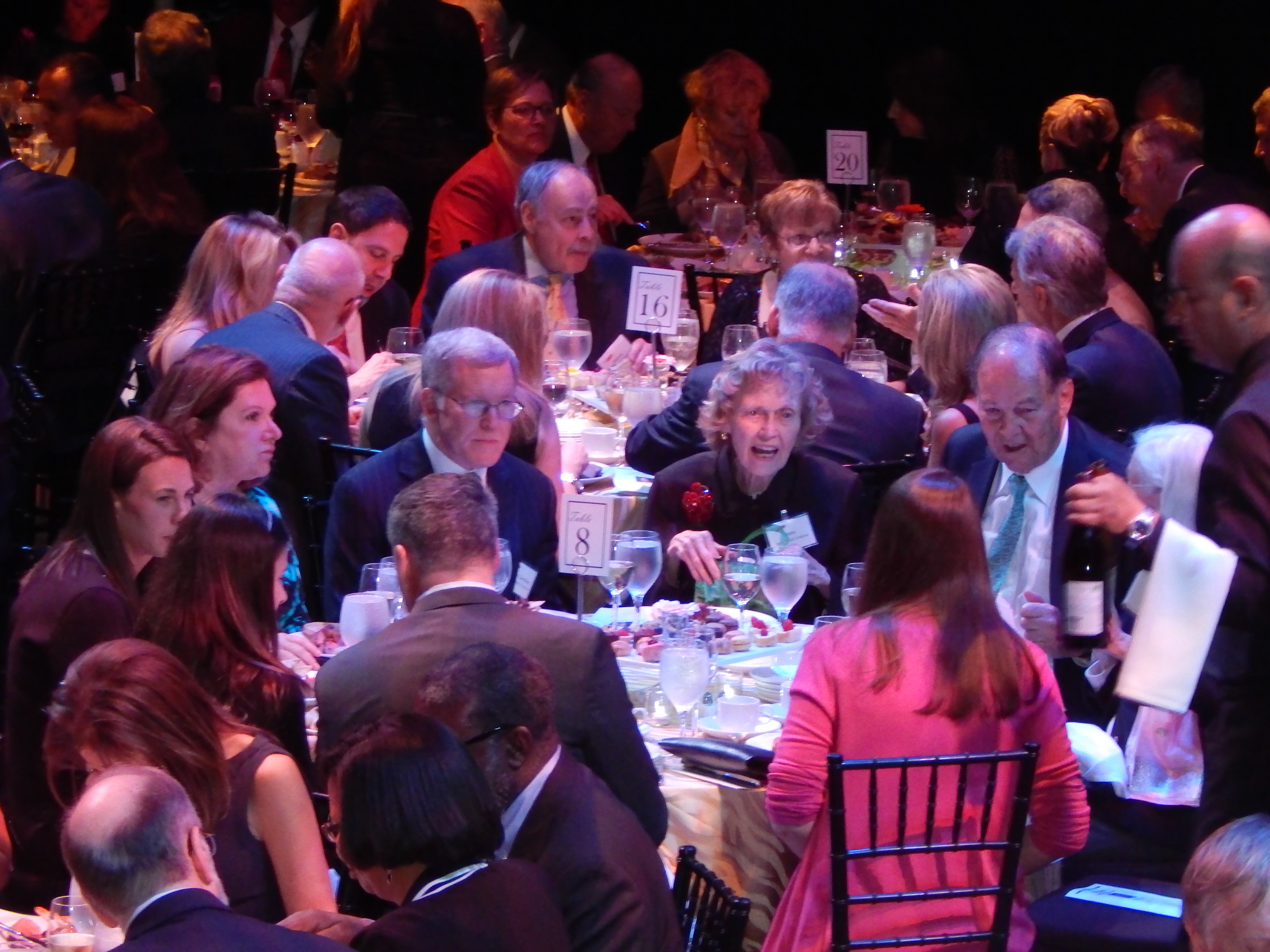 "I love the people of this state, and the people of this state have been very good to me. I'm very grateful for this relationship. Thank you for coming today. We're standing in my dream. Some of us are very lucky and see their dreams happen," Kean said, expressing pride in his family before the audience seated on the stage of NJPAC's intimate Victoria Theater. "Tonight, I can say one of my dreams came true and we're standing in it. I used to say this, and I believe it – New Jersey and you are just perfect together."
Two people who have not been perfect together as of late have been Kean and Christie, stemming from tension created when the current governor attempted to push the former governor's son from his leadership position in the state Legislature.
On the side before his speech, Kean alluded to Christie, once a campaign volunteer for Kean but who did not attend the birthday bash, referring to the pursuit of another dream.
"The motivation ought to be to solve the problems here. Our governor is very intelligent. I think he knows that's what he's done in life as a record to run for President is what he's done in New Jersey," Kean told PolitickerNJ. "If he can get New Jersey moving forward the way it should be, then he deserves to be President. If New Jersey doesn't do well, people are going to look here, and he's going to have problems."
Kean didn't seem to have much of a problem with Christie's absence.
"Look – he's running for President," Kean said with a smile. "He's got better things to do."