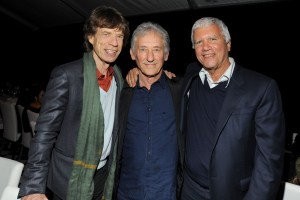 Art dealer Larry Gagosian may be expanding his huge gallery empire once again, this time to West Hollywood.
Gagosian has been touring properies in the area, and "has taken meetings at various buildings," according to The Hollywood Reporter, citing an unnamed source.
The dealer already has a Beverly Hills space on North Camden near Rodeo Drive, currently showing Anthony Caro works. Celebs like Edward Norton and James Franco are often spotted there.
But an additional space in West Hollywood might make pre-and post Oscar partying much more convenient.
The veteran dealer, 67, already has 14 galleries worldwide, a design and book shop, and a restaurant, Kappo Masa, on Madison Avenue.
Gagosian represents perhaps California's most famous living artist, Ed Ruscha, and the dealer has several works by him in his own personal collection.