We will not be the first to remark that despite New York City's water-inundated status, living here, it is often easy to forget that the city is a collection of islands. Sand may be a key component of the concrete that makes up our blocks and buildings, but the finished product somehow fails to recall the ingredient. There just isn't anything beachy about the city, attached beaches notwithstanding. And the fact that a number of our waterfront communities have been relegated over the years to sub-prime status–subjected to ill-conceived adventures in urban renewal, marginalized by storm surges and snobbery alike–perhaps has something to do with the inevitable suspicion that arises at the mention of an address like Marine Avenue or Deepwater Way.
But it appears that the home at 8205 Shore Road, which just went in an estate sale for $4.4 million, according to city records, comes by the the name honestly. Standing in Bay Ridge, just across the street from the watery Narrows that separate Brooklyn and Staten Island–and, less charmingly, from the Shore Parkway–the four-bedroom place sprawls 5,621 square feet, according to the listing held by Tessie Salavantis at House-N-Key Realty. And we do mean sprawls. (And it had better, at that price, and in that neighborhood.) A ranch-style affair done in handsome grey stone, with crisp landscaping characterized by neatly-trimmed hedges and evergreens, the home is all dignity from without.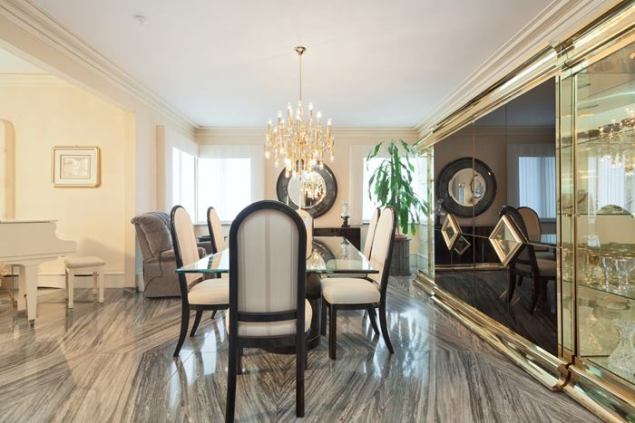 Inside, however, is another matter. There are quantities of swirling marble, tile and linoleum to vanquish any chance of subtlety. There are skylights, mirrored ceilings in the bathroom and a lot of chintzy gilding. There are foggy, ice-block-style walls in the master suite. Certainly, this is someone's idea of the finer things in life.  But it is also the sort of decorative mode that we associate with un-renovated Sanibel Island condominiums built in the 1970s and sold furnished to a chain-smoking direct sales executives. No matter. We do hope that the buyers, John and Helen Psaras, are very happy there.