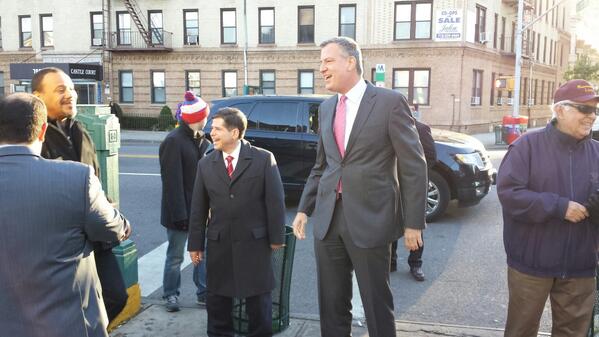 Brooklyn Councilman Vincent Gentile—a Democratic candidate for Congress—today voiced support for Mayor Bill de Blasio despite running in a right-leaning Staten Island and Brooklyn district that went for Joseph Lhota in 2013.
In response to questions from radio host Brian Lehrer, Mr. Gentile spoke kindly of Mr. de Blasio's expansion of paid sick leave legislation and his universal pre-kindergarten initiative, noting that they were passed in just the initial year of the liberal mayor's term.
"I think when it come to universal pre-K, when it comes to paid sick leave, those are major steps forward that he's taken in his first year in office. Those are major steps forward for the benefit of New Yorkers. So I think he's done a lot of good," he said.
The councilman noted that he and the mayor were close when they served together in the council in the 2000s, and that Mr. de Blasio has endorsed and fund-raised for his underdog House of Representatives bid. Mr. Gentile, in turn, endorsed Mr. de Blasio while he was running for mayor in 2013. Mr. de Blasio is unpopular on Staten Island—with his approval rating in the borough at 25 percent in some polls last year.
"He's been a friend, he's been a supporter and a colleague of mine in the City Council," Mr. Gentile. "So I'm hopeful that the second year now and the years that remain, are going to be even more productive for the people of the City of New York."
Mr. Gentile has for the past 18 years represented, first in the State Senate and then in the council, a historically conservative corner of Brooklyn that is slowly trending Democratic. But Staten Island dominates the congressional district he now hopes to capture, and has sent Republicans to represent it in Congress for 31 of the past 33 years.
Domenic Recchia, another Democratic Brooklyn Councilman, challenged incumbent Republican Congressman Michael Grimm for the seat last year. Mr. Grimm's campaign repeatedly sought to tie Mr. Recchia to Mr. de Blasio, who is unpopular in Staten Island, and crushed the Democrat in November—even though Mr. Grimm was then under the federal indictment that forced him to resign in January.
Daniel Donovan, the GOP Staten Island District Attorney, is seen as the heavy favorite to win the special election on May 5.