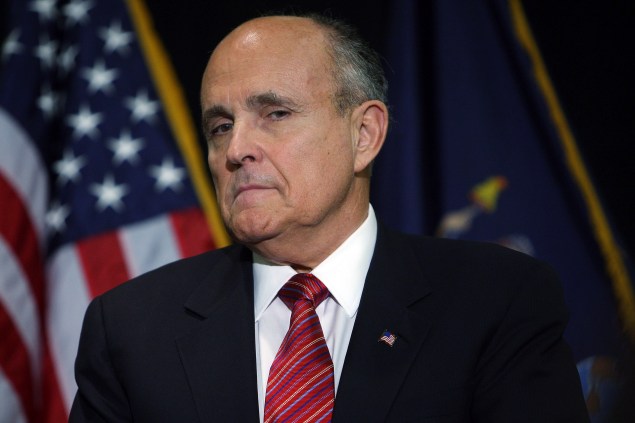 Rudolph Giuliani is convinced Bill de Blasio is taking New York City in "exactly" the wrong direction.
But Mr. Giuliani, the Republican former mayor, said his Democratic successor shouldn't be criticized for his increasingly frequent jaunts outside the five boroughs.
"I believe the mayor has the right to leave the city as long as he leaves it in good hands. I don't criticize Mayor de Blasio for that," Mr. Giuliani told the Observer in a press scrum on Saturday.
Mr. de Blasio spent the weekend at a Democratic fundraiser in Wisconsin and recently traveled to Iowa and Nebraska to urge politicians to combat income inequality. Mr. de Blasio has drawn criticism from some pundits for leaving the city behind to burnish his national profile, especially when his legacy back home is far from secure.
But since declining to endorse Hillary Clinton's presidential bid a couple of weeks ago, Mr. de Blasio has continued to seek out the national spotlight–much like Mr. Giuliani, who ran for president in 2008, once did and still does. Mr. Giuliani insisted that his frequent swipes at Mr. de Blasio were driven by their political–and not personal–differences.
"My criticism of Mayor de Blasio are all political, not personal. I think he's a good man, I think he's a nice man but I think his ideas are, many of them are wrong for the city," he said at a campaign rally for Staten Island District Attorney Daniel Donovan, a candidate for Congress.
But Mr. Giuliani said he still held a grudge toward Mr. de Blasio for not apologizing to police officers during a period of tension between City Hall and police unions last year.
"Of course I was very upset with how he handled the police department and I continue to be upset about it because he's never apologized," Mr. Giuliani said.