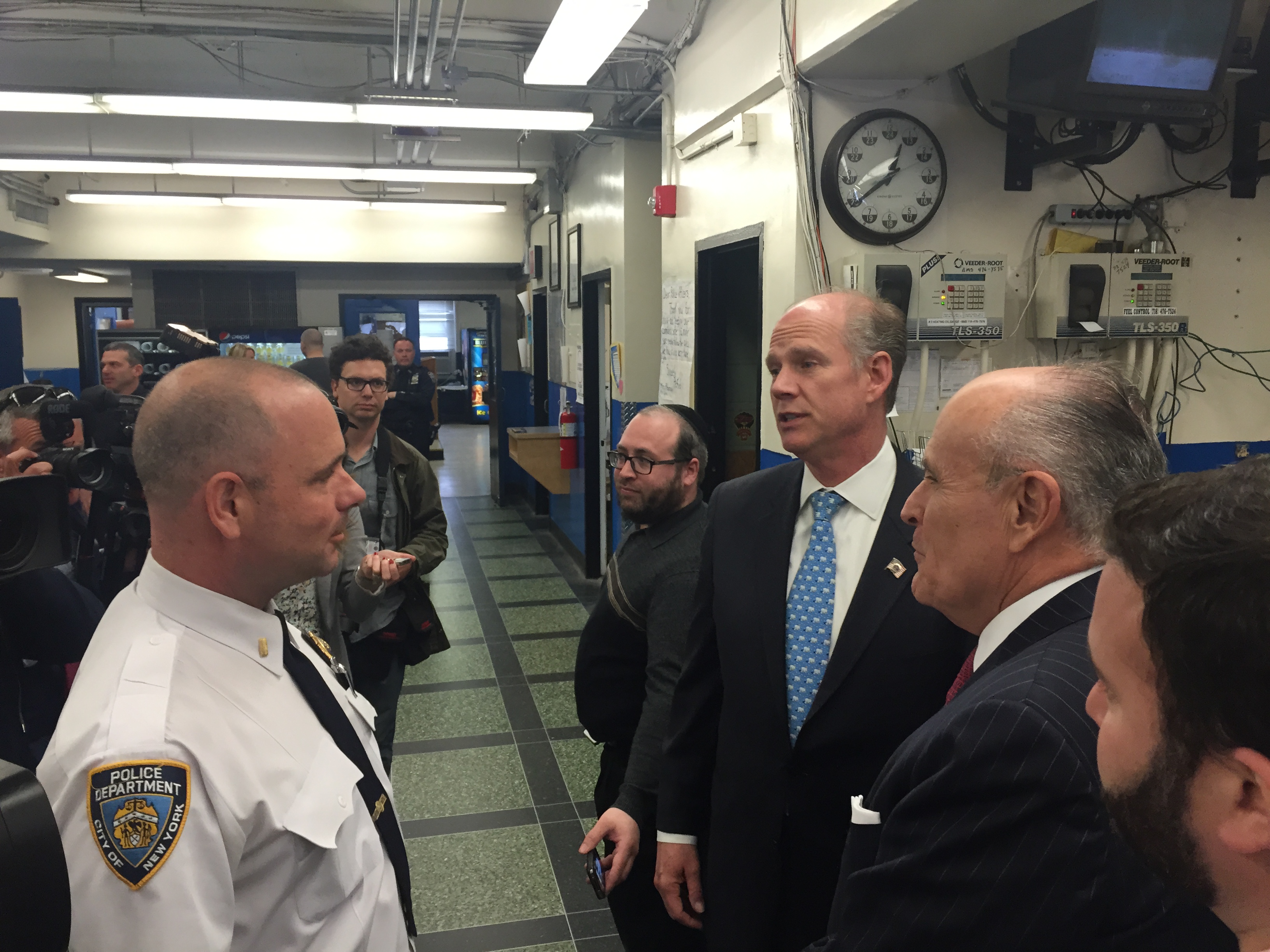 A grocery store, a police station and a senior center: the Staten Island campaign stop trifecta.
Former Mayor Rudolph Giuliani stumped for Staten Island District Attorney and congressional candidate Daniel Donovan at several spots across Staten Island today, reminding voters about Tuesday's special election for Congress and enjoying a warm welcome in a borough where Mr. Giuliani remains quite popular.
"The mayor's popularity on Staten Island has never diminished since he left office," Mr. Donovan told reporters after their campaign swing today. "The people of Staten Island miss him. They're grateful for what he has done for our community, and every time he comes he gets the same reaction he just did inside that senior center, and outside that Shop-Rite we were at."
Mr. Donovan is the Republican candidate for a congressional district representing all of Staten Island and a sliver of Brooklyn. He faces Democratic Councilman Vincent Gentile in the race to fill the seat, which was vacated by former Congressman Michael Grimm after he pleaded guilty to a felony charge.
The campaigning began at the Shop-Rite, where Mr. Donovan stood just outside the store's exit with Mr. Giuliani and two other local Republicans, City Councilman Vincent Ignizio and Assemblyman Joseph Borelli. While shoppers were occasionally frustrated with the horde of press blocking their overstuffed carts, almost all of them seemed happy to see Mr. Giuliani, some opting for hugs and kisses and photos.
Even sports rivalries didn't get in the way, with one man in a New York Mets cap extending his hand for a shake before telling Mr. Giuliani, "I know you're a Yankees fan, but…"
It was perhaps a warmer reception than Mr. Giuliani would get anywhere else in the city—Staten Island has long leaned to the right politically, and it is the only borough Mayor Bill de Blasio, who routinely denounces Mr. Giuliani's policies, did not win in the general election. His celebrity status buoyed Mr. Donovan, who might have been a little less recognizable to some of the potential voters funneling out of the supermarket.
Mr. Giuliani told reporters that it was crucial to elect Mr. Donovan to be a voice for New York City in the House of Representatives Republican majority—every other member of Congress from New York City is a Democrat—and to be a counterpoint to President Barack Obama, whose policies he has assailed.
But he also praised Mr. Donovan's experience, including his work interfacing with City Hall on behalf of two borough presidents, Guy Molinari and James Molinaro, before becoming district attorney.
"Second, on his own, Dan is entitled to election—he is an excellent district attorney, he was excellent at City Hall, he helped me close the landfill on Staten Island, he helped make the fare zero for the Staten Island ferry. He understands the issues of Staten Island and Brooklyn about as well or better than anyone," Mr. Giuliani said. "So even if we weren't talking about having a check and balance on Obama, which I think we need and that's why we shouldn't have a Democrat there, who will just go along with Nancy Pelosi and Harry Reid and all those people, even of itself, even if it were another Republican running against Dan, Dan would be the right choice."
Mr. Gentile, Mr. Donovan's opponent, meanwhile picked up an endorsement from another well-known politician today—Gov. Andrew Cuomo, who previously indicated he'd be staying out of the race.
Mr. Donovan and Mr. Giuliani, meanwhile, were scheduled to head to a senior center after greeting shoppers, but Mr. Giuliani wanted to make a stop first—at the nearby NYPD 122nd Precinct station house. He and Mr. Donovan walked two blocks along busy Hylan Boulevard, past a catering hall and zipping traffic, to the precinct.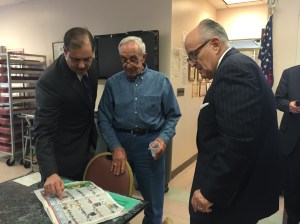 There, too, Mr. Giuliani was received warmly, though many of the uniformed officers were out of the station on training. A cadre of civilian workers, all women, posed for a photo with him—prompting Mr. Giuliani and others to joke the photo might get him in trouble. Mr. Donovan, meanwhile, chatted with officers about the push to increase the ranks of the department—saying other officials needed to convince Mr. de Blasio to agree with the City Council's proposal to add 1,000 officers to force.
If Mr. Giuliani were still mayor, Mr. Donovan said, "you'd get 1,500!"
Mr. Giuliani has been vocal in his support for the NYPD, and quite vocal in his criticism of Mr. de Blasio's interaction with the police department—though today he praised the mayor for arresting protesters last night.
From there, it was on to the Arrochar Senior Center, where the combination of Mr. Giuliani and Italian cookies—ever-present at borough senior center campaign stops—was once again a hit. State Senator Andrew Lanza and Assemblywoman Nicole Malliotakis, who unsuccessfully sought to be her party's chosen nominee for the special election instead of Mr. Donovan, were on hand to campaign. The former mayor looked through a Daily News mock NFL draft with one senior, observing which players he thought would have a good year.
And then, not long after they arrived, the slew of politicians—and the media following them—departed. For the seniors, it was back to bingo.