You know what the best part of every murder mystery show is? The part where they flash back during the murder investigation to show you exactly who the murderer is and how he committed the murder and why. That's just the best.
That brings me to Gotham's latest episode, "Beasts of Prey." How I've missed Gotham during this long cold hiatus, during which I was forced to watch the entirety of Daredevil roughly 12 times. It felt like cheating on a long-term relationship. Yes, Gotham, the other one was prettier, and more fulfilling, and just overall better in every way but it just wasn't you. Glad to be back in Gotham City.
I am not glad to be back on wherever the hell Fish is, because that place makes no sense. I'd recap Fish's entire genius plan to escape from Dr. Dumbnuts but I'd rather just write out all the times I yelled at my screen, out loud, in an office, in a fit of pure frustration.
The Catcher to Fish: "Make that mistake again, and it'll be your last." (LIKE, TEN MISTAKES AGO SHOULD HAVE BEEN HER LAST. SHOOT HER.)
Fish to Prisoner: "I need your help." (NO ONE IN THIS JAIL SHOULD HELP YOU, YOU STRAIGHT BETRAYED THEM. OH GOD THEY'RE GOING TO DO IT.)
Dr. Dulmacher: *pulls out some stupid electric rod* (NO, WHERE IS THE GUN YOU HAD BEFORE? DON'T USE THE STUPID ELECTRIC ROD USE THAT GUN YOU HAD BEFORE.)
But eventually Fish does escape, and it's really not even that hard, but she does get shot in the process. Now, I'm not the type to condone shooting a woman, especially while she's flying a helicopter, but here's to hoping that thing goes down over the Atlantic with zero explanation next week whatsoever.
Back in Gotham, there's a new serial killer in town. Well, he's an OLD serial killer, but no one can or wants to catch him because LOLGCPD, basically. "Some people call him the Don Juan killer. Most people call him the Ogre," Bullock says. Those are two radically different nicknames. Basically his M.O is he kidnaps pretty ladies and forces them to live with him but if they fucking dare overcook his lamb chops it's the handcuffs and the pokey stick for them. But Jim is on the case because Jim and his jawline despise injustice, and also because some lower level cop said he kind of looks up to him. And turns out he didn't even mean it, Jim, you rube.
Elsewhere, Bruce Wayne and Selina Kyle are hot on the trail of Reggie Payne, but only after Selina educates Bruce on his crack-head terminology. My absolute favorite part of this episode, and possibly entire series, is little David Mazouz's delivery of a line. The first thing Selina says to Bruce is that she could have hit him in the head with a brick, if she wanted to. Bruce responds: "Why would you do that? Why would you even say that?" It's so perfect. It doesn't even sound like acting. It sounds like a genuine reaction to the writing.
But it all leads to them finding Reggie in a drug den, and we find out that Reggie really fucking loves drugs, man. So much so that he's willing to sell out everyone, names and all, because Selina holds his bag of drugs out a window. Don't do drugs kids, or else you'll stab your childhood friend and a girl dressed as a cat will push you out a window. Oh yeah, I should mention, Selina ends up throwing both Reggie's drugs AND Reggie out the window.
It's sad to see Oswald Cobblepot basically wasted for an entire episode, but it was a nice little reveal that the restaurant he purchases is the place he plans to kill Don Maroni. Why that particular restaurant? Hopefully because it's part of some complex, multi-layered plan that only that restaurant can satisfy. But more likely it's because Don Maroni really, really likes the veal parm there.
As always, let's run down every reference, fact, and nugget of Bat-history brought up in episode nineteen, "Beasts of Prey."
Who is this Len Moore character?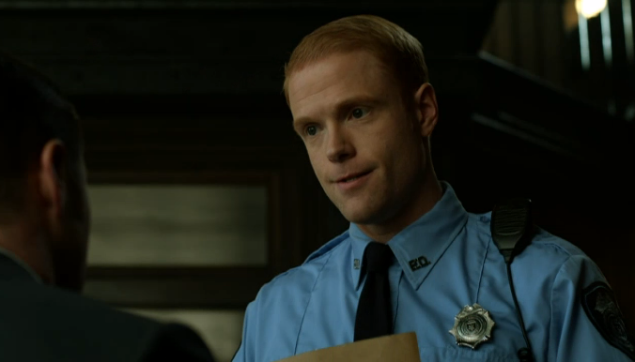 Nobody I know. Probably just one of many faceless crooked cops in the GCPD. I don't know if you noticed, but there's a lot of them but you don't understand they gots a family. 
His name, maybe, is just a short version of Alan Moore, the comic book GOD who wrote The Killing Joke and Watchmen, among many, many others. Or maybe it's a combination of Alan Moore and Len Wein, who was the original editor on Killing Joke AND the editor on Watchmen.
But I assume Gotham wouldn't just take two obscure names loosely tied to Batman and mash them together for a script.
OR WOULD THEY? 
Davis Guns and Polk Gun Range. Gotham City's best two places to randomly shoot stuff, ranked just below "the middle of the street." Apparently, when the Joker blows up that hospital in Christopher Nolan's The Dark Knight, one of the officers responsible for the evacuation is Officer Jeremy Polk. His partner's name? Willy Davis.
This random nonsense is ten times more engaging than anything Barbara has ever done on this show.
The Ogre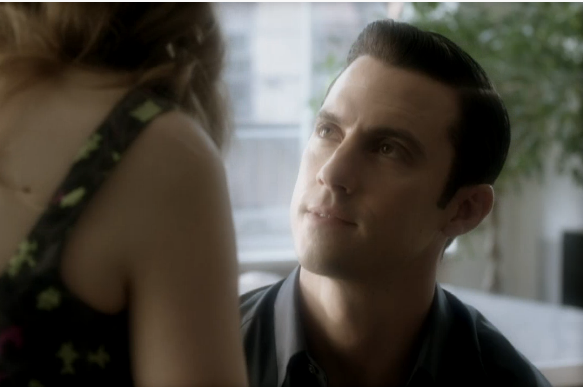 Well the Ogre is a late 90s character from the comic books, a genetically altered dude named Michael Adams, who looks a whole lot more Ogre-ish and whose brother happens to be a super-intelligent ape named, uh, Ape. What am I saying is, he most definitely doesn't look like Peter Petrelli himself Milo Ventimiglia. Wow, remember Heroes?
But the important question, what do you think the Ogre's favorite song is? 
This, probably.
[youtube https://www.youtube.com/watch?v=iv6dgBo0uTU]