A year ago, likely gubernatorial candidate Philip Murphy felt the need to put some distance between himself and the last Democrat who led the Garden State. As a political novice who grew rich at Goldman Sachs and wanted to run statewide without first serving locally, comparisons to Jon Corzine were inevitable.
In an interview with the Star-Ledger, Murphy was asked about the similarities. "I've known [Corzine] for 30 years. He's a friend. But I'm not Jon … We're different people."
But just how different will a potential Murphy campaign look from those of Jon Corzine, who ran successfully for Senate in 2000 and for Governor in 2005 before being defeated for re-election in 2009 by Gov. Christie.
Without a natural base, Murphy did what a lot of rich guy first-time candidates do—he started a policy organization, New Start New Jersey, a group "to grow the economy and improve our quality of life."
New Start New Jersey launched on Nov. 10 of last year. It has a pro-looking website with the expected stock photos of diverse families. It has hosted a couple of events attended by the likes of Senate Majority Loretta Weinberg, former Governor Jim Florio, Assemblywoman Valerie Huttle, Mayors Wilda Diaz of Perth Amboy and Dawn Zimmer of Hoboken and focused on urban areas, staging programs with the liberal Brookings Institution and Newark's Audible.com.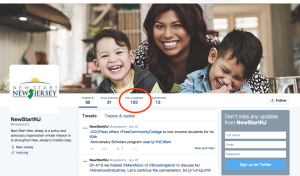 But just how real is Murphy's organization? In six months of operation, NSNJ's Twitter account has amassed only 103 followers and sent an anemic 95 tweets; on Facebook, the group has 191 followers. The last three messages were re-tweeted a total of two times and favorited once.
Meanwhile, for someone who says "I'm not Jon," Murphy's organization sure resembles that of the unpopular former governor. PolitickerNJ has analyzed public reports to determine that New Start New Jersey has so far hired 9 people—eight of whom are purely political, PR or fundraising consultants: Samantha Maltzman, Steve Demicco, Brad Lawrence, Julie Roginsky, Brendan Gill, James Gee, Joel Benenson, and Jim McQueeny. Even though that's a murderer's row of Democratic talent in the state, it leaves just one real policy person, Tim Castano. Furthermore, six of those eight are former Corzine loyalists (all but McQueeny and Gill).
Michael Estevez, who works for McQueeny as Executive Vice President at Winning Strategies, emailed PolitickerNJ several links to surveys, presentations, and reports commissioned by New Start New Jersey. He said that, "At this stage, New Start New Jersey's focus is on igniting conversation about policy ideas to strengthen and grow New Jersey's middle class." The links mostly consist of surveys of the middle class conducted by Benenson (which are quite interesting) and vanilla issue briefs that seem remarkably faithful to DNC talking points – earned sick leave, early childhood ed, free community college.
It's become standard operating procedure for political hopefuls to create organizations aimed at giving them a soapbox. And indeed, Murphy's done a few "conferences," but seems to have held many more political meetings with his team. What remains is an impression that New Start New Jersey is really a political operation and it's a political operation that closely resembles Corzine's.

Staff is not the only way in which the wealthy exec resembles his former Goldman Sachs partner. As the Auditor pointed out last year, Murphy has been doling out Corzine-like sums to county parties as he rolls around the state. After donating nothing to state candidates from 2008 on, suddenly the floodgates opened in Fall 2014. His donations included $24,000 to the Bergen County Democratic Committee to help Jim Tedesco unseat County Executive Kathe Donovan (Murphy and his wife Tammy also gave $2600 each directly to the candidate). In Essex County, key to Democratic primary hopefuls, Murphy gave $23,400 to the Essex County Democratic freeholder candidates and then ponied up $25,000 each to the Middlesex, Mercer, Union and Passaic County Democratic parties. Add in $5000 each to Monmouth and Morris Counties plus $2500 to Somerset and Burlington County Democrats and you're looking at a whopping $170,000 in expenditures in the 2014 election cycle.
Asked about the free spending, Roginsky told PolitickerNJ of the couple's longstanding commitment to Democratic causes. "Phil and Tammy Murphy have dedicated their careers to promoting and growing the Democratic Party. As Finance Chair of the Democratic National Committee, Phil not only led the effort to raise $300 million, which resulted in the election of President Obama and a Democratic takeover of the House and Senate. … The Murphys are building on that record by helping state, county and municipal organizations here in New Jersey in their efforts to run professional operations. Last year, they funded a sophisticated modeling program in Bergen County that helped elect Jim Tedesco as county executive and helped with messaging and get out the vote efforts in counties and municipalities across the state."
While those donations certainly will help grease the wheels, others made by Mr. and Mrs. Murphy might not be quite as welcome to Democratic primary activists.
According to ELEC and federal reports, Tammy Murphy gave $15,000 to the Republican National State Elections Committee in 2000 – the exact entity designed to defeat Democratic state legislators whose support Murphy is now courting. She also donated $3,000 to George W. Bush and $20,000 to the New Jersey Republican State Committee plus $5000 to a Republican environmental PAC in 2006. Throughout the 2000s, she donated over $10,000 to Monmouth County Republican State Sen. Joe Kyrillos in at least five different donations, including as late as 2007 – the year before Obama's run for the White House. She also gave Bill Baroni almost $5,000.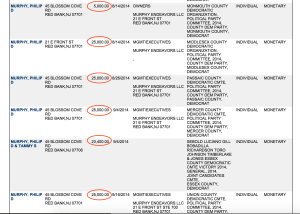 Regarding these donations, Roginsky explained, "Tammy Murphy is a long-time neighbor and friend of Joe and Susan Kyrillos." And someone who worked for Barack Obama under Hillary Clinton won't easily be suspected of hiding Republican leanings. On the other hand, these weren't just aberrations for a popular Monmouth neighbor like Kyrillos or even a centrist labor-friendly Republican like Baroni. Rick Lazio, Jim Saxton, Sherry Boehlert, Diane Allen, Buster Soaries and Arlen Specter all received Murphy money – more than $120,000 to GOP candidates and groups in just the 2000s. These will be tough to explain away once other candidates start to advertise the lack of party purity.
Murphy, months away from any announcement, already faces significant hurdles. The Jersey Journal lacerated him as an elitist dandy, while his tenure at a bank that's become synonymous with Wall Street greed presents its own challenges for a primary electorate that's taken a sharp left turn. His performance in even the cushy job President Obama appointed him to – ambassador to Germany – came under fire when Wikileaks revealed that he had called Angela Merkel "insecure" and some German officials demanded he be recalled— a serious and rare position for an ally—with one German minister calling Murphy "unseemly" and another saying "It is more than doubtful whether Mr Murphy can still be a trustworthy interlocutor."
Murphy lacks the regional base and longstanding relationships of a Steve Sweeney or Steve Fulop, two other frequently mentioned candidates so a group like New Start New Jersey makes sense. But time will tell if it too closely resembles, in purpose and in staffing, a leader the people of New Jersey already soundly rejected.