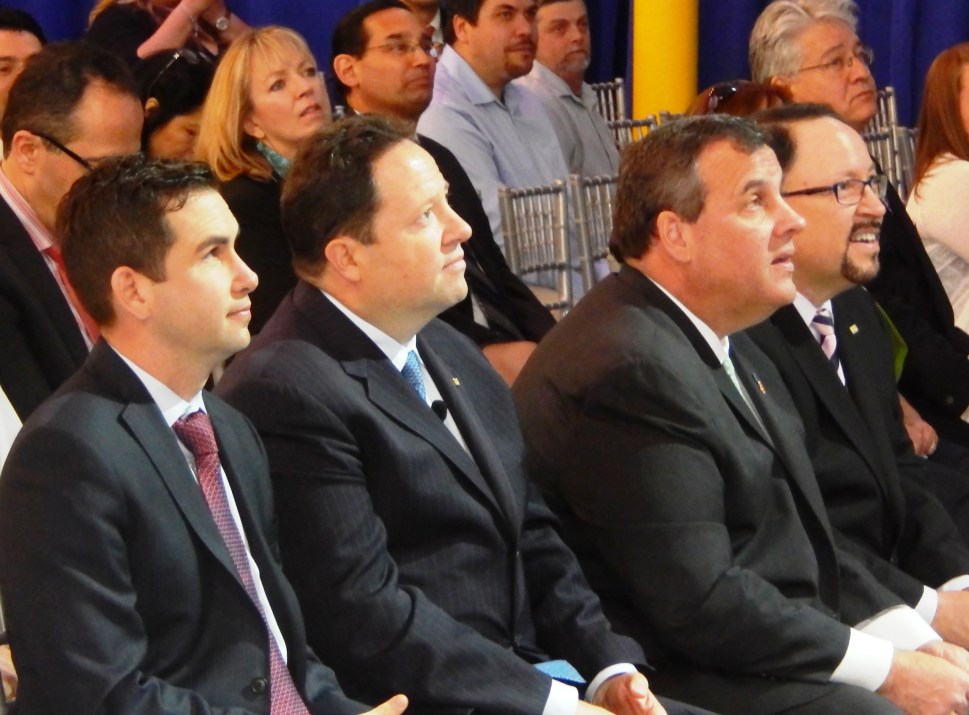 JERSEY CITY – There's not a vacant U.S. Senate seat right now, otherwise one might have reached the conclusion that Gov. Chris Christie and the GOP were doubling back on Andy Unanue, briefly a 2008 contender for statewide office. But the Unanues – who 40 years ago built an industrial city on a swamp, capped now by the spectacular grand opening of a new corporate headquarters here -apparently don't need elected office.
People – politicians in particular – kiss their rings.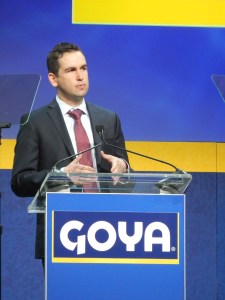 Business is booming for the largest Hispanic-owned food company in the United States, where Carlos Santana electric guitar parts grooved through speakers and rained down on a spanking new solar-powered hangar space crammed with political luminaries gorging on Hispanic flavored delectables.
Front and center sat Gov. Chris Christie and Jersey City Mayor Steven Fulop. Having once nursed a flirtation to endorse Christie for governor, then-newly elected Mayor Fulop decided against a Joe D. cross-the-aisle gesture in 2013, infuriating Team Christie and sending ever after a prickly vibe through relations between the pair of political heavyweights. Today they grinned and grabbed at each other in a public display of affection, but ultimately an executive Unanue (Peter, in this case) occupied the icy (if past is prologue) gulf between them, as the Republican and Democrat deflected whatever ill will abides into pure devotion in the direction of the Unanue empire, which includes numerous brothers and cousins in executive positions.
"I hate to do this, but I need to quote a Democrat," said Bob Unanue, and one could sense the backs of Fulop partisans straightening with a point scored for their team as the executive trotted out the "ask not what your country can do for you but what you can do for your country" line in familial gratitude to the country that welcomed the business-building patriarch grandfather to U.S. shores in 1900.
But moments later, Unanue would give Christie a glorious introduction. "I can't think of anyone who better embodies the qualities of leadership," the executive said from the stage, channeling mucho Christie amor. "We are proud of having a leader putting the state on the right course." He lingered too several times on Lieutenant Governor Kim Guadagno, thanking Christie's number two for consistently serving a positive and constructive purpose. "Dynamic and incredible," Unanue said of Guadagno.
Channeling ease and grace on the eve of what many sources say is D-Day tomorrow in the Bridgegate case, with multiple indictments expected, Christie went into full-blown national Latino voting block consciousness mode. "You've contributed to the fabric of our society," the governor said, pinpointing Hispanic faces in the audience. It's not just business moxie and financial contributions, he emphasized. It's culture, he stressed.
Viewed as a likely 2017 gubernatorial candidate whose municipality is thriving with stories like Goya's expansion while much of the rest of the state looks downbeat and fractured, Fulop – who in fact answered to the title "Governor Fulop," a gaffe by Unanue – mounted the stage after Christie. "To have the largest Hispanic food processor in the United States couldn't make us more [proud]," gushed the mayor, noting the vital role the company played with relief during Hurricane Sandy and as an ongoing community presence and jobs provider.
Trying to one up the doggedly Anglo Saxon-tongued Christie, Fulop tried out his Spanish on the grinning crowd, Latin singers looking on with arms folded over stringed instruments. "Yo estudio y sueno que puedo hablar mejor que Michael Bloomberg," Fulop cracked.
Under 42-foot high ceilings, the ribbon-cutting crowd included Hudson County Freeholder Chairman Junior Maldonado (pictured, below), Secaucus Mayor Mike Gonnelli, and Weehawken Mayor Richard Turner and Hudson County Republican Chairman Jose Arango. As part of the HQ opening and a $500 million worldwide expansion, Goya will donate 25,000 pounds of food to five local food pantries. Expanding from Secaucus to Jersey City with the enticement of a tax abatement here, the company proudly showed off its 600,000-square-foot warehouse for distribution and 42,000-square-foot corporate center in Jersey City, as well as a renovated 240,000-square-foot Secaucus production facility for a total footprint of 900,000 square feet on 58 acres of land.
"Mayor Fulop's doing a great job," said Maldonado, who lost his ward council seat to Fulop nearly a decade ago before rebounding with the mayoral candidate as his biggest fan in 2013. "This expansion is tremendous for Jersey City and what it will mean for local jobs."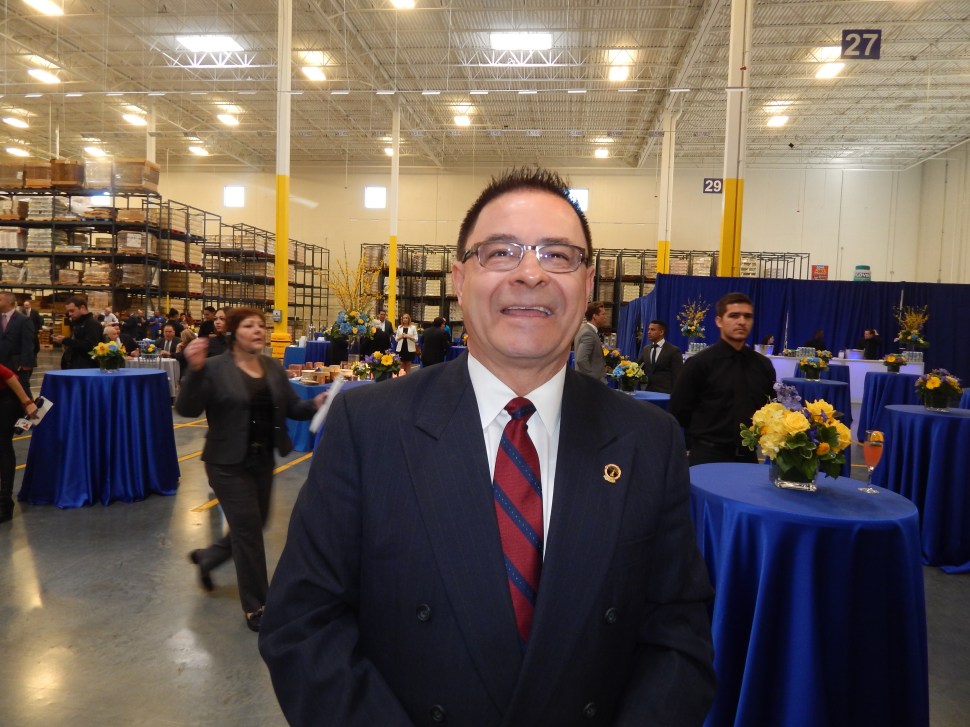 Hobnobbing amid refried beans, politicians inevitably considered local races in the lead up to May 12th municipal contests in West New York and North Bergen. Uniformly, sources express confidence that Mayor Nick Sacco will prevail in the latter, but financially well-connected challenger Larry Wainstein is putting the veteran incumbent into door-to-door mode. In West New York, incumbent Mayor Felix Roque now has the advantage of Hudson County Democratic Organization (HCDO) infrastructure and having beat a computer hacking conspiracy rap, but to a man the same sources note that Roque beat the organization four years ago and point out that images of a chief executive in handcuffs and leg irons, for all of Roque's panache, create an intangible-friendly environment. They don't write off West New York Commissioner Count Wiley, although most say Roque will win – just by a much closer margin than the incumbents in North Bergen. Questions about tactics persisted. Was the negativity aimed at Wiley worry or simply the overkill mentality of veteran successful campaign operative Pablo Fonseca, Roque's local political brain?
It made for interesting conversation as smiling, eminently accommodating young Goya reps circulated with sacks of complimentary brand name foodstuffs.