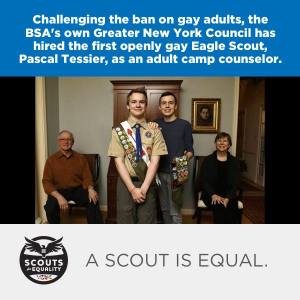 The Boy Scout Greater New York Councils have taken a stand for equality.
Rejecting the Boy Scouts of America's ban on gay leaders, the New York group announced on Thursday that they had hired Pascal Tessier, an openly gay 18-year-old Eagle Scout, to work at their camp this summer.
According to the New York Times, Mr. Tessier openly opposed the scout policy when it was announced, saying that scouting "gave me all the good morals that I have."
His challenge went so far that he hired David Boies, one of the lawyers who helped overturn Proposition 8. Mr. Boies took on the case to stop the Boy Scouts from becoming "the last bastion of discrimination," with the organization's president, former CIA director Robert Gates, as their George Wallace.
Mr. Gates, who took office in 2014, said that if he had been president the year before, when the policy was implemented, he would have supported full equality so as not to divide the scouting organization.
Zach Wahls, executive director of advocacy group Scouts for Equality, agrees.
"We are now starting to see the consequences of a half measure that just didn't work," Mr. Wahls told the Observer.
Robert Schwarzwalder, senior vice president of the conservative Family Research Council, told the Times that the age limit was "arbitrary," because 18 was simply being used as a "magic cutoff number."
Ironically, Mr. Wahls agrees with him.
"It sends a harmful message to youth that discrimination is OK," Mr. Wahls said. "Scout leaders shouldn't be forced out because of who they are."
The Boy Scouts of America are looking into Mr. Tessier's hiring in New York, but have not issued a formal statement yet.