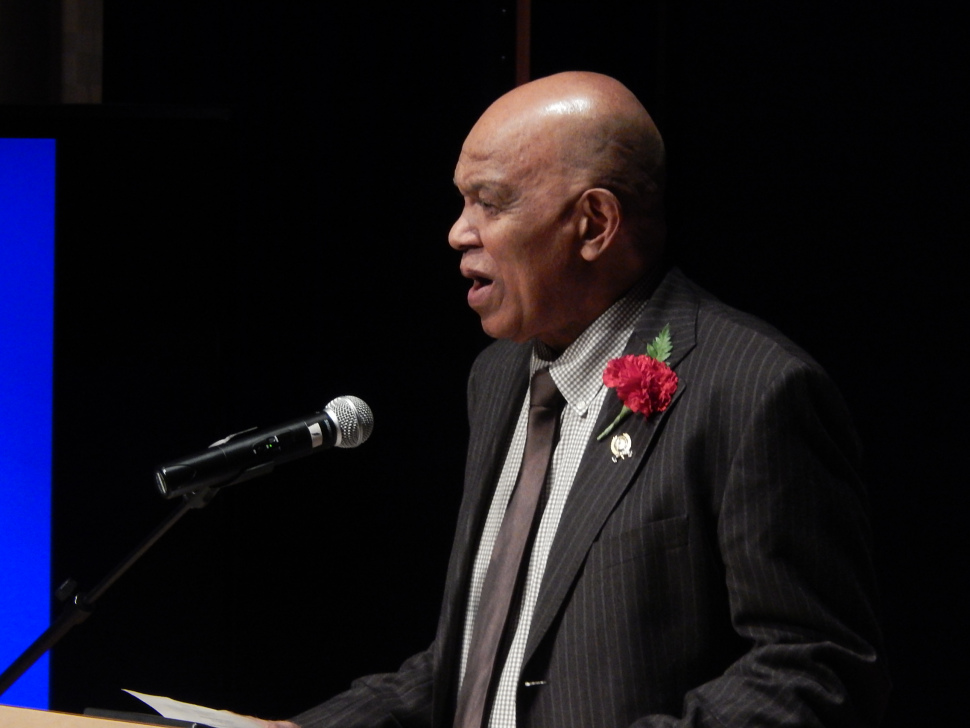 Embroiled in an intensifying county committee fight, Assemblyman Jerry Green (D-22) and arch rival Plainfield Mayor Adrian Mapp this afternoon escalated an already toxic exchange, as Green counter charged and denied his playing anything other than a supportive role for gays.
"Mapp is using this as an excuse," said Green, the chairman of the Union County Democratic Party, referring to a demand made earlier today by the mayor that Green apologize to the Lesbian, Gay, Bisexual and Transgender community after cops charged with disorderly conduct a blogger backer of the mayor and Green referred to Damon as "sick."
"It's obvious Dan Damon has something on him personally," Green said of the mayor. "It's obvious Dan Damon is the real mayor of the City of Plainfield. Without Dan Damon the mayor is not the mayor. The people I have spoken to in the gay community know Mapp is trying to turn the issue. I was not the one caught in a car with another man. The mayor's response seems to mean that people can have sex [in public] all over the City of Plainfield. He sounds like a total idiot.
"In a year and a half Mapp's done nothing [positive]," said the assemblyman, who referred to the mayor authorizing the demolition of buildings that impacted a whole community. "Plus the fact that taxes are going up and people are complaining about potholes," Green added.
"I don't understand why i have to apologize," the assemblyman said. "Why are you allowing this to happen in your city? This man [Dan Damon] is known to be riding around black and Latino communities. When I called him sick, I was not referring to sick in reference to his sexual favoritism. My point is here's Dan Damon, who has diabetes so bad he had to have part of his leg taken off. I'm not talking about sick in terms of a man preferring a man over a woman. At no times did I discuss a sexual preference. Mr. Mapp – I cant even call him Mayor Mapp – he's a total embarrassment to this community. The gay community is not happy with what Mr. Mapp is doing. Mr. Mapp turned his back on them.
"Dan Damon is the same man two weeks ago… I hurt my hip 40 years ago and I [need to have] hip replacement surgery… Dan Damon put on his blog, 'Is something wrong with him? Is he sick? Does he have problems?' He made it sound like I'm a sick old man. And [in the Courier News quote] I reminded him that he's a sick old man. What I said was, 'You have a sickness and you should be worried about your health. You have diabetes and you're sick and you're out there at 75 acting like a fool.' It could have been a 25 -year old woman, it would be the same thing."
Green then addressed the danger part of his quote to the Courier News.
"Is it fair for people to come outside and see two men – or it could be two women – in a car having sex? This man has lost his mind. You don't hear anyone complain about me except Mayor Mapp. He wants to weaken the Democratic Party, he wants to weaken me, who brought out numbers for Cory Booker, Barack Obama and Bonnie Watson Coleman; one of the strongest organizations in the state.
"He's chosen the wrong person to mess with," Green added. "I know the people… are behind me. Any strong town has a very strong PR person – and for Mr. Mapp, that's Dan Damon and [Councilwoman] Rebecca Williams. This is outrageous. This is devastating. I was one of the first persons in the African American community to come out for the rights of the gay community ten years ago.   … I don't owe anyone an apology, particularly not to Mayor Mapp. ….I don't need to be told what to do by an opportunist and a backstabber."