The new music video starring Heidi Klum for Sia's Fire Meet Gasoline just dropped online, and this time the music is almost overpowered by Klum's wardrobe, all from her lingerie line Heidi Klum Intimates—save for the signature Sia wig Klum also dons.
Emmy-award winner Francesco Carrozzini directed the music video. Although it is unanimously agreed that the video does justice to Sia's hyper-artistic style, comments are piling up on social media about what exactly is going on. Even if the story is a bit mystifying, plot takes a backseat when you have protagonists as good looking as Klum and actor Pedro Pascal, better known as Oberyn in HBO's Game of Thrones.
"Francesco, Pedro and I had a blast shooting.  You don't know exactly what's happening—but we're definitely up to something!" Klum admitted in a press release.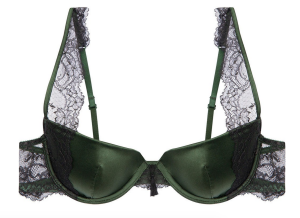 The emerald lace balconnet bra and panties duo Klum wears in an intimate bedroom scene with Pascal is one of the video's most eye-catching looks. The combination of an old-fashioned lingerie color with a modern shape feels refreshing.
As the pop ballad bops in the background, Klum breaks another modern rule with class and sensuality: while kissing Pascal on the grass, the straps of her lacy purple bra peek from under her crop top. As preposterous as it may seem, the combination is flattering.
The Heidi Klum Intimates line is available online at heidiklumintimates.com. Prices range from $30 to $100 for undergarments and reaching $155 for camisoles and other nightwear.