I'm essentially Merce-deaf—I see and appreciate the brilliant deployment of the body, the clarity of the vision, the probing of an extraordinary dance intelligence, but I'm never touched. What I look for, or respond to, in dance just isn't there, or else I'm not equipped to find it there. To me, Cunningham makes movements, not works. This is my loss, and I regret it, but there it is.
And the same goes for Liz Gerring, who is precisely in the Cunningham mold, and very much admired by Cunningham lovers. They admire the way she has her dancers move and how carefully, analytically—even coldly—she presents them to us, with never an ugly instant or fumbled opportunity. I admire it too; I just don't care.
Her latest work, Glacier—65 minutes, to a score of found sounds by Michael J. Schumacher—gives us five men and three women, in studiously casual clothes. The recorded soundtrack rasps, groans, beeps, crackles—and then there's a short stretch in which a piano version of bits of Beethoven's 7th Symphony floats by. It makes no difference to the dancers, since what they do isn't apparently connected to the "music" to begin with.
There's an extended opening solo for bare-chested Brandin Steffensen, then other dancers wander in and out, embodying Gerring's ideas. There's a lot of walking and running (we have Paul Taylor's Esplanade to thank for this), but no one gets very excited, although one dancer—Claire Westby—can't help herself, and once in a while bursts forth with kinetic energy. (I wonder if she gets fined.)
Like Merce, Gerring frequently has two of her dancers doing one thing—crouching, say—over to one side, while a third dancer, on the other side, is standing on one leg, slowly revolving. Together or alone, the dancers kneel, they backbend, they swing an arm. It's all highly deliberate and invested with significance. But what does it signify? Nothing to me except that the choreographer takes herself very seriously. And yet I don't think the empress has no clothes. They exist, she's wearing them, I just don't see them.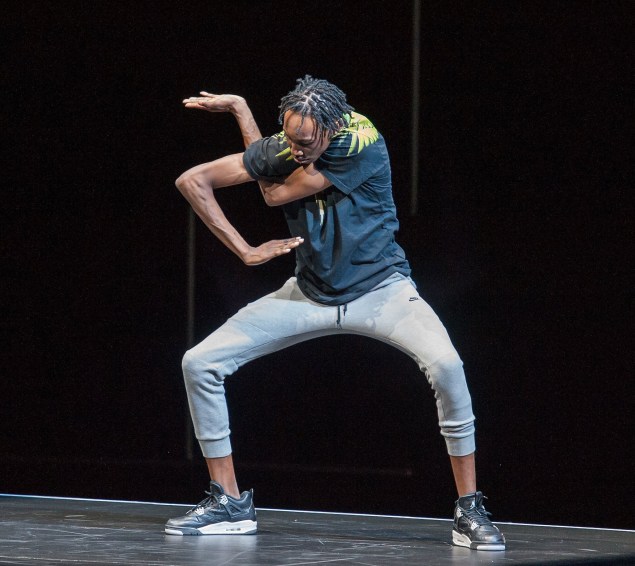 Even as the Gerrings were going through their studied movements at the Joyce, a band of 20 or so FLEXN dancers were flexin' up a storm uptown at the Park Avenue Armory. What's flexing? A mode of dancing that originated in Jamaica, moved to Brooklyn, and has become big time. It's not hip-hop, it's not jookin—it's a limber style that incorporates a little bit of everything street-based. It looks free and casual, but it's got its own rules and specific demands, within which boundaries the dancers show off their specialties—and strong personalities. Some of them excel at "bone-breaking," a kind of contortionism of the arms that's closer to circus than to dance; others go for "hat tricks"—which involve doing more than you can imagine with your standard cap. 
Almost all the troupe members are between 20 and 25, and almost all have been protégés of (and are now performing for) a big, passionate guy named Reggie (Regg Roc) Gray who not only refined the flexing style but created a community, a tradition, a family: this is a company with a sociology as well as an attitude. With only a few exceptions, the dancers are all African-American, and very specifically from, and of, the streets of New York. As they tell us in the perceptive and moving autobiographies printed in the program, most of them as kids skirted the traps and dangers of street life—drugs, gangs, violence. (There's one older woman from Germany—an anomaly, a radical contrast, a ballast, with her long, blazing red hair and more euro-inflected movement style.)
Each of the nine performances at the Armory was preceded by a panel discussion between men and women professionally concerned with the lives of young people in peril, all chaired by the director of this entire event, Peter Sellars. The night I was there, the central theme of the conversation was the disaster of prison life for youngsters—and the long dance that followed included fights, murders, trials and imprisonment. The penultimate and longest section, called "Solitary Dances," spotlighted the dancers individually, expressing their despair at being trapped in solitary. Happily, the final section, "D.R.E.A.M. Ring," was a celebration—all the dancers doing their different things yet in a harmony that revealed the true community of style and affection Reggie Gray has created in FLEXN. 
What does it all add up to? That there are a lot of young people who have discovered themselves through dance; that when they're shown the way, they grab it. That popular dance styles, as they always do, rise from the streets or the dancehalls—this is the story of the waltz, the polka, the Charleston, the tango, tap, hip-hop, etc.
Is flexing an art form? Is FLEXN, all 95 uninterrupted minutes of it, a convincing dance experience? Yes, to the second question. It's naïve, true, but its energy is in the right place, and its spirit, for all the misery it reflects, is positive and generous. 
These are talented young people, and they're clearly grateful for the blessing Reggie Gray has bestowed. What's more, the trappings of FLEXN are professional and sophisticated—the lighting, the music. (Not that I liked all of it—the big pop numbers are fakey, whereas rapping makes sense in this context.) Flexing is all over YouTube, but the experience at the Armory (full to bursting) is something else, and who knows what it will lead to? But does that matter? What the flexors are doing is valid for today and for themselves. Yes, there was an element of overload—but for me it was the perfect antidote to the underload of Liz Gerring's Glacier.