As commencement season approaches, celebrities, politicians, philanthropists and philosophers will descend upon campuses nation-wide to impart their words of wisdom—and one-liners—to seniors relishing their final moments before graduation.
But celebrity hasn't always been as essential a feature of commencements as diplomas. The tradition of bringing on a noteworthy speaker took shape in the late 19th and early 20th century as colleges sought to gain national attention and attract the best students from across the country. Walt Whitman, for instance, spoke to Dartmouth in 1872, and President Franklin D. Roosevelt held forth before the University of Pennsylvania in 1940.
Since then, the tradition has only expanded, with students and media outlets eagerly awaiting the announcements of commencement speakers each year. "High-profile speakers bring publicity to the school," said Julie Reuben, a professor at the Harvard Graduate School of Education. "Colleges and universities constantly want their name out in the media
because they are always seeking to attract potential applicants and to have a public presence."
Stanford, one of the first schools to reveal its speaker this year, has a rich history of notable addresses. In 2005, following his cancer diagnosis, Steve Jobs gave what may be the most popular in history. "Stay hungry," he advised. "Stay foolish." This year, journalist and
Stanford alum Richard Engel of NBC News will take the podium, where Bill and Melinda Gates stood last year. [youtube https://www.youtube.com/watch?v=D1R-jKKp3NA&w=420&h=315]
Other schools favor less academic speakers. Actors Matthew McConaughey and Robert Redford will speak at the University of Houston, and Colby, respectively.
Tulane has snagged the actress Maya Rudolph—most likely due to her father's alumni status and her cousin's belonging to the class of 2015—and Wake Forest University will host Stephen Colbert, who also spoke at the Northwestern commencement in 2011. Comedians, no strangers to stand-up, commonly give commencement addresses. "Am I really graduating a virgin?" Conan O'Brien, who spoke at his alma mater, Harvard, in 2000, remembered thinking to himself at his own graduation. "Still have 24 hours. Roommate's mom very hot. Swear she's checking me out."
And while Mr. O'Brien undoubtedly left an impression, the Crimson has had no shortage of memorable speakers—from Ralph Waldo Emerson in 1837 to J.K. Rowling in 2008. Ms. Rowling's speech was generally celebrated as successful. But some felt she wasn't a serious enough choice, exemplifying the difficulty of choosing a speaker and pleasing all parties.
Selection committees range in both size and member composition. At Tufts, a shortlist of speakers is created based on community nominations and approval from the board of trustees, while some schools have more collaborative groups that consult students—as is the case at Stanford, where senior class presidents are involved in the process. At Harvard, a small, elite group including the president of the university and the head of its alumni association choose the speaker.
[protected-iframe id="6b41100c152b97433cf2b0608aca7749-35584880-59143305″ info="https://www.youtube.com/embed/5cFY0-IFcwc" width="420″ height="315″ frameborder="0″ allowfullscreen=""]
While deciding the speaker may take quite a bit of organization and discussion on behalf of the school, most speakers don't think twice before accepting the honor, despite many schools reporting no speaker's fee. "Luckily, most speakers, when invited, agree to speak," said John Reardon, an advisor to the vice president of alumni affairs at Harvard.
This year, Harvard will welcome alum and former Massachusetts Gov. Deval Patrick. He will join Samantha Power, the U.S. Ambassador to the United Nations (speaking at the University of Pennsylvania), and film director Christopher Nolan (speaking at Princeton) in addressing Ivy
League institutions. Other big schools have done just as well, with Apple head Tim Cook, who recently received press as the first openly gay CEO of a Fortune 500 company, speaking at George Washington University, and author Salman Rushdie appearing at Emory.
But it isn't only big-name universities that tap big-name speakers, as evidenced by Dickinson College's wooing of esteemed novelist Ian McEwan. The late David Foster Wallace spoke at Kenyon in 2005—the same school that hosted Jonathan Franzen in 2011. Wallace's speech remains one of the most cited addresses, despite having been given to a class of fewer than 500. "The really important kind of freedom involves attention and awareness and discipline," he said. "And being able truly to care about other people and to sacrifice for them over and over in myriad petty, unsexy ways every day."
[protected-iframe id="e185b79f80328cead2e973f864ae7496-35584880-59143305″ info="https://www.youtube.com/embed/8CrOL-ydFMI" width="420″ height="315″ frameborder="0″ allowfullscreen=""]
Aside from novelists, some politicians have already secured spots at the podium. Former president George W. Bush will be speaking at Southern Methodist University, Mitt Romney at Utah Valley University and Madeleine Albright at Tufts University. But the commencement tour of perhaps the most desirable politician to snag—Barack Obama—has yet to be announced.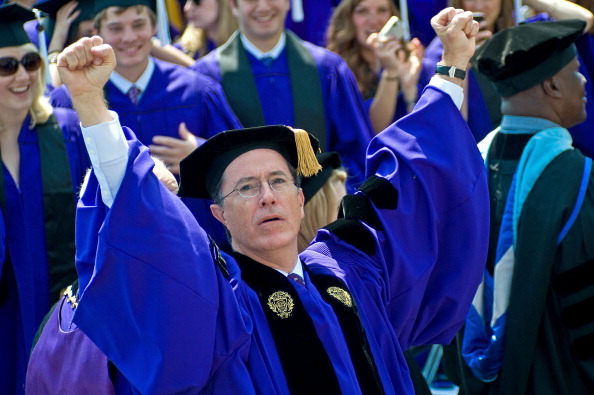 Last year, President Obama spoke at University of California, Irvine as well as West Point. And he may have as much to gain from these speeches as the schools do from his appearance. He tends to use the podium as a test-run for nationwide addresses. The refrain "through Seneca Falls, and Selma and Stonewall," for example, used in his second inaugural address, was taken almost word for word from a phrase in his 2012 Barnard commencement address.
Mr. Obama is not the first politician to make a graduation ceremony, well, political. Though politicians have been speaking at commencements since the Revolutionary War, perhaps the most notable political speech came, at Harvard in 1947, from then-Secretary of State George Marshall. He dropped the standard advice-and-anecdote model and instead used the speech as an opportunity to outline his visionary plan to rebuild postwar Europe. "It is logical that the United States should do whatever it is able to do to assist in the return of normal economic health in the world," Marshall announced, "without which there can be no political stability and no assured peace."
In recent years, however, politicians have caused more unrest than excitement on campuses. Last year, former Secretary of State Condoleezza Rice withdrew from addressing Rutgers University graduates following student protests fueled by her involvement in the Iraq War. Even President Obama has faced dissent. In 2009, Notre Dame tapped him as a speaker, despite his stance in favor of abortion—a position that caused protests and heckling.
Indeed, a college can't always win the public relations game that commencement ceremonies have become. But when it comes down to it, should it really matter? Graduation day, after all, should be about the graduates.