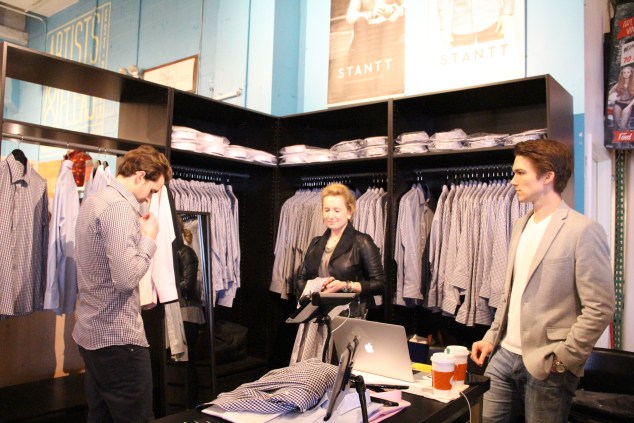 Neither Matt Hornbuckle nor Kirk Keel has a background in fashion. Yet the well-dressed pair is at the Helm of Stantt, a popular shirt company taking a new, high-tech approach to menswear.
They're not an off-the rack retail store, but they're also not your average custom shirt company, which might require 10 to 15 measurements from every client. Stantt is something in between: Using just three measurements (chest, true waist and sleeve length), they match clients to one of 75 unique shirt sizes—almost as if they were perfectly tailoring the shirt to the client's shape.
Shoppers can either get measured in Stantt's pop-up store—which is returning to Chelsea Market for a month starting April 27—or take their measurements at home and order online. Once a shopper knows his size, he can choose from Stantt's seven different patterns. If the shirts, which cost $98, are in inventory, they'll ship in a day. If not, they'll ship within a week.
"Off-the-rack clothing only fits 15 percent of guys," Mr. Hornbuckle said in a quiet corner of Chelsea Market, just outside Stantt's pop-up shop last Friday. "We want to make it simple for every guy to get a great fit."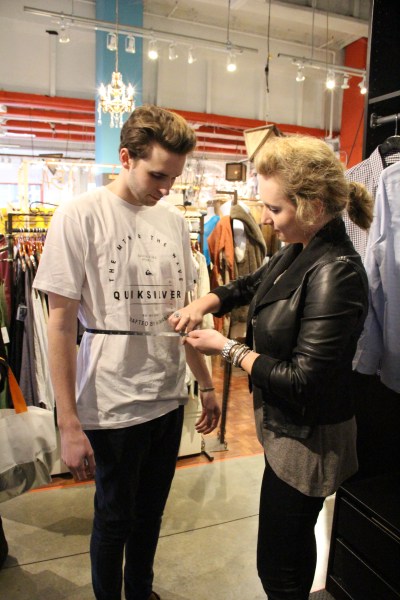 Mr. Hornbuckle and Mr. Keel met seven years ago, working in marketing at Johnson & Johnson. Over time, they started talking more and more about leaving their jobs and starting their own company. Having long struggled to find shirts that fit correctly, they landed on the idea for Stantt.
"Finding stuff that fit us was really a pain," said Mr. Hornbuckle, gesturing to his tall, slender torso.
They were not even worried that their background was in marketing—not clothes.
"We had no bias coming into the field," Mr. Hornbuckle said.
So how did the pair devise their unusual sizing system? They were cagey about exact details, but said it involved developing an algorithm based on measurements taken from 2,000 body scans. From there, they could hone in on 75 unique sizes most likely to fit those 2,000 avatars.
They also launched a Kickstarter campaign to amass funding. Their initial goal, $15,000, was met within four hours. It doubled in 24 hours, and tripled in 48 hours, Mr. Keel said. By the end of the campaign, they had amassed $120,000 from around 1,000 backers.
"The reaction has blown us away," Mr. Hornbuckle confessed.
"We had a film director who bought two shirts last week," he explained. "He just bought 11 more."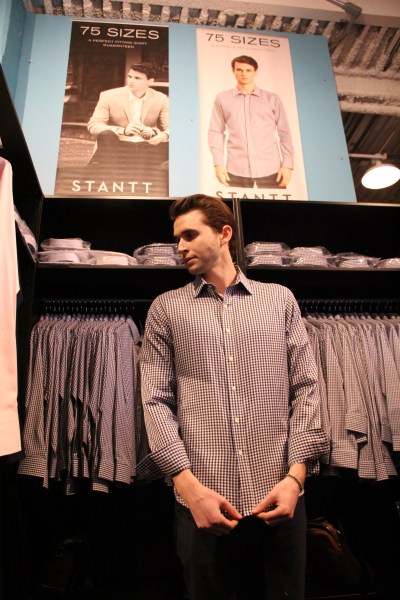 Mr. Hornbuckle and Mr. Keel have plenty in store for Stantt's future. In a couple of weeks, they're planning on debuting seven more shirt patterns and a new collar option. Eventually, they'd also like to make their sizing system even more tailored to each shopper—raising their number of sizes from 75 to over 100.
But Stantt's mission goes beyond just shirts; they want to make it easy for guys to look great and feel great, no matter the clothing item.
"We're not just a shirt company," Mr. Keel was eager to point out. The pair would love to start producing other clothing items, like jeans or blazers.
"This is just the beginning," Mr. Hornbuckle said.