Whether you're genuflecting for Easter, preparing for Passover Seder, dousing yourself in colors for the Hindu festival of Holi or just praying you don't get audited this tax season, there's no denying it is a holy time of year.
As the city thaws, the Observer thought it an apt time to meet some of the city's most prominent religious leaders.
From the historic pulpit of the Archdiocese of New York to an Ifa priest in Brooklyn bringing attention to an underground spiritual practice, the following religious leaders wield enormous influence in their communities. Who does the mayor call when he needs to show solidarity and inspire peace when racial or religious tensions flare? And who demands to be called upon?
Rabbi Ammiel Hirsch
Stephen Wise Free Synagogue
A friendly man with salt-and-pepper hair, Rabbi Ammiel Hirsch (photo above) of the Stephen Wise Free Synagogue is disarming, asking a reporter, "How'd I do?" Ed Koch-style, after a recent interview. Since joining the historic Upper West Side synagogue in 2004, which was founded in 1907 and may be the country's most famous reform synagogue, he has presided over a growing membership. Currently, about 2,500 people are congregants, including "leading figures in practically every industry in New York," said Rabbi Hirsch, from entertainment to finance to tech. The temple provides a place for many of these fast-paced, high-performing New Yorkers to take a step back from achieving to reflect. "That's especially important in New York City," he said. 
Rev. Michael A. Walrond, Jr.
Senior Pastor
First Corinthian Baptist Church
On a blustery Tuesday night in Harlem last month, the heat was turned up in the First Corinthian Baptist Church, where congregants filled cushioned pews for a Spring Revival. Whoever says New Yorkers aren't friendly should spend a night in Michael Walrond's church.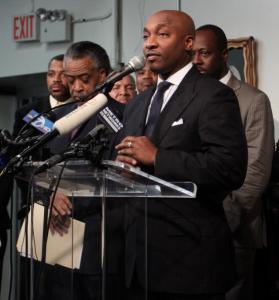 Gospel music filled the sanctuary through a sound system that rivals some of the city's best concert venues. Worshippers both young and old raised their hands, clapped to the beat and the sermon, held hands, and shared hugs throughout the service. They had come to hear Pastor Mike (as he likes to be called).
Some liken Rev. Walrond, 43, to a young Barack Obama—meaning powerful and poised for a meteoric rise even though he is an "outsider." An alumnus of Morehouse College in Atlanta and Duke University, he has lived in New Jersey and Rockland County since returning to the tri-state area. It is understandable that parishioners initially perceived him as far from local when he started at the church in 2004. Nevertheless, through community organizing and politics, Rev. Walrond has made himself known in Harlem, running last year, though unsuccessfully, for Rep. Charles Rangel's congressional seat. During Rev. Walrond's tenure, his congregation has grown 30-fold, from 300 to 9,000.
In 2012, the Rev. Al Sharpton appointed Rev. Walrond national director of Minister's Division of the National Action Network, a civil rights and advocacy organization. Despite his electoral loss, at 43 years old, Mr. Walrond's influence continues to grow. Mayor Bill deBlasio praised him as "one of the single most powerful voices in the city of New York."
Imam Al-Hajj Talib 'Abdur-Rashid
Mosque of Islamic Brotherhood Inc.
Compared to many of the city's other major houses of worship, the Mosque of Islamic Brotherhood Inc. can be easily overlooked. It could be any other building on West 113th Street—aside from the sign on the door warning law enforcement not to enter without permission or legal right.
Imam Talib, the spiritual leader here since 1989, a descendant of Malcom X's mosque in Harlem, doubles as president of the Islamic Leadership Council of Metropolitan New York. With roughly 700,000 Muslims in the city, according to Tanenbaum, a nonprofit that promotes religious peace, he has been a key figure in denouncing extremism and Islamophobia since September 11.
During tense times, city officials often call upon Imam Talib to tamp down enflamed passions. He recently stood side by side with Mayor de Blasio, Rev. Al Sharpton and Cardinal Timothy Dolan as racial tensions roiled after Eric Garner's death.
While the mosque is not as open to the public as many other houses of worship, its Imam has a very public persona online, with a blog filled with family photos and commentary on various topics. "The tragedy in France," he said of the Charlie Hebdo attacks, "is so saddening and maddeningly frustrating, while simultaneously being so mind-bogglingly vicious," while Halloween he deems "disguised devil worship."
Dr. Uma Mysorekar
President of the Hindu Temple
Society of North America
Ganesh Temple
During Ganesh Temple's infancy, Dr. Uma Mysorekar combatted fears in Flushing, Queens, that a cult was moving in. That was 1977. Today, as president of the city's largest Hindu temple, she ministers to 20,000 people, she said. 
A short bus ride from the hustle and bustle of Flushing, the Hindu Temple Society of North America, Ganesh's formal name, is a quiet haven. It is unassuming, even though it takes up the majority of the city block. Thirty small deities in colorful garb sit in glass boxes that line the walls of a large, marble room, where repetitive chants almost hypnotize worshippers who walk freely around the deities, reciting prayers. There are no pews. No separate sections. The only requirement is no shoes, which are left outside the Temple, along with the ingrained instinct to keep everything close in New York—unless you never want to see it again.
A bastion for first and second generation Indians, the Temple offers classes for parents who want their children to internalize their cultures. "They still felt like there was something missing," said Ms. Mysorekar about many Indian immigrants. "There was a spiritual hunger and Flushing was where most of the Indians landed after landing in JFK."
A petite, gray-haired woman with an outsized presence, Ms. Myorsekar realized the power of community outreach and politics very early on; the Temple has turned into a regular campaign stop. Most recently, she, among many local Hindu leaders, has been pushing for the city to include Diwali as a public school holiday. Efforts fell short this year, prompting Ms. Mysorekar to publicly express being "truly disappointed" by the mayor's decision.
Through a well-reviewed Temple canteen, the temple expands its reach, attracting attention from foodies, including Anthony Bourdain, who filmed No Reservations here. In a basement eatery next to the Temple, there is no pretense, but there is a 50-cent surcharge for to-go orders. 
Cardinal Timothy Dolan
Archbishop of New York City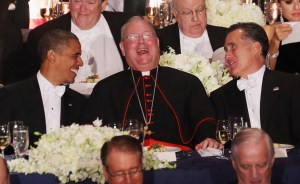 The relationship between the archbishop of New York, who presides over the city's 2.3 million Catholics, and the city's mayor, is historically scrutinized. Mayor Ed Koch and Cardinal John O'Connor, for instance, were tight—a 2013 auction of the late mayor's possessions included 48 letters between the pair. When the mayor's popularity plummeted because of the 1980s corruption scandal that led to arrests of city officials close to Koch, Cardinal O'Connor reached out to the embattled mayor, "You are prayed for far more than you realize," he wrote. "I don't call a man a 'friend' lightly. These are heartbreaking days for you. I'm here!" Though the late Cardinal Edward Egan and Mayor Rudolph Giuliani had a less chummy relationship, the pair bonded at the legions of funerals for first responders after 9-11.  
Cardinal Dolan, a social conservative, and Mayor Bill de Blasio, a liberal progressive, formed a close working relationship just weeks into the mayor's term, despite ideological differences. The raw power of the prelate's post was on display at Cardinal Egan's funeral in March. As Cardinal Dolan delivered a eulogy, the last four mayors of New York were in the pews, Republican and Democrats, side by side.
Patricia Ying
President
Mahayana Buddhist Temple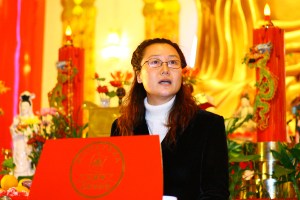 In true Buddhist fashion, the Mahayana Buddhist Temple in Chinatown does not count congregants. 
But The Association of Religion Data Archives estimates the number of Mahayana Buddhists in New York City at nearly 40,000—with nearly all of them associated with the Chinatown Temple.
"From what we know, we can say that millions have benefited from having attended our temple," said Patricia Ying, the temple's president, whose mother-in-law, Annie Ying, founded the temple in 1962 in a storefront. The Buddhist institution expanded long ago and now is the largest in New York City. It houses a massive gold Buddha surrounded by offerings of bright flowers, oranges and money. 
Ms. Ying fluidly moves from quoting Buddhist teachings to ones from Presidents Kennedy and Carter as examples of doing and receiving good. "Buddhism is an optimistic religion. It literally says: 'Ask and you shall receive,' " she wrote in an email from China. "But what is received is guidance and wisdom … so that one can go out and do it."
Rev. William Shillady
Executive Director
United Methodist City Society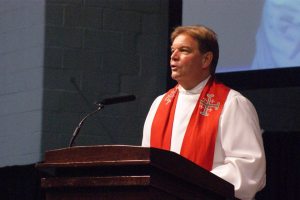 Nestled in the sparkling streets of Morningside Heights, the United Methodist City Society is in an interfaith building housing many nonprofit organizations. William Shillady has been the executive director of the nonprofit devoted to empowering churches, since 2008. Before that, he ministered at the Park Avenue United Methodist Church on the Upper East Side, which he characterized as a "multi-cultural, multi-generation, multi-economic church." 
"I was known as the 'friendliest pastor' in NYC," he told the Observer. 
He stood outside his church for hours every day to help people cope in the aftermath of 9-11, including other pastors who heard the horrifying stories. He did it again after the Wall Street crash. 
Though there are just over 33,000 Methodists in New York, two of Rev. Shillady's parishioners happen to be among country's most powerful people—the Clintons. Rev. Shillady co-officiated Chelsea Clinton's wedding and took part in Dorothy Rodham's memorial service. If—and when—Hillary Clinton announces her presidency, the country can count on meeting Rev. Shillady again. 
Baba Sekou Awosanmi Alaje
An Ifa priest in Brooklyn, Sekou Alaje is bringing a secret practice to light.
He is part of the Yoruba spiritual practice, which took root in Nigeria. An inherently underground religion, reliable numbers for practitioners in New York City are difficult to come by—much like Voodoo and Santeria—but it is one of the most popular religions in Africa.
"There's a lot more people who are a part of it in a non-visible level," said Mr. Alaje. "It's secret, if you don't ask, it can be right in front of you and you won't know."
The tradition, which traveled from West Africa to the Americas with slaves who worshipped away from the eyes of slaveholders, is still mostly practiced in homes, but Mr. Alaje is starting to buck the trend. 
As a skillful drummer in the city, Mr. Alaje has begun to mix the traditions of Haiti, Cuba, Trinidad, Puerto Rico, Ghana, Brazil and Nigeria—bringing the melting pot to a boil.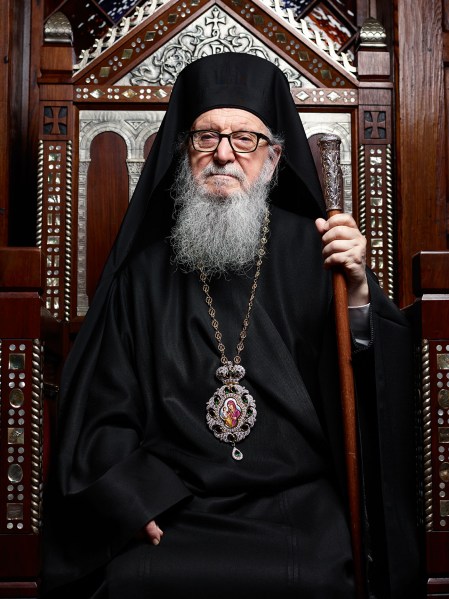 Archbishop Demetrios
Primate of the Greek Orthodox Church in America
A fragile-looking man with a long white beard, 87-year-old Archbishop Demetrios of the Greek Orthodox Archdiocese of America, is anything but delicate. He openly makes very direct, powerful statements on some of the world's most controversial issues, including the bitter dispute over Cyprus and attacks on Christians in Muslim-dominated countries. 
Most recently, the archbishop embraced President Barack Obama, as he marched in Selma for the 50th anniversary of the civil rights march following in the footsteps of his predecessor, Archbishop Iakovos, a prominent early supporter of Martin Luther King.
Archbishop Demetrios is the spiritual leader of the city's—and country's—large Greek Orthodox community, numbering 1.5 million in the country and 125,000 in the five boroughs.

From his staunch stance against the Turkish occupation of Cyprus to his call for peace in the wake of the Eric Garner case in New York City, Archbishop Demetrios often takes forceful political positions.  
"Ferocious Islamists are wiping out the ancient centers of Christianity in the Middle East," he told an audience at St. Nicholas Greek Orthodox Church of Flushing last December. "This is a terrible catastrophe with new martyrs each day," continued Archbishop Demetrios, who has offered prayers at both the Republican and Democratic National Conventions since becoming archbishop in 1999.
Rev. Gabriel Salguero
President, National Latino Evangelical Coalition
Co-Pastor, Lamb's Church of the Nazarene
Last November, on the day President Obama announced his plan to shield millions of immigrants from deportation, Rev. Gabriel Salguero had a seat on Air Force One. The president of the National Latino Evangelical Coalition, which represents 3,000 churches across the country, Rev. Salguero has become a leading proponent on immigration reform, though he describes himself as a nonpartisan pastor. 
"Immigration is inevitable," he told the Observer in Lamb's Church on Rivington Street, where the scent of fresh paint welcomes visitors at the door. "You can slow it down, but you can't stop it."
"I am the son of a homeless man," Rev. Salguero went on. "My father was a homeless junkie." As a boy, he witnessed the "transformative power of the gospel" change his father, who ultimately became a pastor in New Jersey.  
Continuing in the family business, Rev. Salguero, 40, and his wife became co-pastors of Lamb's Church nine years ago and have been renovating and remodeling the space since. The first order of business? Multilingual services. The Lower East Side increasingly had a thriving Chinese population, so Rev. Salguero decided to offer services in English, Spanish and Mandarin.
The work continues. The multi-level building houses a food pantry, an event space, offices, a 25-bed boy's shelter—and, oh, a sanctuary.