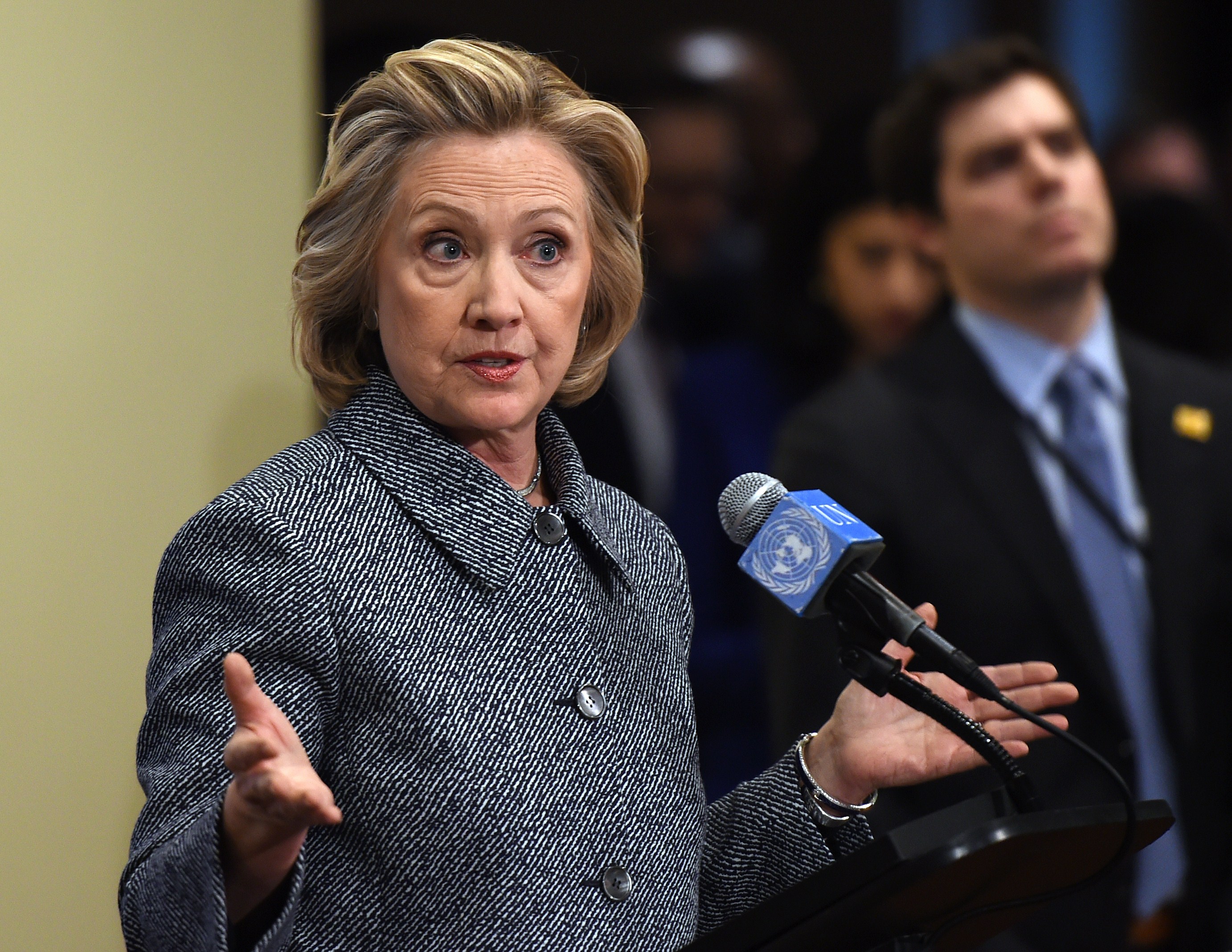 In one of her first major speeches as a presidential candidate, former Secretary of State Hillary Clinton today called for sweeping criminal justice reforms in the wake of the deaths of unarmed black men in police custody—most recently in Baltimore, plunging the city into days of unrest.
"We have to come to terms with some hard truths about race and justice in America," Ms. Clinton said today at Columbia University. "We have allowed our criminal justice system to get out of balance, and these recent tragedies should galvanize us to come together as a nation to find our balance again."
Ms. Clinton, a Democrat, delivered her remarks—in a somber tone not typical of a campaign stump speech—at the annual David N. Dinkins Leadership and Public Policy Forum, held in the hushed and cavernous rotunda of the Low Library on campus.
It was noted more than once than Ms. Clinton's speech was not a campaign event—though Columbia University President Lee Bollinger said the campus had room for a Hillary Rodham Clinton Library, and Mr. Dinkins said he hoped to be at Ms. Clinton's inauguration. In her remarks, Ms. Clinton called for the use of police body cameras nationwide and the end of "mass incarceration," particularly of black men.
She also drew a direct line between the deaths of Eric Garner in Staten Island, Walter Scott in Charleston, and Tamir Rice in Cleveland—all unarmed black men killed in encounters with police—and Freddie Gray, the man whose mysterious death spurred the violent riots in Baltimore.
"The violence has to stop. But more broadly, let's remember that everyone in every community benefits when there is respect for the law, and when everyone in every community is respected by the law," Ms. Clinton said to applause.
Ms. Clinton spoke of a growing consensus among both Democrats and Republicans surrounding the need for criminal justice reform, and said one place to begin was by ensuring federal funds were "used to bolster best practices rather than to buy weapons of war that have no place."
To that end, Ms. Clinton applauded President Barack Obama's efforts to match city funds for police body cameras—but said the country should go further and "make this the norm everywhere."
"Not every problem can be or will be prevented by cameras, but this is a common sense step we should take," she said.
Beyond police reform, Ms. Clinton also called for reforms to the nation's prisons and jails—which, like police reform, is a hot topic in New York City—saying much of the jail population are people serving time for violating parole, minor drug crimes or awaiting bail.
"It's time to change our approach. It's time to end the era of mass incarceration," Ms. Clinton said. "We need a true national debate about how to reduce our prison population while keeping our communities safe. I don't know all the answers—that's why I'm here to ask all the smart people at Columbia, in New York to start thinking this through with me."
New York has already started attempting to wade through many of the issues Ms. Clinton cited. The city is rolling out body cameras for police as part of a pilot program. Ms Clinton suggested "alternative punishments for low-level offenders," an issue under debate between Mayor Bill de Blasio, Council Speaker Melissa Mark-Viverito, and Police Commissioner Bill Bratton at this very moment. (Mr. de Blasio has already reduced penalties for carrying marijuana, but opposes decriminalizing other infractions like fare-beating.) And Ms. Mark-Viverito has rolled out plans for a bail fund, to help some of those people Ms. Clinton mentioned get out of city jails.
In her remarks, Ms. Clinton also harkened back to a position she took as a United States senator representing New York—"putting more officers on the street to get to know those communities" they patrol.
The city is currently in the midst of budget negotiations surrounding whether to add 1,000 police to the NYDP—Mr. de Blasio, who ran Ms. Clinton's Senate campaign but has yet to endorse her, has been opposed to adding extra cops while Mr. Bratton and Ms. Mark-Viverito have pushed to expand the ranks.
The crossover between Ms. Clinton's proposals and local efforts was not lost on Ms. Mark-Viverito.
"Secretary Clinton today laid out the type of progressive vision on criminal justice reforms the City Council is fighting for in New York City," the speaker said in a statement.
Ms. Clinton's speech also touched on income inequality—that issue Mr. de Blasio has insisted he wants to hear more about before endorsing any candidate. Ms. Clinton repeatedly tied the issue of income inequality to criminal justice reform, calling for government to make "a difference in the lives of those who, for too long, have been marginalized and forgotten."
"Our goal must truly be inclusive and lasting prosperity that's measured by how many families get ahead and stay ahead, how many children climb out of poverty and stay out of prison, how many young people can go to college without breaking the bank," Ms. Clinton said.
Ms. Clinton's speech was given high marks by many of those in attendance—some of whom are already, admittedly, big fans of Ms. Clinton, like Ken Sunshine, the public relations executive and former chief of staff to Mr. Dinkins.
"It was a lot more policy-oriented and serious than I thought it might be," Mr. Sunshine told reporters after the speech. "I think we, some of us that are un-ending loyalists, it's the first time we've seen her do a real speech since she announced, and thought that we're ready to hoot and holler, you know it's a campaign. And it was a brutally serious, policy-oriented speech that was almost devastating in its emotion."
Councilwoman Inez Dickens said Ms. Clinton's remarks were "on-point."
"It's good to hear she was willing to take hold of an issue such as race and police relations and bring it to the forefront," Ms. Dickens said. "It's in everyone's mind, but she's bringing it to the forefront and bringing it out to discuss what can be done by legislation and policy."