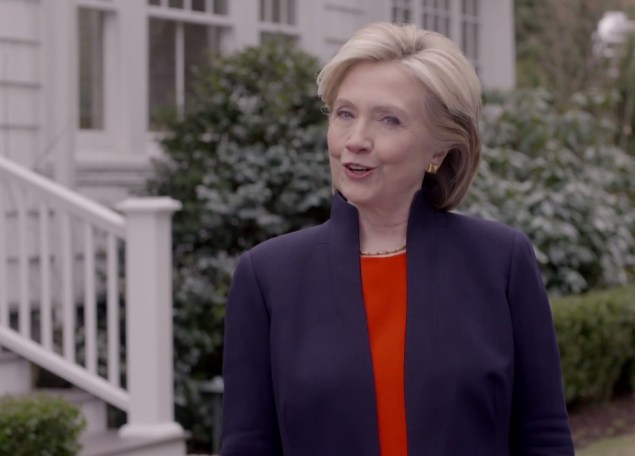 Showcasing the more humble, down-to-earth image she will try to broadcast to voters over the next year and a half, Hillary Clinton announced her campaign for president today.
In a YouTube video running a little over two minutes, Ms. Clinton, the former secretary of state and U.S. senator, said with a grin that she is running for president, ending years of speculation and indecision.
"I'm running for president," Ms. Clinton said. "Everyday Americans need a champion. And I want to be that champion."
"So I'm hitting the road to earn your vote–because it's your time. And I hope you'll join me on this journey," she added.
The announcement reportedly came minutes after emails from John Podesta, Ms. Clinton's campaign chairman, alerting donors and longtime Clinton associates to her candidacy. Ms. Clinton will travel to Iowa and host a formal kickoff event some time next month.
The video reveals some of the constituencies Ms. Clinton, a Democrat, hopes to win over, including Latinos, gays and younger voters.
In New York, Ms. Clinton's announcement received mixed reactions. Gov. Andrew Cuomo, who served in former President Bill Clinton's cabinet, immediately endorsed her for president. But Mayor Bill de Blasio, her former campaign manager, said he would hold off on endorsing until he saw she was committed to a progressive vision.
Watch the full video below:
[youtube https://www.youtube.com/watch?v=0uY7gLZDmn4&w=560&h=315]