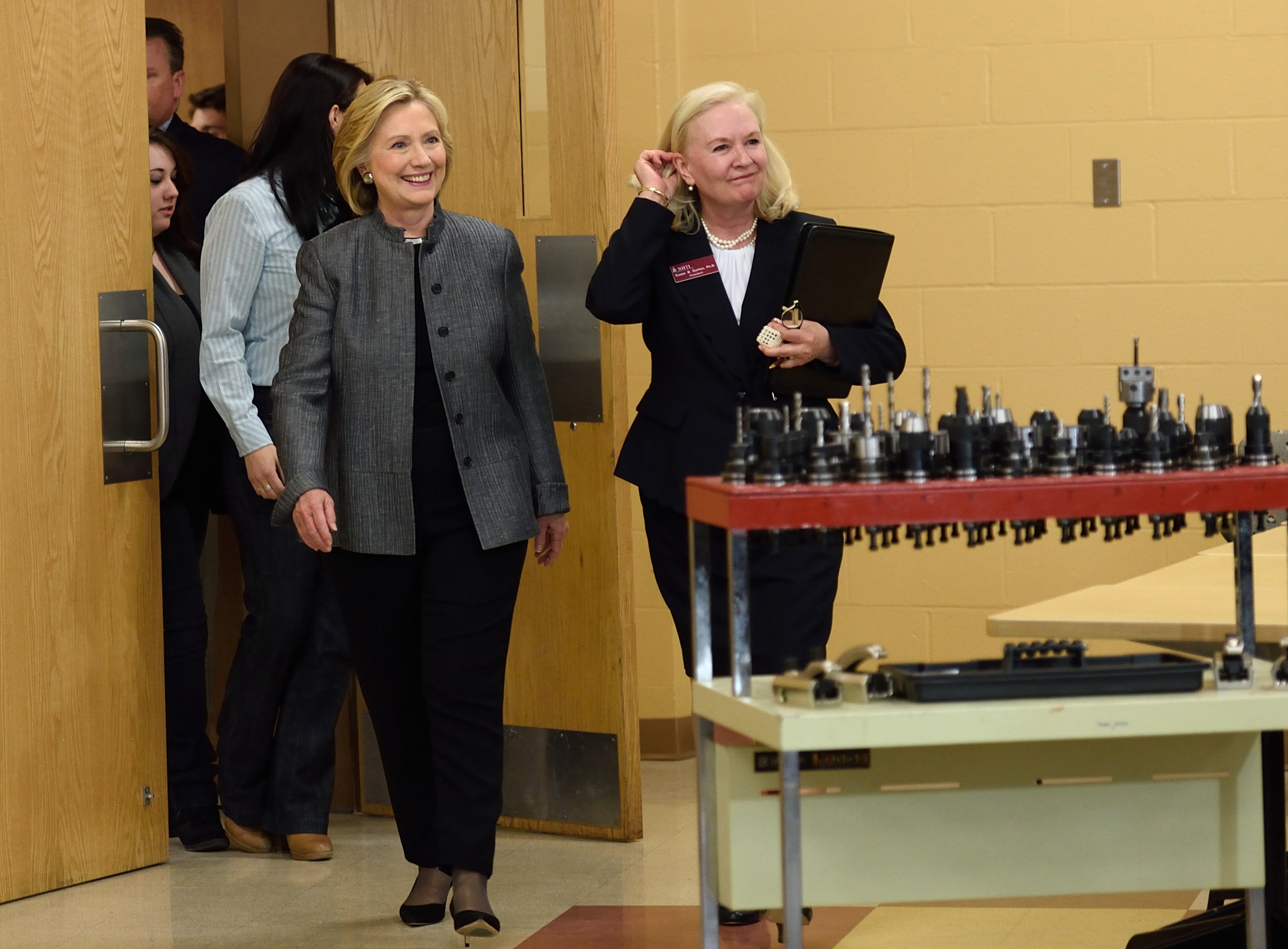 Former Secretary of State Hillary Clinton, the Democratic presidential front-runner, talked women's issues and echoed President Barack Obama's agenda—healthcare, immigration reform, gay and transgender rights, a minimum wage hike—at the sixth annual Women in the World Summit today.
The former first lady, often seen with her husband as a standard bearer of her party's centrist wing, seemed to pitch herself to progressive primary voters as she addressed the audience at Lincoln Center. She did not mention Mr. Obama by name, and alluded to her candidacy only coyly.
"I wanted to be here regardless of whatever else I was doing," she said to laughter and raucous applause. "Every one of you proves that, no matter who you are, or where you come from, you too can be a champion for change. It doesn't matter whether you're a student, or an artist, a journalist, an ambassador—maybe even a future president."
Ms. Clinton described the economic struggles her own mother, once a housemaid, had endured during her impoverished childhood. Sounding not unlike Mr. Obama or Mayor Bill de Blasio—a Clinton protégé who has yet to endorse the former Senator from New York—attacked the inherent unfairness of low-income circumstances.
"No one deserves to grow up like that. Everyone deserves a chance to live up to his or her God-given potential," she said.
Ms. Clinton railed against the continued problems of domestic violence, sexual assault and unequal earnings that women face. She called the movement to greater female participation in societies worldwide "the great unfinished business of the 21st century," and attacked conservative strictures and institutions she claimed hold women back.
"Deep-seated cultural codes, religious beliefs and structural biases have to be changed," she said.
She turned her ire in particular on the absence of federal legislation requiring employers grant parents paid family leave, which she said marked the United States out from the rest of the Western world.
"It is outrageous that America is the only country in the developed world that doesn't guaranteed paid leave to mothers of newborns," she said, recalling her daughter Chelsea's recent childbirth. "The lack of quality affordable childcare, unequal pay, work schedules that are not only far from predictable or flexible, but are often simply unfair, fall disproportionately heavily on women."
She even used the f-word, citing statistics from the World Economic Forum, which she said is "hardly a hotbed of feminist thought," that ranked the U.S. 65th out of 100 nations in pay parity between genders.
A former opponent of gay marriage, Ms. Clinton paid lip service to the problems of discrimination based on sexual orientation and identity. She also lashed out at the enemies of the Obama administration and the current Republican field, citing those who contested the Affordable Care Act, opposed immigration reform and fought the nomination of Loretta Lynch as attorney general.
"There are those who offer themselves as leaders who take a very different view. Who offer themselves as leaders who see nothing wrong with denying women equal pay. Who offer themselves as leaders who would de-fund the country's leading provider of family planning, and who want to once again let health insurance companies charge women just because of our gender," she said. "There are those who offer themselves as leaders who would deport mothers working to give their children a better life rather than risk the ire of talk radio, there are those who offer themselves as leaders who even play politics with the nomination of our nation's chief law enforcement officer."
"These are not the way to move America forward, it isn't leadership, it's not going to create a single job, raise anyone's wages or strengthen our families," she added.
Ironically, the event took place in the David Koch Theater, named for the conservative oil mogul and activist who donates heavily to Lincoln Center. Mr. Koch told the Observer on Monday that he believed Republican Wisconsin Gov. Scott Walker would defeat Ms. Clinton "by a major margin."