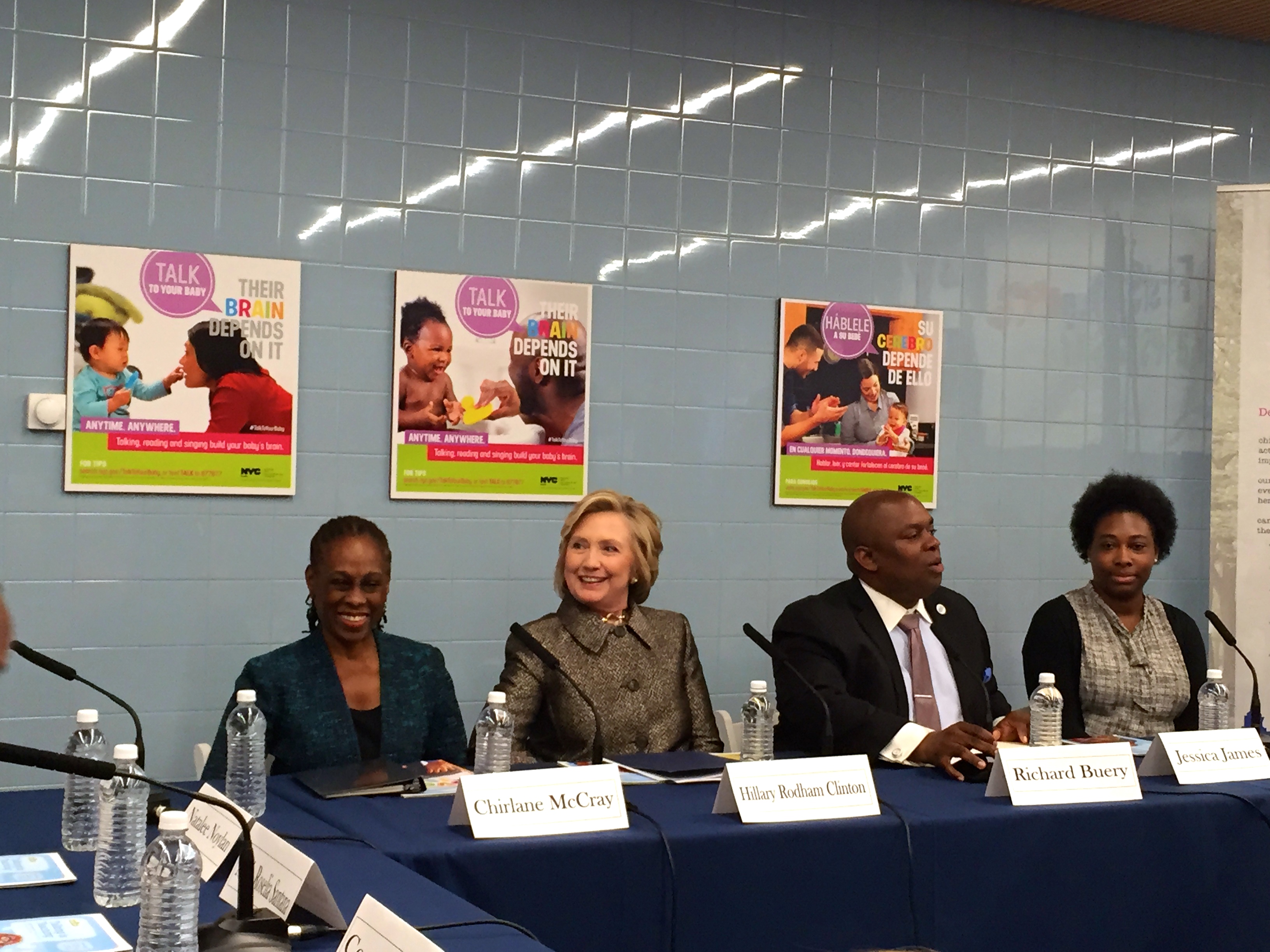 Hillary Clinton was in Brooklyn today, the borough where she'll reportedly look to headquarter the presidential bid she's expected to announce any day now.
But today, Ms. Clinton said, wasn't for talking about politics. It was for talking about babies. Or rather, talking to babies.
The former secretary of state, U.S. senator and first lady—and current front-runner for the Democratic nomination for president in 2016—joined New York City's first lady, Chirlane McCray, to promote a new "Talk to Your Baby" campaign at a school in the Brownsville neighborhood. At the close of the event, which did not include questions from the press, NY1 reporter Josh Robin called out to ask if the media might see Ms. Clinton back in Brooklyn soon, perhaps for her headquarters.
"All in good time," Ms. Clinton said. "I was happy to be here at this exemplary center, and supporting the good work that the mayor and first lady are doing on behalf of our kids."
Ms. Clinton was the star guest at a panel moderated by Deputy Mayor Richard Buery—who allowed he was a bit "starstruck"—and featuring Ms. McCray, the wife of Mayor Bill de Blasio. Together they announced the launch of a campaign with the tagline "Talk to Your Baby, Their Brain Depends on It," aimed at encouraging new parents to read, sing, and talk with their children. The panel of parents and educators met in a room at the SCO/FirstStepNYC Early Education Center, festooned with advertisements designed to run on the subway, showing parents and grandparents interacting with babies—showing them toys like rubber ducks, reading to them, clapping for them. Ms. McCray cited brain research that indicates doing so can make a big difference in early childhood development.
The "Too Small to Fail" initiative of the Clinton Foundation will release a "Talking Is Teaching Community Campaign Guide," which Ms. Clinton said will draw on success in other cities and designed to help cities roll out efforts to boost childhood brain development.
"We launched at the Clinton Foundation our Too Small to Fail initiative as a public awareness effort to try to raise the importance of the very simple acts of talking, reading and singing to infants and babies and toddlers," Ms. Clinton said. "And we did it because we were so struck by the brain research Chirlane mentioned."
A $1.5 million partnership with Scholastic Inc. will allow for the distribution of 200,000 "baby book bundles," including a book called Love is NYC edited by Ms. McCray.
Ms. McCray said raising her children had brought her moments "when I was filled with so much joy I didn't think it would be possible to be happier"—many of them when she was singing, reading or playing with her children Chiara and Dante.
"Although many parents and caregivers have performed the ritual of talking, reading and singing to children for generations, it does not alway happen and it does not always come naturally," Ms. McCray said. "Many parents do not understand why these adult-child interactions are so important."
Throughout the roundtable, which saw parents tell Ms. McCray, Ms. Clinton and Mr. Buery about the songs they sing their children and the books they read them, Ms. Clinton repeatedly made reference to work she'd begun many years ago on the issue of child literacy and child welfare. There were also repeated references to the relationship between the Clintons and Mr. de Blasio and Ms. McCray—which dates back to the days when Mr. de Blasio worked for Ms. Clinton's husband President Bill Clinton, in the Department of Housing and Urban Development. Mr. de Blasio went on to run Ms. Clinton's 2000 campaign for Senate in New York, and the mayor often speaks highly of her and the prospect of her running for president in 2016.
Today Ms. Clinton noted the couples are "friends." Ms. McCray introduced Ms. Clinton as a friend and partner in her efforts.
At the start of the administration, Ms. McCray was a regular fixture at the mayor's press conferences to announce appointments, and he has called her his top adviser—spurring many comparisons to the two-for-one power dynamic many saw in the Clinton White House. But since then, she has largely focused on mental health issues in her recent public events, recently appearing with her daughter Chiara, who has made her own struggles with mental health and substance abuse public, to promote a new service for teens to text for help with issues like anxiety and depression.
Ms. McCray has also focused on children's issues, the center of today's event, with the New York Times recently reporting that she serenaded Mr. Buery with a lullaby she used to sing Chiara at a meeting of the mayor's "children's cabinet" in October. The first lady recently recorded the lullaby to be used in city campaigns.
The story of Ms. McCray's song had not escaped Ms. Clinton's notice.
"I have to confess, I was quite envious of Chirlane the other day when she burst into song. You know, I love to sing, but nobody wants to hear me sing," Ms. Clinton said.
But she used to sing to her daughter, Chelsea, when she was a baby—standing beside the window, she said, crooning "Moon River," which she said was her "all-time" favorite song. But that changed, she said, with some of Chelsea's first words: Ms. Clinton said the littler girl put her fingers to her mother's lips and said "No sing, mommy. No sing."
Ms. Clinton said that informed her interaction with her granddaughter—Chelsea's baby Charlotte, who was born in September.
"So I had to stop singing, whereas the first lady can keep singing," Ms. Clinton said. "But I did continue to read and talk and I continue to do so with my new granddaughter."
Ms. McCray demurred. "It's all good," she told Ms. Clinton.
And Mr. Buery, perhaps still starstruck, promised he wouldn't put Ms. Clinton on the spot.
"We won't ask you to sing," he said, "although I would love to hear you."