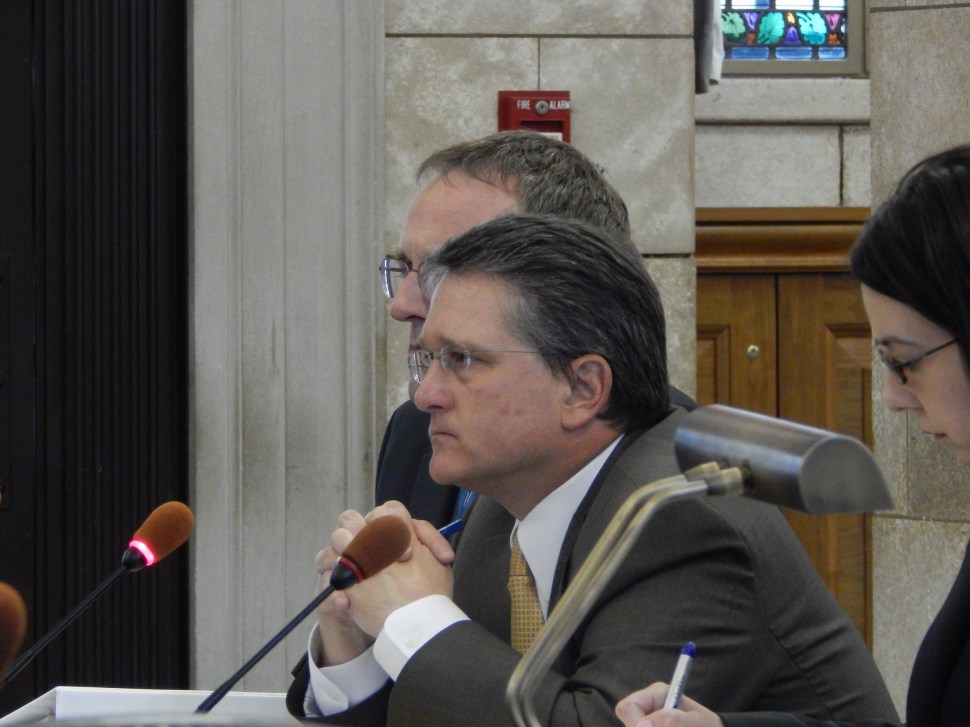 TRENTON — Acting Attorney General John Hoffman said today that Gov. Chris Christie's decision to send some 150 state troopers to Maryland to assist in the fierce riots sweeping the city of Baltimore this week is an opportunity showcase the "dedication and professionalism" that law enforcement officers have exhibited in New Jersey.
Hoffman, giving testimony this afternoon in front of the Senate Budget and Appropriations Committee, suggested the team of troopers going down will be able to help Maryland police alleviate some of the pressure between law enforcement and residents there by "sharing some of the experiences" they've had here. Police in Baltimore have strained resources and manpower in trying to quell the rioting and protests that have exploded across the city after a funeral for Freddy Grey, the 25-year-old African American man who died mysteriously in police custody earlier this year, was held Monday morning.
The riots have at times turned violent, resulting in several injured police officers, dozens of arrests, looted store fronts and considerable property damage.
"In addition to the contingent of the troopers that are going down, we're also sending a contingent of troopers that have been dedicated to this effort to make sure we lend assistance in that regard down in Maryland," Hoffman said. "So they're keeping the peace, and doing so in a way that tries to rebuild community relations and help share some of the experiences that we have had in New Jersey in establishing such strong relationships,"
Earlier today, Christie ordered a state police "assessment team" travel to Maryland after speaking with Republican Gov. Larry Hogan, whom the former Republican Governors Association chairman helped to elect last year. He announced his decision on Twitter, explaining that he "let [Hogan] know that New Jersey is offering our full support (and) solidarity … in their efforts to protect the lives and well-being of the people in the city of Baltimore while calm and order are being restored."
Asked about the news by state Senator and committee chairman Paul Sarlo (D-36), Hoffman pointed to areas across New Jersey where law enforcement officials have establish strong relations with their communities, including in Paterson, Trenton, and Camden, as Christie himself has routinely highlighted. He said part of the success of that community-building has come from agencies being open and transparent, especially with community leaders.
Before coming here to testify, Hoffman said that he had sat on a conference call with some of those leaders, mentioning organizations like the NAACP and the National Action Network — "some of the people we've worked with to develop a lot of the positive relationships in the community," he said.
"And I let them know, this is what we have done, this is why we have done it, and to make sure that the community leaders know that we will always have open and honest discourse on the most difficult of issues," Hoffman said.
"Those are the type of relationships that we have developed, and frankly which I think exemplify the leadership that the department of the state police have shown in noticing that we can't effectively police unless the state police is responsive to community concerns and it reflects the character and the constitution of the community and that it serves," Hoffman said.
Hoffman said additional police, including 100 troopers he said we meant as "operational support," will travel to Maryland throughout today. He added that he plans on meeting with some of those officers going down later today, to "thank them for their service, and at the same time I'm going to impart on them the notion that this is an opportunity, an opportunity to show the professionalism, the dignity, and the class that the state police have."
Later, asked if New Jersey is prepared for the kind of situation Baltimore is now dealing with, Hoffman answered affirmatively.