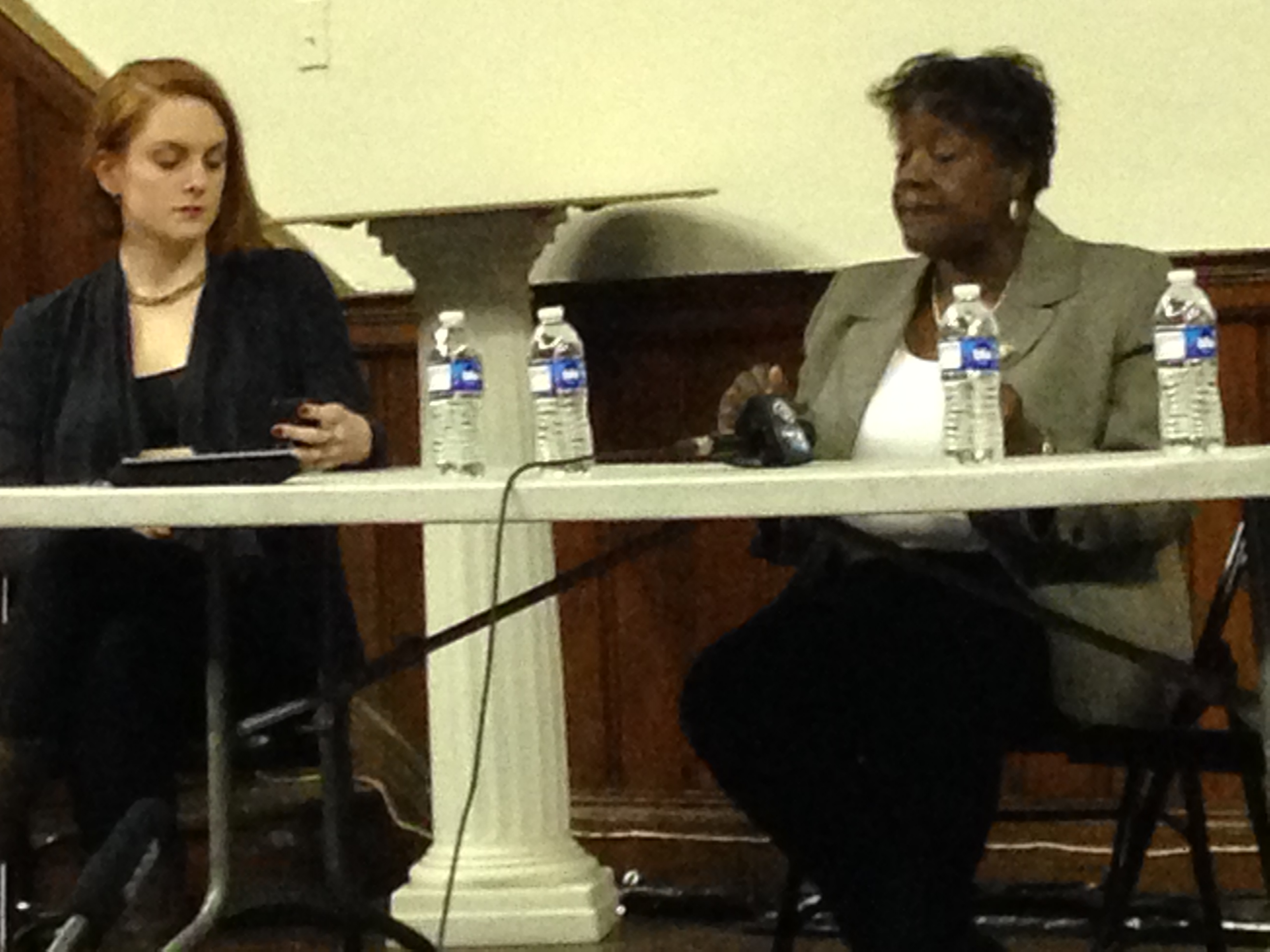 Rival candidates for former Assemblyman Karim Camara's Assembly seat had to defend their stances on housing issues last night to residents of the swiftly gentrifying Brooklyn district.
Working Families Party candidate Diana Richardson and Independence Party candidate Shirley Patterson had to explain their respective positions on the controversial 421a tax break and on taking campaign donations from real estate interests to voters at the Grace Chapel in the up-and-coming neighborhood of Prospect-Lefferts Gardens. One audience member harangued Ms. Richardson for details on her stated opposition to the 421a incentive, which requires developers in certain areas to include designated affordable units, but which critics argue encourages market-rate construction.
"I don't think that 421a is working for our community," Ms. Richardson said, floating the idea of encouraging builders to create community benefits plans with the surrounding neighborhood, but refusing to outline a specific proposal for an alternative affordable housing initiative. "What I will say is that we need to develop a new housing program that allows the developers to—we have to incentivize building that has community inclusion. What that looks like, down to the very nitty-gritty, I cannot say to you right now."
Ms. Richardson added she would be unable to come up with such a plan until she was elected to the Assembly and had negotiated with her colleagues.
When it was her turn to take the stage, Ms. Patterson—who arrived an hour late to the forum due to what she claimed was a meeting with donors—faced questions about a Daily News report that she had accepted $5,000 in campaign contributions from a pair of real estate limited liability corporations linked to mega-donor Leonard Litwin. Mr. Litwin and his company Glenwood Management are widely believed to be one of the developers that hired the law firm Goldberg & Iryami on the advice of indicted ex-Assembly Speaker Sheldon Silver, though Mr. Litwin has not been charged with any wrongdoing.
Ms. Patterson pleaded ignorance of the donations and claimed she had made no promises to any developers, and said she would consider returning the money if she found her campaign had not already spent it—a comment that drew jeers from some present. She did, however, offer a defense of taking real estate cash—arguing that private developers are important partners in constructing affordable housing.
"When I looked at my financials, I didn't see the names that were in the newspaper," she said. "We're asking for low-income and middle-income housing, right. Now, who's going to provide that for us? It's going to be some developer."
Ms. Patterson's most recent campaign filings show she has received an additional $10,000 from real estate companies. Ms. Richardson has pledged not to take donations from developers.
Housing issues have come to the forefront this year as the state legislature prepares to review and renew the city's rent laws. Advocates hope to see the regulations strengthened, but the Real Estate Board of New York donated heavily to the campaigns of Gov. Andrew Cuomo and of the Republicans in control of the State Senate last year, and are expected to push to maintain or soften the current laws.
New York City Democrats dominate the Assembly, and it is expected to be the bastion of support for tenant protections.
Due to a bizarre series of legal snafus, the Democratic line will be vacant when voters go to the polls on May 5 to vote in the special election. Ms. Richardson and Ms. Patterson are both Democrats, with the latter having defeated the former in the race for the unpaid party position of female district leader last year.
The male Democratic district leader, Geoffrey Davis—brother of the late Councilman James Davis—is also running on his own 'Love Yourself' line, while Menachem Raitport is running on the Republican and Conservative Party lines. Neither Mr. Davis nor Mr. Raitport appeared at the forum.