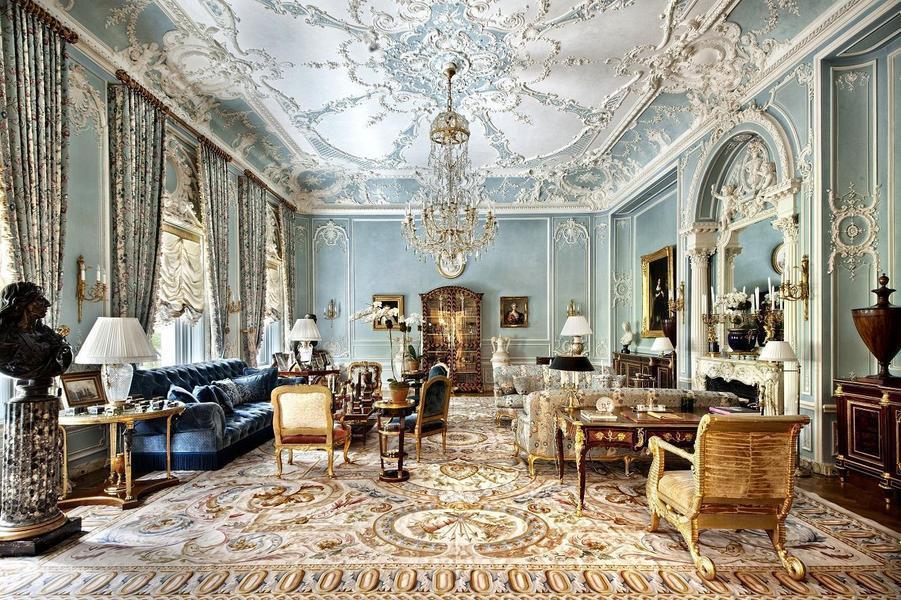 For all their solidity—their block-swallowing footprints and formidable frontage, slate-hooded turrets and iron-fanged fences—the mansions built on Fifth Avenue during the Gilded Age proved, within a few decades of construction, to be something like real estate equivalents of dinosaurs, behemoths unable to survive rapid shifts in climate. Cornelius Vanderbilt II's 57th Street mansion, by some estimates the largest single-family house ever erected in the city, came down in the 1920s, to make way, appropriately enough, for Bergdorf Goodman; so, too, the so-called "Vanderbilt Triple Palace" at 51st Street.
Other monuments to wealth swiftly made or carefully hoarded, like the Henry Clay Frick and the Felix M. Warburg houses, at East 72nd and East 92nd Street, respectively, were turned over to cultural institutions. Beautiful still, redolent of grand affairs past, such museums nonetheless have about them the quality of finely made taxidermy. They are suggestions, rather than expressions of lives lived large.
If such lost and faded estates are Tyrannosaurs, then the Edward J. Berwind House, at 2 East 64th Street—or 828 Fifth Avenue, depending on what sort of impression you want to make—is, perhaps, a crocodile, resilient through the ages with limited alterations to form. A massive Edwardian Georgian of limestone and brick, the home could readily sleep several dozen, and contains entertaining spaces that have been earnestly compared to Versailles. "It has," the New York architectural historian, John Tauranac, recently observed, "absolutely no bearing on 21st century American life."
And yet, with only brief exceptions, the building has remained a private residence in a way that virtually no other Fifth Avenue mansion has managed to. In the estimation of one prominent uptown broker, the home has become, quite literally, "incomparable." It seems somehow uncannily adapted to contend with the changing world around it.
Or maybe it has simply been lucky.
Edward Berwind, for whom the house is named, was born to German immigrants in Philadelphia in 1848, one of five sons. He spent some 20 years in the navy, serving in European waters during the Franco-Prussian War and later in the Spanish-American War.
Ulysses S. Grant took Berwind for a naval aide during his presidency, and the United States Fuel Administration called on him for advice at the time of the First World War. By then, from his place atop the Berwind-White Company, which he co-founded, Berwind had become reputedly the largest single owner of coal properties in the United States. For a time, it was difficult to transact business involving coal-powered steamships in the harbors of Philadelphia or New York without Berwind's say-so.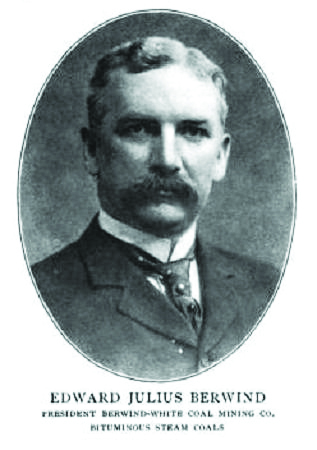 Still, in some ways, Berwind never quite outran his humble origins. Caroline Astor, for one, thought his money too new, excluding him and his wife, Sarah, from her hallowed "400." (The figure corresponded to those members of society who truly "mattered" and also, famously, to the approximate number of persons that fit inside the Astors' Fifth Avenue ballroom.) Though the Berwinds built what The New York Times in 1901 called "one of the most beautiful [homes] in Newport," an estate known as the Elms—a Louis XIV triumph of white stone, which might reasonably have housed a small liberal arts college—the manor stood on the "wrong side" of Bellevue Avenue, the tony colony's grandest strip, without oceanic frontage. One reporter noted that in an apparent act of defiance, Berwind decorated the home's front gate with giant flowerpots inlaid with his mustachioed image, inflicting his visage on any and all passersby.
Manhattan, too, fretted over the incursions of upstarts and newcomers. An exhaustive article in the Sunday Times of May 26, 1907, sought to assure readers that "In Spite of the Influx of Outsiders, Knickerbocker Families Easily Remain In the Ascendant" on Upper Fifth. Among the "outsiders," the paper noted, was Edward J. Berwind.
But that dubious designation could not be applied to the woman from whom Berwind bought his Fifth Avenue parcel, on the southern corner of East 64th Street, just across from Central Park. A granddaughter of Cornelius Ray, the president of the first United States bank in New York City, Nathalie Elizabeth Baylies took her last name from her late husband, the merchant Edmund Lincoln Baylies, whose family had arrived in Massachusetts in 1737, and who shared DNA with Abraham Lincoln. N.E. Baylies, as she was known, sold off a number of uptown tracts to contemporary notables, who filled them with handsome single-family homes.
Few, if any, matched what E.J. Berwind had in mind. To give the dream form, he commissioned the architect Nathan Clark Mellen, who had relatively little profile, especially compared to the Berwinds' interior designer, the French firm of Jules Allard & Son, which did the interiors at the Vanderbilts' Newport estate, the Breakers..
The lower two floors were sheathed in limestone, rippling with columns, balustrades, scrollwork and cherubs. Windows framed by ornate limestone surrounds accented upper levels, which Berwind had layered in Tiffany red brick. A coved reception hall arced into a starry-painted dome with, Mr. Tauranac, the historian, has written, "clear roots in the Gothic ceiling of the Sainte-Chapelle in Paris." Mahogany trimmed the library, which flourished an octet of pilasters, each topped with a mythic winged figure. Family quarters occupied the third floor, while a ballroom absorbed much of the second, with an attached sitting area looking onto the park. There was gilded trim, Louis this and Louis that, a glade's worth of oak paneling. As a point of reference, the work of Napoleon's court architects was consulted.
Owing to a combination of factors, including the 1982 landmarking of its façade—which came too late to prevent the 1978 addition of a modern sixth-floor penthouse, set back from the roofline at a mercifully unobtrusive remove—the home, which was completed in 1896, looks much the same today as it did then. To call the structure a townhouse is to make a flagrant understatement. The sidewalk looks puny before it, a thin gray ribbon unsuited to contain its girth. It is, by all accounts, a place out of time.
Changes to tax and labor laws presaged the dying off of the Gilded Age mansions. Nonetheless, after Edward Berwind's death in 1936, at 88, his sister, Julia Berwind, who inherited the mansion, continued to make use of it until roughly 1945, when the press reported that a buyer had contracted for the property, filing plans to construct a 19-story apartment tower in its place.
Some weeks later, however, it emerged that the actual buyer was the Institute of the Aeronautical Sciences. Despite its futuristic functions, which included hosting professional interviews for engineering programs in helicopters and guided missiles, the Institute apparently found nothing harmful in its new home's Euro-throwback decor. When it sold the place in 1963 to the real estate developer Harry Waxman, moving to a facility on Sixth Avenue, the home remained intact.
After Waxman's brother, Sydney, who was also his business partner, died during a party at the house, the property quickly returned to market. A group that proposed to turn the building into a nursing home offered a high bid of $1.5 million, but Waxman found himself reluctant to let the house suffer such a gloomy fate. As a kind of tribute to his brother, who died of a heart attack, he sold it instead to the New York Heart Association, for half that price, in 1967. Two years later, the Times marveled that that group, too, had declined to do away with ceilings "aglow with romantic-looking oil paints (usually allegories)," or sand down "wood carvings depicting leaves and flowers, sculptures of little boys playing cupid." Only lighting systems needed modernizing, the Association found, and only in rooms used as offices. "The layman find it is more like a club than our previous quarters," said an apparently delighted Charles I. Campbell, the group's executive director. "The women's division has teas here. And the physicians find it a comfortable place for meetings."
But the Berwind mansion's next owner seemed perhaps a greater threat than any before to its historical integrity. Following the early 1970s' low-bottom housing market, a former White & Case litigator named Robert Little began buying and gutting Manhattan townhouses. It was a fine business by 1977, with real estate prices rising and the city rotten with dilapidated buildings. Among his acquisitions was 828 Fifth Avenue, which he bought for $1.3 million.
The mansion was divided into 12 co-ops priced from $195,000 to $425,000, ranging from "magnificent wood paneled duplexes to oval living rms overlooking Central Park," in the wording of a listing that appeared in the papers. And those enduring panels and whimsically shaped rooms seemed to hint that the robber baron's vision had been left undisturbed once more. Indeed, in 1983, when Toni Morrison read in the building at a meeting of the New York Society for Ethical Culture from her yet-unpublished novel, Beloved, it was, miraculously, in much the same space that Edward Berwind built 100 years earlier.
Since then, the home's life has been strange, but perhaps no less reflective of the changing city around it than in decades gone by. Apartments have been combined. There is now a pair of duplex maisonettes (a mansion's mansions), off the entry level. Every floor above is occupied by a single unit. Madonna once considered buying in the building and decided against it because she could not reach a garage from within. Some years ago, the late developer Howard Ronson began acquiring pieces of the home—first two floors and then one of the duplexes, then another full-floor co-op. After he died, in 2007, his family sprung for the penthouse. They dreamed of re-creating the Berwind mansion as it was, better by one penthouse, of course, and presumably by updated kitchens and bathrooms.
But with the puzzle incomplete, they put their holdings—which included 15,080 square feet, a few terraces, a wine cellar and the ballroom—up for sale in 2012, for $72 million, intending, reportedly, to spend most of their time in Monaco. The offering attracted the attention of a latter-day robber baron, Roman Abramovich, who took up the dream of reanimating the Berwind's palace. In 2013, Mr. Abramovich was reported to be in contract for the Ronson family's spread, and sources told the Observer that he'd also arranged to buy out the owner of the fifth-floor unit, who apparently spends much of her time in South America. The duplex maisonette owned by the fashion designer, Adolfo Sardina, remained elusive, but we didn't doubt Mr. Abramovich's resolve—or powers of persuasion.
Alas, for reasons not entirely clear—but likely related to the seller's interest in upping Mr. Abramovich's ante—the deal fell apart, and one can now rent the Ronson family's triplex for $80,000 a month, down from $150,000 last year.
Mr. Abramovich's efforts, like those of the Ronsons before him, to some extent recall the machinations of Norman Bombardini, the corpulent CEO of David Foster Wallace's first novel, The Broom of the System, who seeks to "fill the universe with self," hoping to attain "infinite size" through boundless consumption. "I'm going to grow and grow and grow," Bombardini explains. "There will of course eventually cease to be room for anyone else in the universe at all." The impulse mirrors, too, the drive that built the Elms and the Breakers, the uptown mansions of Astor and Vanderbilt and Frick.
But on a recent afternoon at 828 Fifth Avenue, as far as we could tell, there were still plenty of other people about. A woman passed, guiding on a leash a full-grown English mastiff, whose lioness-like proportions were dwarfed by the legacy of Edward J. Berwind. The coal baron's windows were dark and his shades drawn. No one came or went through his doors. Often enough, in the era of the private jet, the greatest hurdle in endeavoring to take up the whole universe is trying to be everywhere at once.