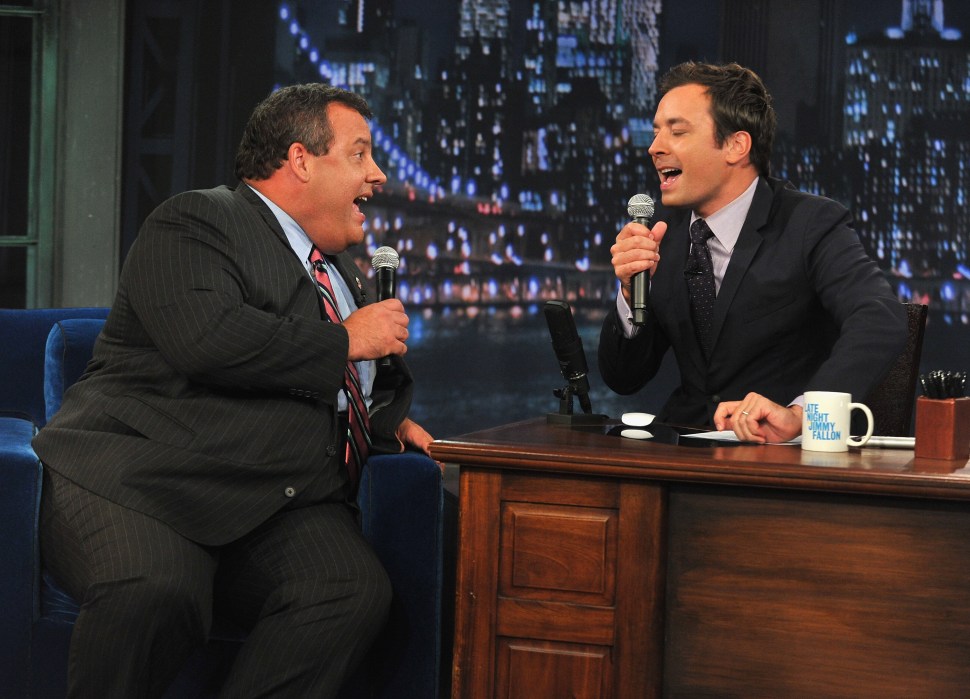 Last night, Gov. Chris Christie appeared on the Late Show alongside host Jimmy Fallon for the sixth time since taking office. Their discussion was, as are most of his talk show appearances, light on seriousness and heavy on comedic value: the two poked fun at Christie's increasingly small girth, then proceeded to share a pint of Ben & Jerry's Ice Cream to show he's still not taking his weight too seriously.
In the world of entertainment and politics, it might be easy to forget that appearances like Christie's — the man has made a routine of guest starring on shows like Fallon's or David Letterman's — are actually politically calculated undertakings. Christie might be a natural in front of the cameras, and might even relish in his ability to woo an audience with his charm, but that doesn't negate the fact that there is almost always some hidden purpose to the act. Politicians in general, according to experts, have come to rely on the medium as a way to accomplish their manifold goals, whether it be to conduct some damage control, to increase their exposure among voters during an election season, or to appeal similarly in a certain way to a certain demographic of people.
It was former President Bill Clinton, after all, who seemed to first normalize the practice, taking the stage in Blue Brothers sunglasses and blowing sensuously on a saxophone during a breakout appearance on the Arsenio Hall Show in 1992.
"With all the advertising, there's sort of two different goals," said David Greenberg, an Associate Professor at Rutgers University's School of Communication and Information who specializes in the intersection of media and politics. "One goal is just sort of name recognition and basically familiarity — have you heard of this product or have you heard of this candidate. The next level is making a positive case of why you should buy this product or vote for this candidate over the others. I think the Jimmy Fallon and Jimmy Kimmel stuff definitely helps with the former."
Christie's no different, and indeed might even excel in using late night TV to his political advantage. With this in mind, it's worth taking a look at a few of the Republican's more notable past talk show appearances to see how he does it.
1. Donuts with Letterman
[youtube https://www.youtube.com/watch?v=QZPwKUYcJ30]
"Late Show with David Letterman," Feb. 4, 2013
Who can soon forget what is perhaps Christie's most notorious late night guest appearance, the one with David Letterman, during which he scarfed down a jelly donut in truly self-deprecating fashion? But this was Chris Christie at his politically strongest, Chris Christie at his most untouchable, and so the guy could afford to embarrass himself a little. In February 2013, the Republican was considered to be one of the most promising young upstarts of his party, having just unabashedly passed up a presidential run and quiet possibly a VP nomination, having just heroically led his state through a record-setting Super Storm — and having, in the process, embraced without remorse that antichrist of the GOP, President Barack Obama.
Arguably his only vulnerability at this time was his weight — and here, he was going to show that cheap fat jokes weren't about to bring him down.
2. Slow jamming the news with Fallon
[youtube https://www.youtube.com/watch?v=tWYZxJ8hgwU]
"Late Night with Jimmy Fallon," June 12, 2013
Two months later, but still riding high in popularity, Christie appears on the Tonight Show with Jimmy Fallon, where he read (read: slow jammed) the news with some smooth R&B — courtesy of Fallon's in-house band, The Roots — playing in the background. By doing so, Christie was able to bring some exposure to the state's U.S. Senate special election race, when former Bagota Mayor Steve Lonegan challenged then-Newark Mayor Cory Booker for the seat, as well as rumors, at this time increasingly common, that Christie would run for president in 2016. There were also more jokes about Christie's weight — a seemingly regular theme of the Republican's late night appearances.
3. Dad dancing with Fallon
[youtube https://www.youtube.com/watch?v=3A2IXsB7C0Q]
"The Tonight Show with Jimmy Fallon," June 12, 2014
Oh how the mighty do fall. And when they do, where do they turn? To dancing the lawnmower and other corny dad-like moves on the Tonight Show with their old pal, Jimmy Fallon, apparently. This was Christie's fifth appearance on Fallon's show, with whom he seems to have a developed a certain rapport, and he used it to try and soften relations with viewers in the wake of Bridgegate, a scandal that rocked his administration and sent him plummeting from national celebrity status to something less invincible. The wound was still relatively fresh here — the federal investigation led by U.S. Attorney Paul Fishman was already underway, the Select Committee on Investigations in the state legislature was in the midst of grilling close Christie allies on their knowledge of events surrounding the scandal, and Christie was all over the headlines.
In a second segment of the show, Fallon actually kind of apologized for "how rude people can be" in their coverage of the story.
4. Ben & Jerry's with Fallon
[youtube https://www.youtube.com/watch?v=b4tcIQbYiFY]
"The Tonight Show with Jimmy Fallon," April 23, 2015
Christie was back on the tonight show with Fallon on Wednesday — "I feel like I'm here every night," he cracks — to eat ice cream, talk more about his weight, but also bring attention to his recent maneuverings ahead of a likely presidential run. This, of course, is happening as Christie struggles to fight his way back into the national bloodstream ahead of the 2016 primaries — the Republican has founded a leadership PAC, has been courting major donors and bundlers, and just returned from a retail politicking tour of New Hampshire, where he hosted two of his famed town halls (Fallon plays a clip of one of them, which leads to the ice cream thing).
But Christie is also still feeling the effects of Bridgegate, which has returned to the fore as the federal investigation reportedly is coming to head, as well as some less-than-ideal polling numbers both at home and nationally. New Jersey residents gave Christie record low marks on his job approval rating last week, and he still finds himself toward the back of the Republican pack when it comes to polling for a party favorite ahead of 2016.
Indeed, it's been mostly negative headlines for Christie these past couple weeks — and Greenberg said this an opportune time for Christie to get back into the more forgiving limelight.
"This seems like a good way to get some mostly positive press," Greenberg said, who also writes a column for Salon. "He does seem to have had his thunder stolen a bit, by Marc Rubio, Ted Cruz, and even Rand Paul. And there was a while when he seemed if not the frontrunner, certainly to be getting a lot of press. But the last few months, between his own troubles, Bridgegate, and this pension stuff, and these other getting guys more media attention, I think he's scrambling. I think he must feel a little bit unsure of how he got into such a hole, having once been seen as a top contender."