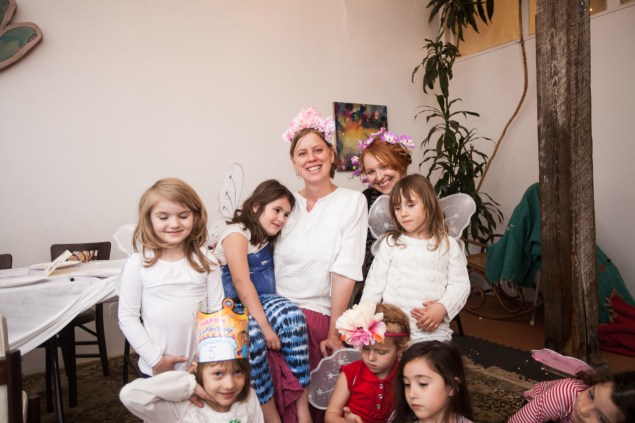 Located on a leafy Green Street in the domesticated hipster enclave of Greenpoint, Brooklyn, the Maha Rose Center for Healing has steadily built a reputation as a hub for the magical and mystical since opening in 2008. Proprietor Lisa Levine, a jewelry designer-turned-acupuncturist and devotee of Indian guru Amma (a.k.a. The Hugging Saint), has created a quiet sanctuary out of what used to be a residential loft, the kind of place that encourages one to exhale upon entry, as if breathing out all the cares of the world.
But Ms. Levine, who is expecting her first child with musician husband Quinn Lamont Luke this summer, also brings a tangible sense of fun to proceedings at Maha Rose. Alongside crystals, nuggets of heady copal incense and a trendy edit of esoteric books, a small boutique showcases irreverent pieces of jewelry, as well as a selection of handmade "wands"—decorative pieces of wood dipped in multi-colored glitter.
It was also Ms. Levine who came up with the idea for Fairy School, an alternative after-school club for children under 9 years old that runs Wednesday afternoons at Maha Rose and is currently in its spring semester. As well as wand and crown making workshops, activities at Fairy School were designed to encourage a sense of creative play, while nap time is a guided meditation into the fairy realm.
"We wanted there to be a lot of music and theatre and art, things we understood were being cut out of regular day schools. In the summer, we'll also be planting flowers and doing nature walks," said Ms. Levine, who came up with the idea while leading a reiki workshop in upstate New York last fall.
"A couple of the women on the course just brought a lot of 'fairy energy' with them," she said, and while discussing Ms. Levine's impending entry into motherhood one evening, "we got this information download about what a fairy school for kids would actually look like. For about two hours we were just laughing and scribbling everything down, and it all came through in such a giddy, joyful, high vibration way."
Parents in the Maha Rose community loved the idea—but when Ms. Levine came to advertise the course, a curious thing happened. "Quite a lot of people in our community seemed disappointed that the maximum age was 9," said Lyndsey Harrington, one of Fairy School's co-creators. In response, Ms. Harrington, who described a connection to the faerie realm that had remained intact since childhood, decided to host a fairy workshop for grown-ups.
An evening of storytelling, meditation and ritual, "it was attended by a mix of people ranging in age from their early 20s to their mid-50s," she said. The common thread, meanwhile, was that "everybody felt like they had experienced some kind of faerie phenomenon, and they wanted a space to talk about that freely without people thinking they were totally crazy."
You could call it "the Tinkerbell effect," but the current conversation about faeries is by no means confined to the New Age hipster community. And while faeries (distinct from "fairies" and the word used to describe all beings of the "elemental kingdom," including, but not exclusive to, fairies, pixies, elves and gnomes) might lack the erotic charge exhibited by the vampire pin-ups of the $3.3 billion Twilight franchise, "they're still pretty sexy," said faerie expert and contributing editor to Faerie Magazine, Laren Stover. "The Victorians were always saying how the faeries were hopelessly underdressed."
Ms. Stover, also a contributor to the Observer and author of The Bombshell Manual of Style, is currently working on a book detailing the foibles of our faerie companions, and enclosed a little packet of "faerie dust" (blue glitter) in her holiday cards this year. "People were really excited. I think most of us were connected to faerie consciousness as children, and when it touches us again as adults we feel a thrill," she said.
This goes some way to explaining Baltimore-based Faerie Magazine's 1 million-strong following on Facebook. The glossy quarterly, which launched in 2005, is dedicated to all things enchanted, and while it originally catered to the winged devotees of the niche faerie festivals that draw thousands of visitors annually throughout the United States, Ms. Stover described the publication as having become "the Martha Stewart Living of the faerie realm."
"People are into faeries who you'd never expect," said editor-in-chief Carolyn Turgeon. Introduced to the scene researching a series of novels—which she described as "retellings of classic fairy tales for adults"—"I discovered there was a whole community of people out there incorporating faeries and mermaids (sea faeries) into their lives in ways that were really pretty beautiful," she said.
Ms. Turgeon was brought on to edit Faerie Magazine in late 2013, and has since focused on content that "showcases ways to incorporate magic or enchantment into your everyday life." A story for the upcoming Midsummer Night's Dream-themed edition by interior designer Tricia Fountaine showed how to create a fairy tale "table-scape" using old Christmas lights and other thrift store finds.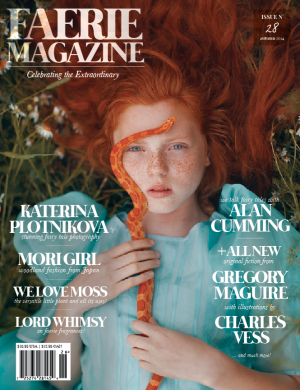 "The result was completely enchanting, but showed people how easy it is to create a dreamy summer garden party for your friends," she said. When she posted some teaser photos on the magazine's Facebook page, "they were seen by something like 7 million people and got over 150,000 'likes.' The comments were all people showing their friends, and saying, 'we have to do this!' "
One of the most recognizable faces on the scene, meanwhile, is a woman going by "Twig The Fairy," whose Facebook fan page (263k followers and counting) lists her personal interests as: "Music, laughter, dance, things that sparkle, and glitter bombing the unnecessarily rude." Twig raised over $23k on Kickstarter last fall to publish "a whimsical photographic journey through Fairyland." 
And, of course, the faerie phenomenon is trending on Instagram, where users like @lotheriel, @hulderdotter and @nolemire post pictures of themselves in fantastical, Game of Thrones-inspired costumes, alongside photographs of crystal grids, faerie artwork, and beautiful, ethereal landscapes.
Susan Lafica is an L.A.-based fashion designer and stylist whose designs are sought after by many Instagram faeries, "I always felt most comfortable in my grandparent's rose garden and thought of myself as a real-life Tinker-Belle." She told the Observer. "Drew Barrymore is the epitome of an L.A. fairy. A sweet soul who loves life, people, nature. I recently designed a crown called 'Daisy Drew' after her."
Back in N.Y.C., meanwhile, Ms. Levine thought we could all benefit from "a little bit more faerie. It's a city where we have to be so grown-up and adult all the time. Connecting with the faeries is akin to connecting with our inner child."
A sentiment that's echoed by New York-based Lesley M.M. Blume, author of a collection of short stories for children titled Modern Fairies, Dwarves, Goblins and Other Nasties. "The more adult we get, the more time spent thinking about logistics, deadlines, etc. And when we're not absorbed by those boring things, we're pining for holidays. That doesn't leave a lot of time left over for tiny creatures living in bluebell patches, wielding spells and enchantment," she said.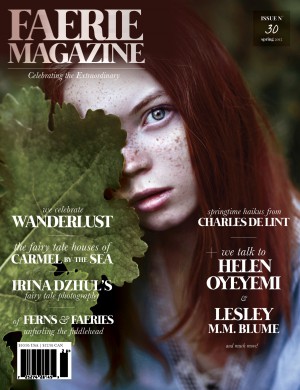 So how to interact with the faeries day-to-day? Firstly, you'd better believe. "I feel faeries more than I see them. They rarely show themselves to humans, but they will interact with anyone who takes them seriously," said faerie devotee Madeline Giles. Formerly a writer with Nylon magazine, Ms. Giles moved to Venice, Calif., in late 2013 to be closer to her mermaid sisters, where she now leads regular "angelic" healing sessions.
"To me, faeries feel like pure joy," she said. "Whenever I connect with them, all of a sudden I can't stop laughing and I have a strong urge to stop whatever it is I'm doing and dance, skip, sing and play." Ms. Stover described faeries as being "conjured by our archetypal consciousness, which means they can appear as almost anything you like. It's about a multi-dimensional way of viewing the world."
And perhaps New York women are familiar with a dandy male faerie known as the "Love Talker." "He trolls around until he finds a woman he fancies, and depending which folklore you read he either kisses or makes love to her. Then he disappears forever and she dies of a broken heart. Dies!" she exclaimed. "I kind of like him … but it sounds like the typical New York man, doesn't it? He tells you 'I'll call you…' and that turns out to be his parting line."
As faerie tradition, mainly rooted in British Celtic folklore, tells it, it's also customary to leave offerings to show your desire to interact. "Glitter and sugar are their drugs of choice," said Ms. Stover, while Ms. Harrington described her faerie gifts as "very decadent. I leave them things that uplift me, or I which find beautiful and special, that smell or taste amazing. If I find something to be exquisite, I think the faeries will, too."
Meanwhile, Ms. Giles also pointed out that faeries are the guardians of nature. "Their primary purpose on Earth is to protect and nurture the environment," she said.
As such, "The simplest way to interact with them for healing is to go out in nature with beginner's eyes and ask the faeries to help you. Faeries are attracted to those who have reverence for nature and who approach the natural world with innocence and awe—they may even give you an assignment to pick up trash, or recycle something. In fact, faeries will only interact with people who are kind to the environment."
Raven Keyes, a reiki master and former meditation coach with Equinox gyms, also leads regular faerie workshops in the city, which usually culminate with a ritual in Central Park, a faerie hotspot. Meanwhile, "There are actually so many faeries in the 'sister world' of NYC that they hold this city up," she said.
Preferring to refer to them simply as "the Fae"—her word for an omniscient natural energy that humans used to be intimately connected to—she thinks the resurgent desire to interact with the faerie realm has actually been orchestrated by them.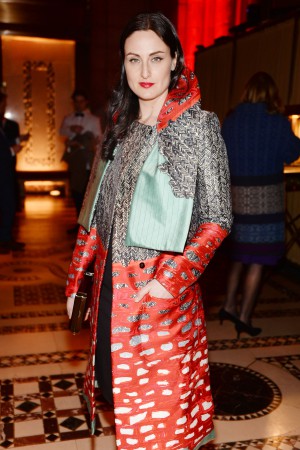 "This is their planet, too, and look what we humans have done to it! It's our duty to undo the environmental damage that's been caused, and since the Fae know how to do this they're reaching out to us again … and people are waking up to it."
Ms. Stover agrees, citing the organic movement as part of the emerging connection to faerie consciousness. "They're very opposed to chemicals and pesticides. A faerie would be happy to tuck a basil leaf behind her ear and wear it as perfume," she said. And if not fully vegan ("they have been known to inhale the vapors of cream and honey, they're not saints!"), the trend for green juice and "plant-based" cuisine also taps the phenomenon. "Faeries love animals. If you're cruel to animals, they might do something cruel to you…"
Because, of course, while most people seek an invitation to the faerie realm to ask for guidance or to re-establish a connection to a more joyful, lighthearted part of themselves, not all faeries are benevolent creatures. "They're often completely unpredictable and have a peculiar sense of humor," said Ms. Stover. "They can put the glamour on you. Historically this could mean everything from blinding you, to abducting you. Or they might invite you into their faerie ring, only when you leave 100 years will have passed and everyone you love will be gone. That's quite a trick."
Ms. Harrington, who said she'd used meditation to connect to the faeries throughout her life—"even during my most angsty, teenage years"—said she had experienced the full spectrum of faerie guidance: "Sometimes they're messengers of love and support, and other times they might have a hard lesson for you."
But the lessons were always delivered with a lightness of spirit, and in service of our highest potential as mere human beings. As Ms. Giles says, "Faeries say adults have become like domesticated animals who've forgotten that we're wired to experience the ecstasy and the sorrow of life, all in the name of a grand adventure."
Meanwhile, "They don't expect anyone to be perfect, but if you do your best to recycle, use non-toxic cleaning supplies, are kind to animals, and such, then fairies will give you their high regard and grant you favors," said Ms. Blume.
And herein lies the root of all spiritual movements, albeit in a sparkly, magical form. Ultimately, faerie lore revolves around doing unto others as you would do unto yourself, not a bad lesson for future generations—one that Ms. Levine no doubt hoped would be passed from children to parents at Fairy School.