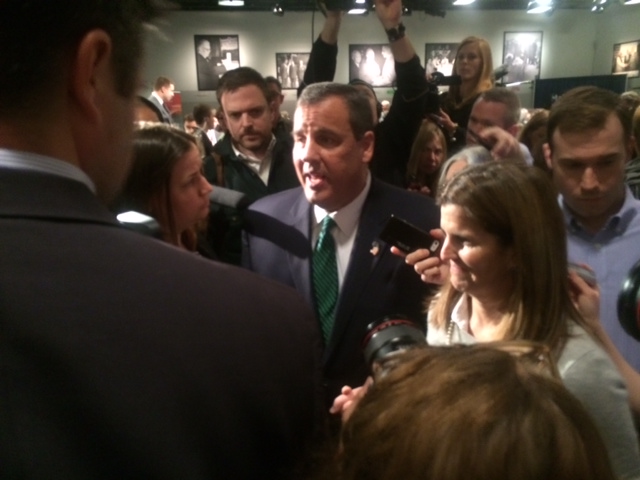 MANCHESTER, N.H. – In his first speech during a string of appearances this week in the key presidential primary state of New Hampshire, New Jersey Governor and potential 2016 Republican presidential candidate Chris Christie attacked Democratic President Barack Obama's policies on federal entitlements such as Social Security, Medicare and Medicaid, while offering a 12-point reform proposal.
"Washington is afraid to have an honest conversation about Social Security, Medicare and Medicaid with the people of our country. I am not," Christie said on Tuesday before a crowd of about 150 people at the New Hampshire Institute of Politics at Saint Anselm College, a traditional stop for presidential hopefuls in the Live Free or Die state. "The changes I propose today would not affect seniors currently in these programs or seniors approaching retirement. Let me repeat that: these changes will not affect you, but will save these programs for your grandchildren. Anyone who tells you differently is simply not telling you the truth."
Christie then listed a series of proposals that he maintains will curb the entitlements and interests that he stated consumes approximately 70 percent of the federal budget. Christie's entitlement plan includes raising the age for Social Security to 69, gradually implementing the proposed change starting in 2022 and increasing the retirement age by two months each year until it reaches 69.
Christie also suggested raising the eligibility age for Medicare at a pace of one month per year, so that by 2040 it would be 67 years old, and by 2064 would be 69 years old, stating that this move would encourage seniors to remain in the work force.  Christie added that seniors with an $85,000 a year retirement income should pay 40% of premium costs, increasing it to 90% for seniors with above $196,000 a year in retirement income.
"Let's keep it simple – if you can afford to pay more for your health benefits you should, and if you can't, you should not," Christie said.
Before heading to his next stop, Christie referenced what the Harvard economic historian Niall Ferguson has called "the fatal arithmetic of imperial decline" when stating that America must deal with the burgeoning cost of certain federal programs in order to keep its economic house in order.
"I would love to give you happy times, but the only reason I say these things is that it is an unavoidable truth," Christie said, slamming ObamaCare as a key factor of the "turbocharged" federal debt generated by he called Obama's "timid and failed" leadership.  "We need to tell the truth to the people we aspire to lead."