Former Assembly Speaker Sheldon Silver joined a host of colleagues at a hospital ribbon-cutting in his Manhattan district today, and praised the first budget passed in Albany since he stepped down from his leadership perch after an arrest on federal corruption charges in January.
Mr. Silver had kinds words for the 2015-2016 state budget, passed under his successor Assembly Speaker Carl Heastie, which contained a number of education reforms opposed by his longtime supporters in the teachers unions while leaving out a number of liberal initiatives like the Dream Act and a minimum wage increase. He denied any intimate knowledge of the famous "three men in a room" negotiations this year, and could not say how the spending plan would have differed under his leadership.
"I don't know the circumstances of what the governor presented. This was a good budget. No matter who's the speaker, this was a good budget," the assemblyman, who voted in favor of the plan, told the Observer after the event.
He highlighted the $1.4 billion increase in school spending and additional funds for New York City as particular successes for Mr. Heastie.
"It continued a tremendous amount of increase in education aid, aid to the City of the New York, was one of the key measures," he said.
The legislator would not confirm or deny alleged claims by Mr. Cuomo, reported in the Daily News, that he was still in control of the Assembly and that Mr. Heastie is merely his "instrumentality" to hold onto power.
"You'll have to ask the governor about that," he said.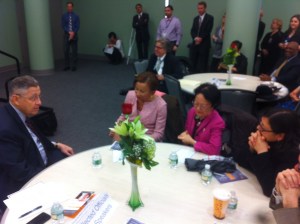 Mr. Silver sat at a table at newly renovated Gouverneur Hospital on the Lower East Side with fellow Manhattan Assemblyman Brian Kavanagh, Congresswoman Nydia Velazquez, Manhattan Borough President Gale Brewer, Manhattan Councilwoman Margaret Chin and Manhattan Councilwoman Rosie Mendez. When his turn at the podium came, Mr. Silver—who has retained his seat in the Assembly, though not his powerful leadership perch—recalled getting his smallpox vaccination at the facility as a child and helping obtain funding for the refurbishment.
"My relationship, as Dr. Sullivan says, goes back a few years—to childhood. I know how important Gouverneur Hospital was to the Silver family," he said. "It has been and continues to be a fixture here in Lower Manhattan."
Mr. Silver defended his appearance at the hospital today and his continued tenure office despite the indictment, claiming he was "battling for this community on a constant basis" and reiterating he would ultimately be "vindicated." His fellow politicians agreed.
"The Assembly Member Silver represents this community and he continues to do so," said Mr. Kavanagh. "I think he should continue to serve the community in the manner that he considers appropriate. And this is a local community event in an institution he's played a big role in, and I don't see anything inappropriate about it at all."
Mr. Kavanagh, who was a prominent member of the 'Reform Caucus' that sought to liberalize the Assembly's power structure in the chaotic weeks after Mr. Silver's arrest, refused to speculate on whether he would make similar appearances were he himself under indictment.
Ms. Velazquez highlighted that Mr. Silver would have the opportunity to defend himself in court.
"Look, in America, and in our court system, there is something that is called 'due process.' Let the process take its course, and we'll see at the end of the day," she said. "Look, he has not been convicted."
Mr. Silver's attorneys have repeatedly sought to have the charges of mail fraud and extortion—connected to his receipt of referral fees from two law firms for clients with business before the state—dismissed.