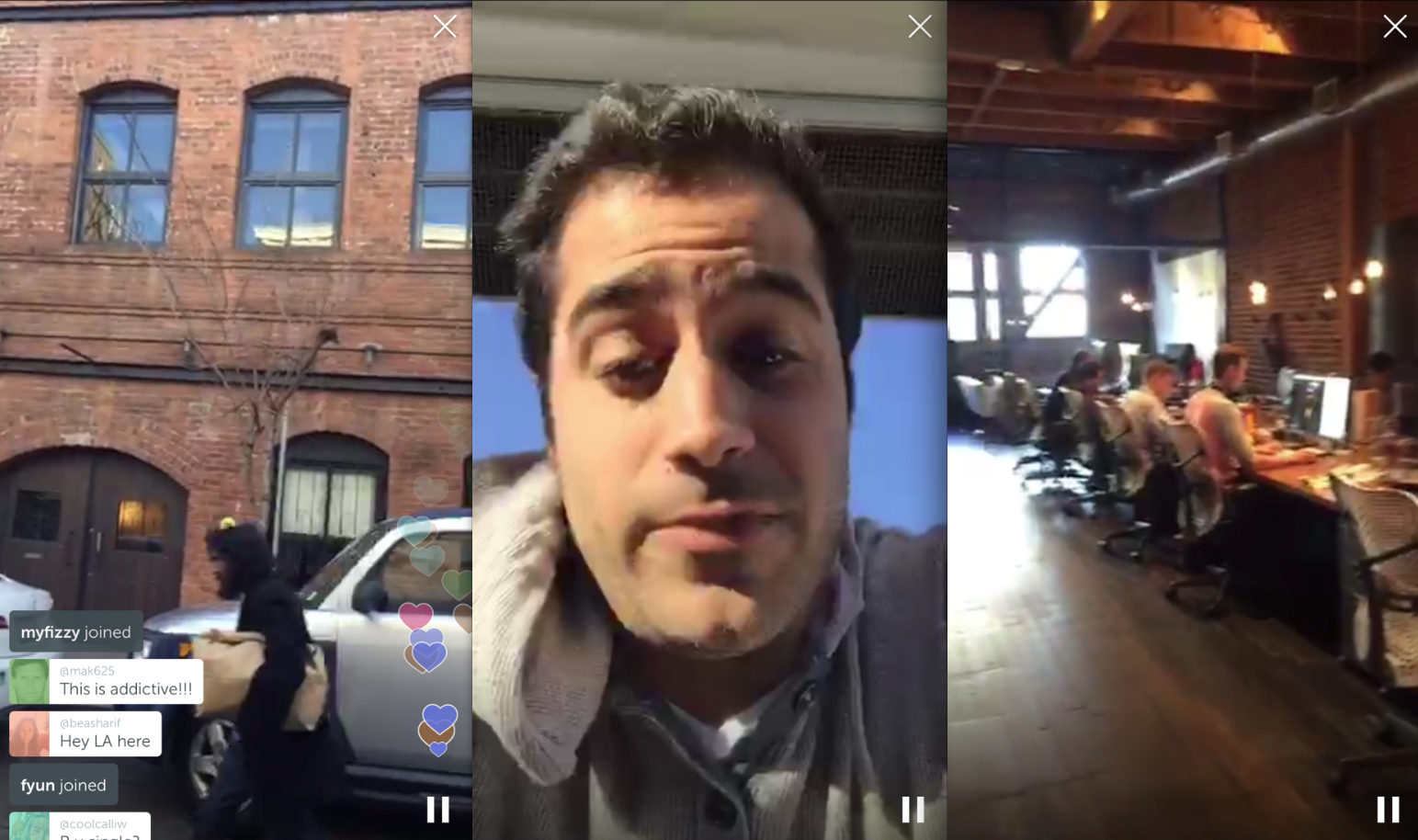 Nobody knows what's going on inside Periscope, the mobile live-streaming startup acquired by Twitter. Talk shows, comedians and health gurus have been playing with the app, and downloads have been sporadic, but the small team of a dozen employees at Periscope's San Francisco headquarters have been mostly silent.
Finally, Periscope cofounder Kayvon Beykpour gave a live tour of the offices and previewed some of what's coming up for Periscope in the near-future. But since re-watching old Periscopes is somewhere between clunky and impossible, we took notes on the new developments:
Android is coming
So far, Periscope is for the iPhone only, which silos the app off from enormous marketshare, especially in countries where Android is dominant (we're looking at you, China). The team has three developers working on Android development—probably because porting an app to Android is an arduous and multifaceted problem.
---

The worst Periscopers, ironically, are local TV news hosts, who should be way better at interacting with a live broadcast.

---
For now there is, at least, a prototype. How do we know? Because when they checked in with the Android team, they had an Android phone open running Periscope—and guess who they were watching.
Landscape mode is on the way
As of now, you can only view Periscope in portrait mode, which is a pain if you're trying to stream anything but the Eiffel Tower or your own face. Turn your camera to the side, and your followers will simply watch you play with your dog, only in a world with a displaced sense of gravity.
All that will change in a forthcoming update, when landscape mode becomes available.
"We will have landscape at some point," Mr. Beykpour said during his tour. "In the mean time, we appreciate your patience using Periscope in Portrait."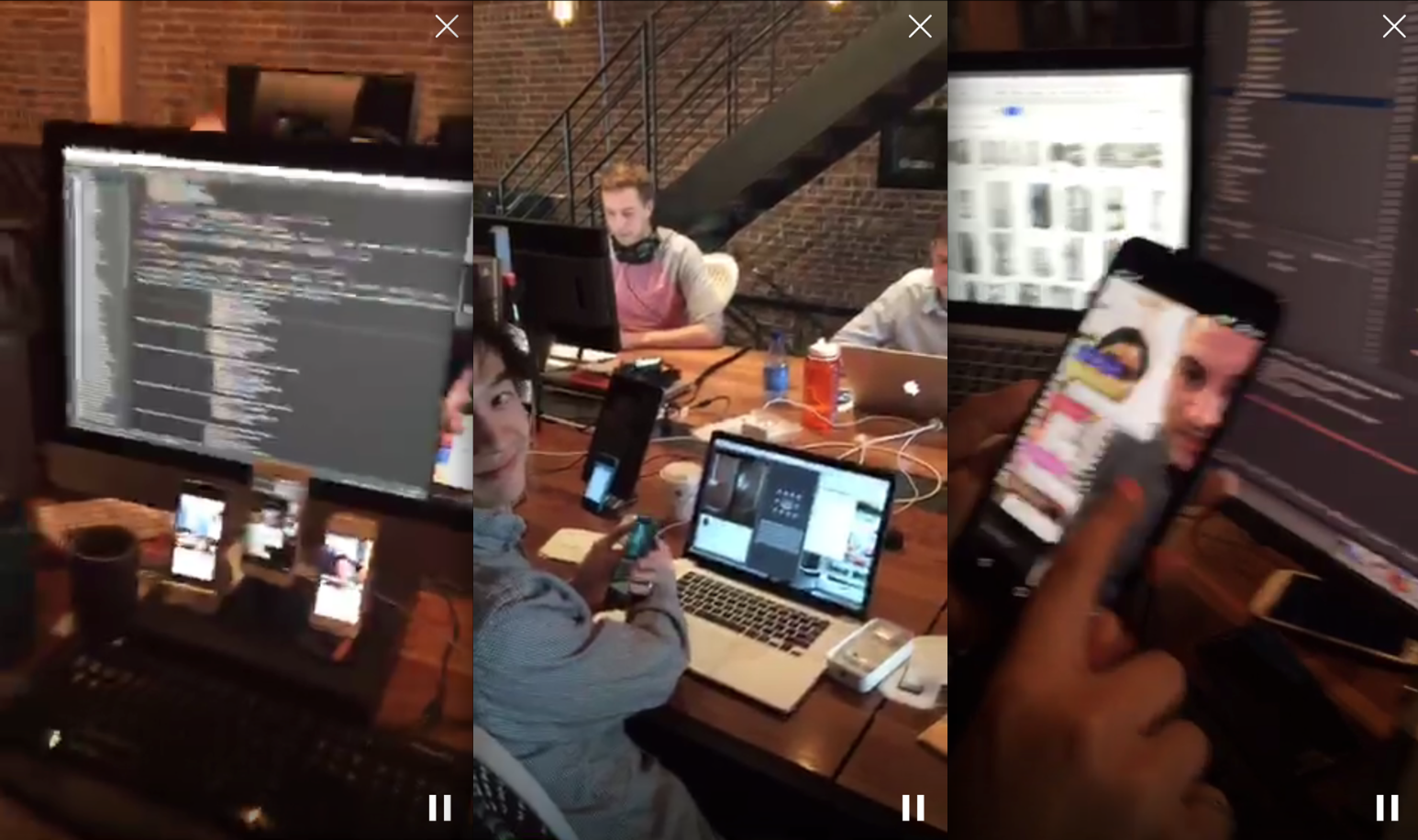 As various commenters have pointed out to this writer in the past, landscape mode could also cause people to hold their phone in weird ways, limit the number of comments, and cause comments to obscure huge portions of the screen. Still, the fact that there are no tilt options limits what you can get in frame, and sucks if you're trying to prop your phone up while it's charging.
The Periscope team is just as obsessed with fridges as anyone else
Start a fresh broadcast with no idea what you're doing, and after a minute or so of broadcasting, randos will start asking to see the inside of your refrigerator.
"What's up with people wanting to see the fridge?" others will ask. This second group is singling itself out as the better audience by their ignorance. Still, it's a good question. Fridge tours—which consist of viewers demanding that you show them the inside of your fridge—are an insidious meme that permeates the chat feeds of bad Periscopes who fail to entertain their audiences.
And at Periscope's headquarters, multiple developers had their desktops open to fridges—feeds of fridges, pictures of fridges and illustrations of fridges. We almost thought they were in tune with their community. But then…
Periscope is bad at using Periscope
Mr. Beykpour gave a perfectly good tour, but his broadcasting could still use some help. He didn't cover the basics of a good broadcast—interacting with the audience a lot, keeping the pace brisk—and people were asking to see the company fridge in no time. Toward the end, he started to take questions, and one was even worth answering—someone asked whether Periscope could be a lasting source of "unbiased" news.
"Definitely, we think there's a big potential for Periscope to be a news source," Mr. Beykpour said.
Look, Mr. Beykpour doesn't have to be a top Periscoper in order to build a great product. Have you seen Jack Dorsey's Twitter? But a little more fluency with best practices wouldn't hurt if Periscope wants to cater to its ideal users.
After all, if he still thinks that Periscope is a valuable tool in the hands of professional news casters, he obviously hasn't seen what broadcast journalists have been doing with it.