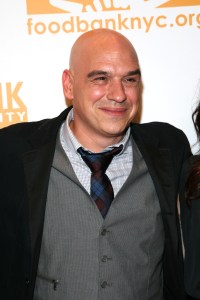 Not long ago, the celebrity chef Michael Symon–a bald and burly presence on Iron Chef, Food Feuds and The Best Thing I Ever Ate, among others–told Zagat that he had no plans to open a new restaurant in New York City. A Cleveland native and star of that dining scene, Mr. Symon didn't fair so well in Gotham. Despite a generally positive reception from the critics, Parea, his Greek restaurant on East 20th Street, closed in 2007, just a year after opening. Still, he and his wife, Elizabeth, bought a place nearby in 2013, and Mr. Symon acknowledged to Zagat that he did have some use for New York: the TV business. (And, presumably, other people's restaurants.)
But whatever the couple's precise reasons might be, they've just traded their Gramercy loft for a West Village townhouse at 58 Downing Street, according to city records, paying about $5.14 million for the place; Ohio fine dining and television appearances must be lucrative–the Symons' last place ran them a comparatively paltry $2.75 million. (Before that they had a penthouse in Soho.) The seller was Ian Bremmer, a journalist, author and president of the Eurasia Group, a political risk research and consulting firm.
The 2,560 square-foot home, which was built in 1899, looks quite adorable. And, surprise, surprise! The listing held by James Brune at Douglas Elliman agrees! Neat red brick composes the three-bedroom's exterior, while the insides sport more brick–exposed, naturally–attractive ceiling beams in rough-hewn lumber and "hand-scraped walnut hardwoods throughout." An English basement hosts a chef's kitchen (obviously), as well as one of two wood-burning fireplaces. Elsewhere there are built-ins and a wet bar. And for al fresco dining: a private garden planted with well-established vegetation and anchored by a patio of stone pavers, all of which can be seen from inside during inclement weather through a set of French doors.