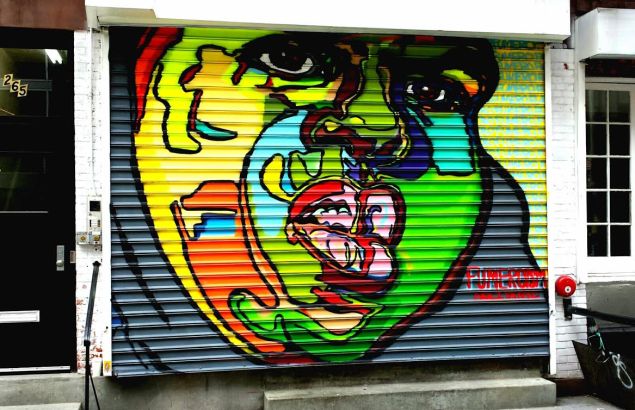 Less than a month after our story on a "death anniversary" mural of rapper Biggie Smalls (aka Notorious B.I.G.) being commissioned by a Clinton Hill Key Foods , a second local Biggie mural has sprung up. This time, a huge neon-colored portrait is in front of the Musket Room restaurant in NoLita.
The Musket Room, the Michelin-starred brainchild of chef Matt Lambert which opened in 2013, is known around town and beyond for its New Zealand cuisine. As a lifelong fan of both hip hop and street art, Chef Lambert decided to commission emerging street artist Fumero to grace his restaurant's roll gate (265 Elizabeth Street) with a colorful visage of the corpulent gastrophile rapper. (The gifted musician was tragically killed eighteen years ago after the Soul Train Music Awards in Los Angeles.)
He often rapped about food, from escargot to flapjacks to buttered toast. In "I Love the Dough, he sings:
Country house, tennis courts, and horseback/Ridin', decidin': cracked crab or lobster?/Who says mobsters don't prosper?
Fumero – who calls his style "Fumeroism" has already finished his Biggie Smalls mural for the Musket Room (pictured above) while another street artist named Danielle Mastrion is currently working on the mural at the Key Foods supermarket where the musician worked as a teen under the name Christopher Wallace. At least one other major mural, in Queens, exists, and there are neighborhood ones in Bed-Stuy and Fort Greene.
The question is begged: Are there more Biggie murals to come?