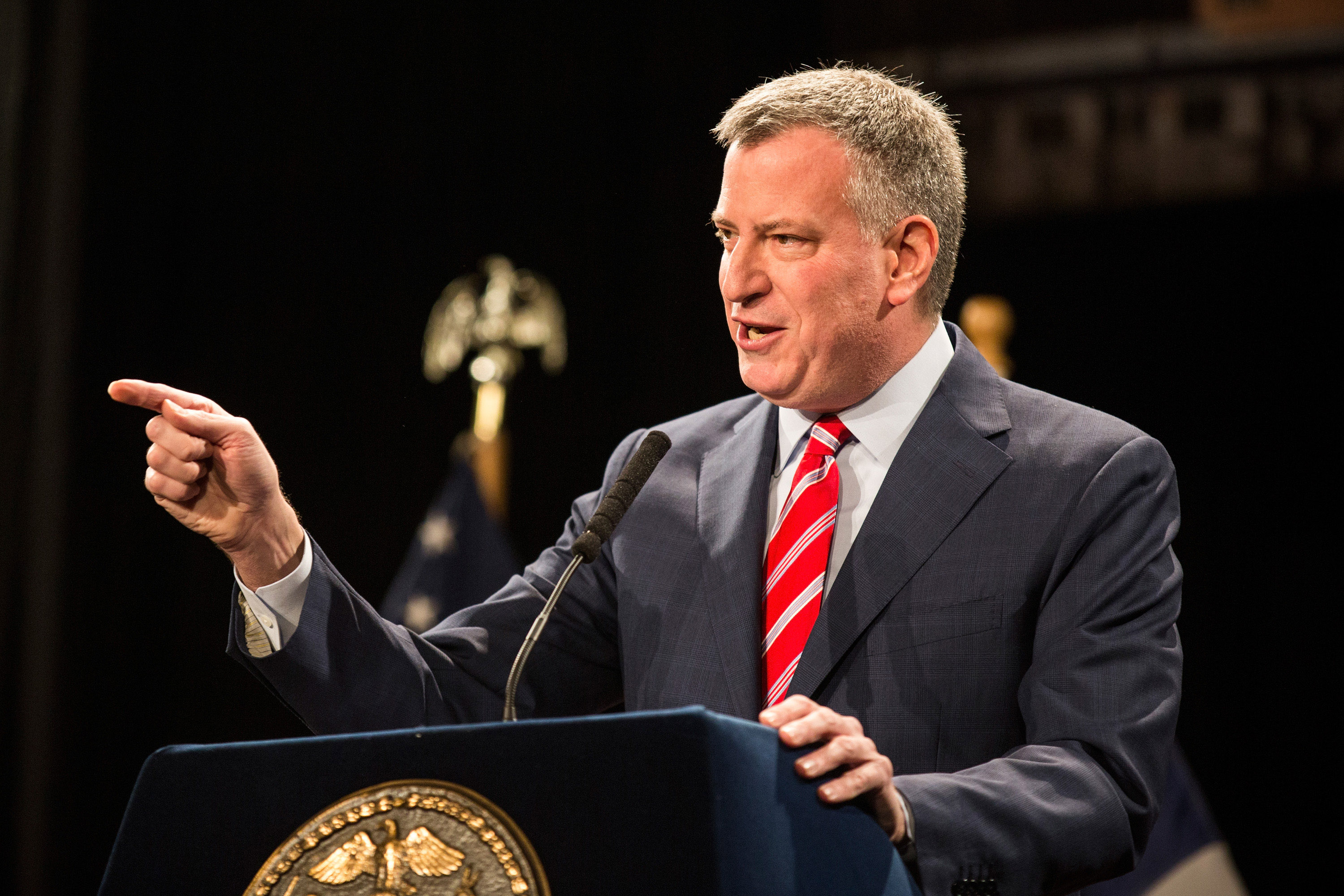 Mayor Bill de Blasio won't endorse Hillary Clinton (yet) as she runs for president. He visited Iowa to talk about wiping out income inequality. A Twitter account dubbed "Draft de Blasio" cropped up this week, urging the mayor to take a shot at the White House.
So is he running? Does he want to be asked to run? Is he positioning himself, as the New York Post put it, to be a candidate?
"No. No. No," Mr. de Blasio said to each of those questions, posed to him by the Observer at an unrelated press conference in the Bronx. "I've really said 'no' a lot. I'm going to say no again. I am running for re-election as the mayor of New York City in 2017."
The rumors of a presidential ambitions—and Mr. de Blasio's repeated denials, which have done little to quiet commentators and politicos like the state's Republican Party Chairman, Ed Cox—come as Mr. de Blasio is most certainly aiming to raise his national profile. His recent Midwest swing brought him to Nebraska and Iowa, the early caucus state, Ms. Clinton, was visiting at the same time. His decision not to endorse Ms. Clinton, whose Senate campaign he ran in 2000, on its own raised his profile—landing him national headlines as he insisted he wanted to hear more about Ms. Clinton's plans to address income inequality.
But Mr. de Blasio said his focus on national issues wasn't about seeking higher office.
"What I am doing is I'm trying to talk about an issue that I think is a profound national crisis and needs attention, and is going absolutely unaddressed right now in Washington," Mr. de Blasio said. "And I'll do anything I can to put the issue of income inequality front and center, and I think that's what mayors are supposed to do."
The mayor has been increasingly critical of the federal government—led by Democratic President Barack Obama—for what he has said is an unwillingness to address the issue of the wealth gap on both sides of the political aisle.
"The federal government is doing nothing about income inequality. Nothing. And we have to change that," Mr. de Blasio, who today made income inequality the central focus of a city environmental plan, said.
The recent report in the Post posited that Mr. de Blasio could be a more liberal alternative to Ms. Clinton—in the way some have hoped to draft Senator Elizabeth Warren to run. Mr. Cox, the Republican chairman, told Business Insider he believed Mr. de Blasio was the "obvious" choice should Ms. Clinton drop out.
"He's a gambler and he's going for it," Mr. Cox told the website.
But Mr. de Blasio said again today that he only has one race in his future—the 2017 mayoral election.
"I've got one job, mayor of New York City, and I'm running for reelection," he said.