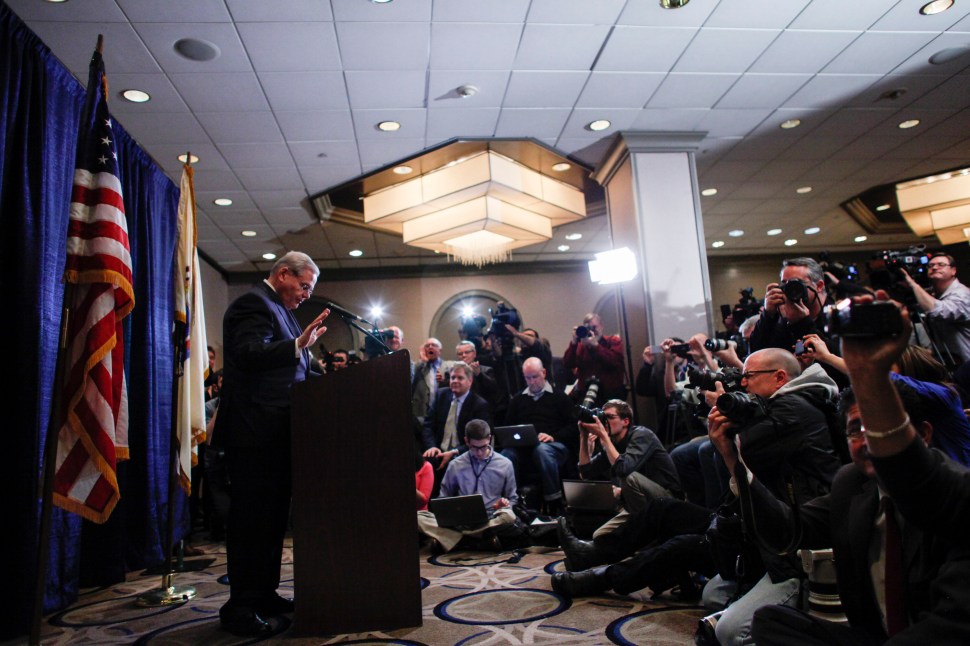 Probably the most relevant picture New Jersey's political history has to offer, when it comes to scrutinizing about the recent 14-count indictment of U.S. Senator Bob Menendez (D-NJ), is one involving the man himself. It's the image of the then-20-something-year-old city hall aide brandishing a bullet proof vest as he testified in a federal corruption trial against his mentor and former Union City Mayor Bill Musto. And it's relevant because it conjures up the idea of a man trying to avoid annihilation — in this case physical annihilation — as he ventured to absolve himself of involvement in a scandal that resulted in at least one political casualty (it was Musto's).
Now 61, Menendez might not need the bullet proof vest as he gears up for his own court battle this summer that legal and political experts say will be one of the most closely-followed in over a decade of U.S. Senate history, but he is very much in a similar situation today as he was under Musto: back in survival mode as allegations of misconduct and corruption rage around him. Charged with accepting hundreds of thousands of dollars in improper gifts and campaign contributions in exchange for using his office to illegally benefit his close friend, the Florida eye doctor Salomon Melgen, Menendez is under a national microscope as he defends himself against accusations that could result in another political casualty (his own).
It will likely be the biggest test of the Democrat's 40 year career, even more so than his early trials in Hudson County, as the need to absolve himself of the allegations today is even greater than it was to distance himself from Musto's then. And the question political observers are asking themselves is: can he survive it?
"If he survives this legally, he'll survive it politically," said Joe Hayden, a veteran criminal attorney in New Jersey whose presided over federal cases for over 45 years. "There's an unprecedented show of support for him, more so than I've ever seen for any other indicted public official."
---

"I think the big question is, what's the Senate going to do? Does he hurt Democrats nationwide or statewide?"

---
The question, as legal and political experts frame it, is two-pronged: in addition to the uncertainty surrounding Menendez's chances in the court room, there's also the question of whether he is able to withstand the political damage that such a trial will bring with it. Legal experts say that prosecutors have painted a pretty damning picture of Menendez, one that casts his relationship with Melgen as criminally corrupt. But even if it doesn't result in a full-blown conviction, a drawn-out trial could seriously mar Menendez's reputation — particularly as he approaches reelection in 2018.
He's already begun to incur some of that damage. Not 24 hours after the indictment dropped last week, Menendez announced he had stepped down temporarily from his post as a ranking member of the Senate's powerful Foriegn Relations Committee, where he's been a vocal opponent of certain aspects of President Barack Obama's foreign policy. He also saw his chances for landing a cabinet position in a possible future Democratic presidential administration, such as Hillary Clinton's, severely diminished. And all the while he's had to endure some pretty bad press: most major editorial boards issued commentary shortly after the indictment calling for the senator's resignation, including New Jersey's own Star Ledger, which asked Menendez to "spare us the drama".
Skeptics of Menendez's chances say those political injuries — and pressures to step down — are likely to increase as the trial begins and more unsavory details about the case are revealed. In their indictment, prosecutors have already described how Menendez intervened with federal officials to help resolve visa issues for Melgen's girlfriends and took jaunts on private jets and using a Caribbean villa, a set of ethically nefarious behaviors that would smell funny to most voters regardless of the season. But with three elections on the horizon — a presidential race in 2016, a gubernatorial race in New Jersey in 2017, and his own reelection in 2018 — it could make Menendez a real liability.
"He needs to try and maintain his political capital, because it looks like he's going to be bleeding political capital as this goes on. And that's just the nature of the beast — you have a sitting politician under indictment, he's got to take a hit," one Democratic source who requested to remain anonymous told PolitickerNJ. "But when do the big leaders in the Democratic Party take that walk over to Menendez's office and say there has to be a change?"
"I think the big question is, what's the Senate going to do? Does he hurt Democrats nationwide or statewide?" the source added.
In addition to Menendez's role in a gubernatorial and presidential race, the source also argued the indictment could impact his status as a leading figure in the Hispanic community, a demographic that is expected to continue to play an out-sized part in elections both here in New Jersey and on the national stage. Menendez — the son of Cuban immigrants who frequently holds his press conferences both in English and in Spanish when in his home Hudson County — has already alienated certain factions of that group with his staunch opposition to easing diplomatic relations with Cuba. An indictment only further weakens the senator's standing among members of that community, the source argued, making his ability to command their votes during an election season "really volatile."
"So there are several different factors that are going to push him out of the role of one of the leader Democratic Latino spokesperson for the upcoming election. You throw an indictment on this, and I think the big bundlers and political operatives who have been in the Menendez stable are going to look for their own interests. Do they jump on someone who has better prospects?" the source asked.
Indeed, Menendez's apparent vulnerability could be part of the reason why the Democrat has mounted such a strong defense against the charges — both legally, pleading not guilty to the accusations in U.S. District Court last week, as well as politically, accusing the Justice Department of being "tricked" into starting an investigation with "false allegations by those who have a political motive to silence me." Political experts say Menendez will want to leave observers of the case with as little doubt of his innocence as possible, which means convincing a grand jury that he is innocent of wrongdoing under the law. But it means also convincing his peers and voters that he is clean of the kind of ethical wrongdoing shunned in the court of public opinion.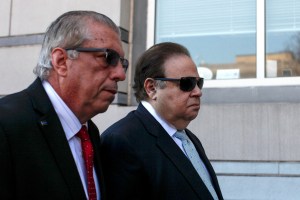 "He's mounting two defenses: one's the legal defense, and one's the public defense," said Patrick Murray, director of the Monmouth University Polling Institute. "Because there's two courts he has to deal with — the judiciary and the court of public opinion. And his feeling is he'll be able to get out of these charges, but he doesn't want to leave any question when he does that he was actually guilty of something and that he got away with it."
Murray said Menendez can survive the charges, pointing as an example to Texas Senator Kay Bailey Hutchinson, who successfully fought off an indictment toward the beginning of her career and went on to serve for 20 years in Washington. Like Hutchinson, Menendez too stands a good chances of coming out alive, Murray said, arguing that it's "too early to judge whether he's lost any influence".
"So there's no question that he can come out of this if he's found not guilty and the chargers are dropped," Murrary said, later suggesting that Menendez could even come away stronger from it if they were: "It would underscore the message he's been sending, which is he's been subject to political attacks his entire career, to the point where they fabricate charges against him."
Menendez and his defense team could find success in the complex nature of the case, which legal experts say fails to offer the smoking gun that would tie him to a concrete crime.
"This is not a case where the guy is dead in the water and got caught in a sting operation and the busted him with tapes and marked money," Hayden said. "This is a question of what his state of mind was. Was he motivated becuase he was acting for a friend or he was taking bribes? There's the act, and then there's the criminal intent.
"This will be a fair fight, and there's an enormous difference between a one-sided grand jury presentation, and a full trial with rigorous cross examination," he added.
Murray echoed the point: "It's a real messy situation, and the crime isn't clear, even in the public's eyes."
"Now I think the public doesn't think that he should behave that way, and that he went to far in the way he went and helped this person, whether he was a friend or not, but the question is does that cross the line of criminal activity and shouldn't be serving in office," he said.
So far, at least, Menendez's defense strategy seems to be working. He's seen massive outpouring of support from political allies both on the state and federal level, among them fellow U.S. Senator Cory Booker (D-NJ), who vowed that he "won't waver in my commitment to stand alongside" the Democrat, as well as fellow Hudson County pol U.S. Rep. Albio Sires (D-8), who was the first to issue a statement backing Menendez and saying he is "entitled to a presumption of innocence." Menendez's team has also worked to cultivate and capitalize on that support, creating a Twitter handle and website titled "I Stand With Bob" aimed at publicizing the senator's plight.
More recently, a Rutgers-Eagleton poll out this week found voters giving Menendez the benefit of the doubt as well. Fifty-eight percent of people polled said Menendez (D-N.J.) should be allowed to say in office unless he's proven guilty, while 34 percent said he should resign.
---

"2018 is a long time away, but anyone who knows Bob Menendez knows he is not someone that you would count out from a tough fight, no matter when or where it is."

---
Hayden called it the most support for an indicted official he's ever seen; normally, he said, people "just walk away quietly."
"Given the way he's mobilized support on the basis of the goodwill he has in the community, he will survive it politically if he survives it legally," Hayden said. "You see, the allegations are serious, but the ultimate question is are they true. And what people seem to be saying is given his track record, let's wait and see the trial to see whether their true."
"I think what's going to happen is your going to see the public reaction," another source added. "People are going to start taking the temperature and doing polls, and seeing where his favorability is and how that impacts other Democrat races. Everyone wants to see what else drops first. And people are going to be very, very cautious, because he's not the type to back down or slink away. He's going to fight this head on, and he's probably going to take notice of who stands with him."
Perhaps surprisingly, there's also been few attacks from Menendez critics on the right. Several GOP leaders in New Jersey who stand to benefit from a weakened Menendez largely gave the Democrat a pass when asked about the indictment at a Somerset County Republican dinner last week, while other high profile Republicans, including Gov. Chris Christie, have said only that Menendez is innocent until proven guilty. State Sen. Joe Kyrillos (R-NJ), who ran against Menendez for the seat back in 2012, offered the strongest opinion on the situation, but ultimately said only that Menendez needs to "think long and hard" about staying in office.
The soft reception of Menendez's indictment among Republicans could be a testament to the Democrat's bi-partisan appeal, as he's often sided with the opposing party in Washington on foreign policy issues like the Obama administration's recent nuclear negotiations with Iran. But more likely, Murray and others say, it's because corruption of New Jersey's public officials is such a relatively common occurrence — and one of their own could be next.
"Who's going to use the ammunition? One of the worst things he probably did from a legal perspective is not report gifts that he got. Let's take him at his word that this was his friend, a longtime friend, but he still received a gift and didn't report them," Murray said. "But who's going to call him out for that, Chris Christie? They're going to debate who had the most expensive hotel room they didn't tell us about?"
Christie recently came under scrutiny for lavish trips he's taken abroad and his own acceptance of gifts from wealthy individuals he's defended as friends.
Still, those close to Menendez contend that the senator's unwavering support underscores the fact that prosecutors are attempting to bring a weak case against a man who they argue has done more for his constituents over the last 40 years than most politicians ever do — and that the Democrat will ultimately be vindicated.
"Look, at the end of the day, whether you're a Republican or a Democrat, you are judging Menendez based on his good character and substantive positions on issues that matter to all New Jerseyans," said Mike Soliman, a political adviser to Menendez who has been working on the senator's behalf through the indictment. "So within that calculus it becomes tough to go against someone who has spent his entire career fighting in a very productive fashion for the people of New Jersey."
"Ultimately, politically Senator Menendez has immense support, as you've seen across New Jersey and throughout the United States. And his political support will not waver, no matter how long the trial takes, because of relationships that he's spent years cultivating," he added.
As for whether Menendez survives reelection, assuming he survives the present indictment, Soliman was undeterred.
"2018 is a long time away, but anyone who knows Bob Menendez knows he is not someone that you would count out from a tough fight, no matter when or where it is," he said.