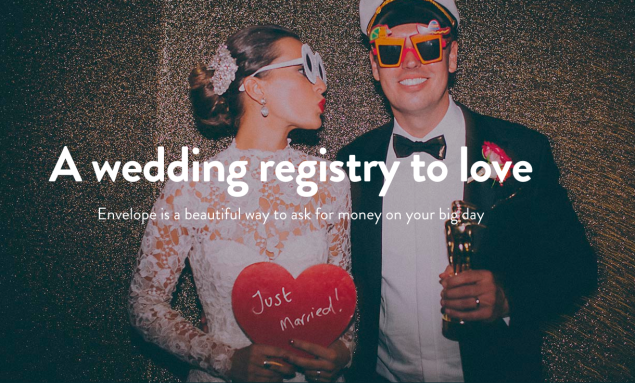 Today's marriages aren't what they used to be, and that means gift-giving at weddings has got to evolve.
In the not-so-distant past, it was common for couples not to have moved in together before saying "I do." After the wedding, since the bride and groom would be living together for the first time, it made sense to thrust boatloads of blenders and electric mixers into their arms; after all, they'd never had a kitchen to furnish.
But today—and particularly in New York, where sky-high rents often make living separately before marriage economically, well, impossible—plenty of couples already share a home before they tie the knot. For Simon Baldwin and Tom Holt, co-founders of wedding registry service Envelope, that means couples need a way to request money from their guests instead, in lieu of typical wedding guests.
"It's clear the needs and desires of modern couples have changed in the past decade," Mr. Baldwin told the Observer. "Census data from 2012 showed two-thirds of couples married that year lived together before they walked down the aisle."
"That's a lot of people who don't want or need more toasters."
With Envelope, which launched earlier this month, couples can make wedding registries wherein guests contribute money to fund experiences—like honeymoons or dinners out or concert tickets. It offers a way for couples to request money instead of physical gifts, but in a way that's more tactful than "please bring us cash."
Mr. Baldwin insisted that, according to research, "despite a desire for the gift-giver to want to give unsolicited gifts, when they are provided with specific requests, or asked for a monetary contribution toward specific items, their satisfaction actually increases."
He also cited research from the University of Pennsylvania that shows "giving 'experiences' rather than 'things' makes both the giver and the receiver happier and more connected."
"Further research by the University of Pennsylvania also shows that giving 'experiences' rather than 'things' makes both the giver and the receiver happier and more connected," he said.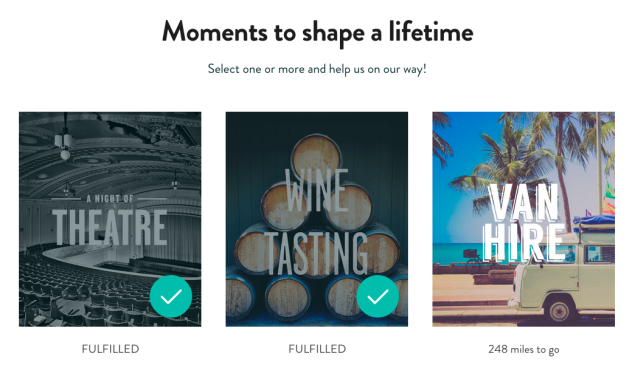 Here's the catch: Envelope has no way of ensuring couples actually use the money for the experiences they listed in their registry. It works on an honor system.
"We actually think that is one of the positive elements of our platform," Mr. Baldwin said. "We don't want to tie our couples into certain operators or suppliers. We want them to have the freedom to choose where and how they spend their money."
"With that said," he went on, "there is an obvious social contract created between the couple and the guests who have contributed to their wedding registry."
It was Mr. Baldwin's own wedding last March that inspired the launch of Envelope. He and his wife wanted to honeymoon in Europe—to "hire a van and eat our way through France and Spain," he explained.
They felt uncomfortable asking their guests to transfer money into their bank account or bring cash to their wedding, so they built Envelope.
"The response was overwhelming," Mr. Baldwin said. "Our guests loved the idea and provided us with tips on where to drink the wine they have contributed toward, or where to eat in Paris. One guest even introduced us to his cousin who looked after us in the south of Spain."
When they returned from the trip, friends started asking if they could use Envelope for their own weddings. Mr. Holt, one of Mr. Baldwin's groomsmen, suggested they quit their jobs and focus on turning Envelope into a full-fledge company. The rest is history.
Yes, there are no doubt still traditionalists who say straight-up asking your guests for money is awkward—or even rude. But Envelope isn't the only company picking up on the trend. Wedding registry site Zola also lets guests fund experiences for the couple, in addition to purchasing more traditional gifts.
Mr. Baldwin is delighted to see the range of experiences for which couples are requesting money.
"The most common items tend to focus on honeymoon-related experiences like 'cocktails,' 'romantic dinners' and activities like 'snorkeling,' 'theater' and 'cooking lessons'," he said. "Recently, we have seen many couples set up registries focusing on projects around the house like renovations or landscaping."
"It's exciting because the possibilities are endless," he went on. "We want to encourage couples to be creative and use Envelope as imaginatively as possible."